The video shows the power couple taking up space in one of the whitest art institutions on the continent of Europe: the Louvre, which piqued the interest of Heidi Herrera, an art history major who offered her expertise on BuzzFeed News' AM to DM.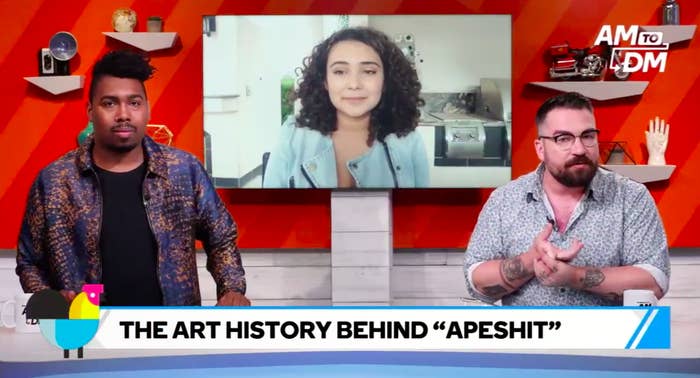 Herrera said that the music video is especially powerful because "most representations of people of color [in the Louvre] has been portraying them as exotic or as less than human."
"So to retake that space, they're presenting black bodies and black art and they're bringing popular culture which is often looked down on by academics and showing them this is real art, this is the current art," she said.
"They're relating it back to art history, back to those pieces, and showing that 'Look, we are here, this is our presence, this is our history,' and they're recognizing the facts that this is how black individuals have often been portrayed in the history of art," Herrera continued.
"And they're recognizing their history and how far they've been able to come despite all the oppression that they've faced historically and currently, which I think they speak a lot to in the video."
In a statement, the museum said Beyoncé and Jay Z had visited the Louvre four times in the last 10 years.
"During their last visit in May 2018, they explained their idea of filming," the Louvre added. "The deadlines were very tight, but the Louvre was quickly convinced because the synopsis showed a real attachment to the museum and its beloved artworks."
Herrera, who received her art history degree from Brigham Young University and plans to attend UC Davis for her graduate degree in the fall, started a thread on Twitter about the video that went viral.
Though the entire thread is extremely interesting, here are some of the most thought-provoking moments. For example, Herrera said that Beyoncé and Jay-Z standing in front of the "Mona Lisa" is the couple's way of visually asserting themselves in front of Leonardo da Vinci's work. Da Vinci is one of the most well-known artists in the world.
Herrera broke down another scene in the video, which juxtaposes black dancers in an overwhelmingly white space with deep-rooted ties to colonialism.
There's an illuminating reference to Beyoncé as Venus de Milo.
Finally, there's this beautiful scene of Beyoncé with a phalanx of black women performing against the backdrop of "The Coronation of Napoleon," which has a significant meaning considering he was a notorious conquerer.
The Carters are currently on their second On the Run tour in Europe, which kicked off in Cardiff, UK, on June 6.
The stateside leg of the tour will begin July 25 in Cleveland.