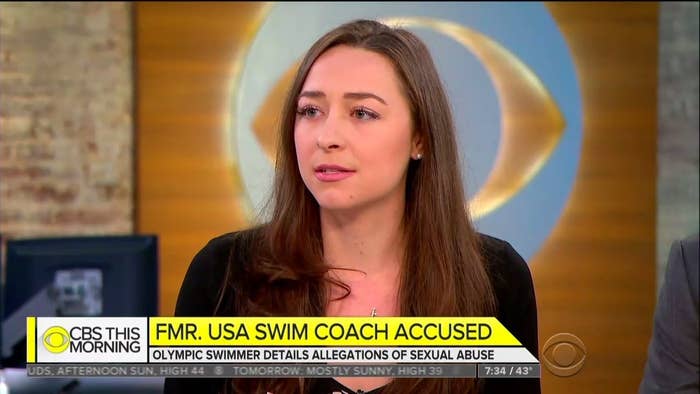 Former Olympic swimmer Ariana Kukors appeared on CBS This Morning on Monday, along with her attorney Robert Allard, speaking publicly about allegations that her former swim coach Sean Hutchison sexually abused her as a minor.

"I didn't realize until a few weeks ago how important...being open and speaking my truth was important to my healing process," Kukors said, after being asked why she decided to come forward.

Kukors continued that, while she has "an amazing life and amazing support system," she told the hosts of the morning show that she hadn't "fully faced what had happened" to her.

Last Friday, Kukors penned a letter detailing accusations of sexual misconduct at the hands of Hutchison, abuse that the former swimmer says ran over the course of a decade, beginning at around the time she was 13 years old.

Hutchison has vehemently denied Kukors' accusations, saying in a statement, "I absolutely deny having any sexual or romantic relationship with her before she was old enough to legally make those decisions for herself."

Kukors repeated the claim on the morning show that Hutchison began immediately "grooming" her, a term she defined as "the process that a predator takes to first psychologically take control over you and then perhaps it turns into a physical relationship."

"Every single day we had to shake his hand," Kukors said, describing Hutchison's grooming tactics.

"And it seems like a simple, nice gesture, but it's getting contact with that person, it's shaking their hand and looking in their eyes, it's asking about things, not only from your swimming career but what's life like with your family? What are you doing at school? What are you doing this weekend?"

Kukors said that, as a result of this manipulation, it created "this relationship where you rely on this person for everything and you go to him for everything."
The abuse, according to Kukors, was concealed under the guise of "private meetings going on behind a closed hotel room door," leaving one to believe that the coach and swimmer were discussing race tactics or other topics solely related to the sport.

Kukors said the misconduct extended to Hutchison taking nude photos of her when she was a minor, as well.

She became emotional on air when the conversation delved into how the abuse could have gone on for so long. Kukors explained the many factors that could potentially stop someone from coming forward, citing that it's harder when an abuser is someone "your parents fully trust" or someone "your community is praising."

"I feel the most vulnerable I've ever felt in my life, but I'm lifted up because of the messages I've received in the last few days," Kukors said, talking about the outpouring of support she's received.

When asked what a young person should do if they find themselves downplaying their sexual abuse because their story is "not as bad," Kukors said, "There's no such story as bad or less bad."

"If you're being abused or somebody is taking advantage of you, no matter how you choose to find your voice, you will be heard."

"I want these people to know that they are amazing," she continued. "They don't have to rely on these predators, these people who take advantage of young people and abuse a relationship so horrifically."

Kukors ended her interview saying, "I love swimming and I'm not here to necessarily share my story. What I'm here [to do] is to prevent this from happening to the next person who is trying to chase their dreams, who's trying to show up as their best self every single day."