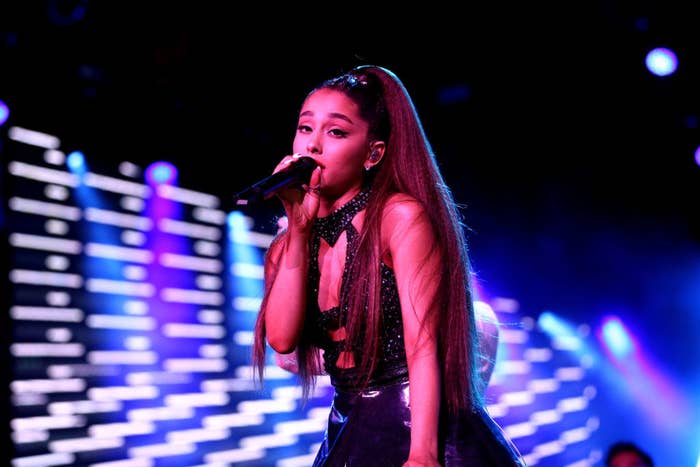 Ariana Grande is suing the struggling fashion retailer Forever 21, arguing they used a lookalike of her after a potential collaboration between the clothing company and the pop star fell through sometime between late 2018 and early 2019.

According to documents filed Monday in California, Grande alleged that Forever 21 wanted her to endorse its "clothing and accessory products."
This partnership, however, did not come to fruition because Forever 21 was unwilling "to pay the fair market value for a celebrity of Ms. Grande's stature," she said, and the singer declined its offer.
To get around this, Grande's team said Forever 21 launched an "unauthorized marketing campaign" using the singer's photos and "falsely suggested" her participation by hiring a model who bore a striking resemblance to the "Thank U, Next" vocalist.
In the suit, Grande's team referenced images from the singer's "7 Rings" video posted to Forever 21's Instagram (shown above left). Another image (above right) shows a Grande lookalike with a similar hairstyle and headpiece to the one the singer wore in the original video.
Rather than paying Grande what she was owed to use her likeness, her lawyers said Forever 21 "simply stole it by launching a misleading campaign across its website and social media platforms primarily in January and February 2019," capitalizing on the success of Grande's then newly released album.
In total, Grande is suing the company for $10 million.
In an emailed statement to BuzzFeed News on Tuesday afternoon, a spokesperson for the company said, "Forever 21 does not comment on pending litigation as per company policy."
"That said, while we dispute the allegations, we are huge supporters of Ariana Grande and have worked with her licensing company over the past two years," the statement continued. "We are hopeful that we will find a mutually agreeable resolution and can continue to work together in the future."
The Grande–Forever 21 debacle comes just a week after reports surfaced that the brand may be filing for bankruptcy.