In an Instagram post on Wednesday, actor Anne Hathaway called out white privilege and used her platform to highlight the murder of Nia Wilson, a black teenager killed Sunday while standing on a Bay Area Rapid Transit (BART) station platform.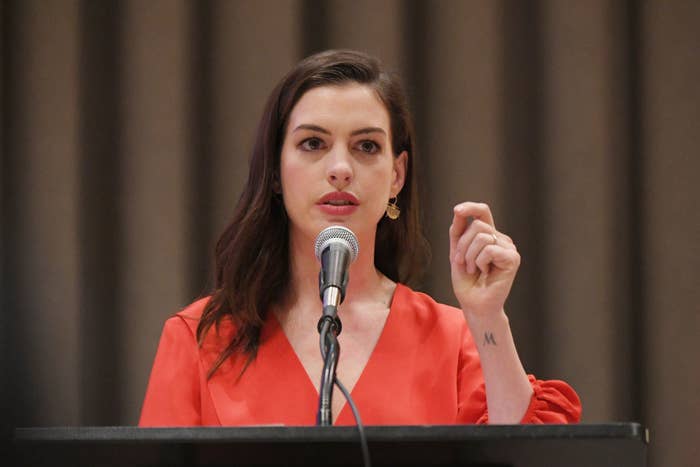 John Cowell, a white man and the 27-year-old suspect in the case, was apprehended by authorities Monday.
Cowell allegedly pulled out a knife, unprovoked, and "very rapidly" stabbed 18-year-old Wilson. Wilson's sister, Lahtifa, 26, was also wounded and is now in stable condition.
BART Police Chief Carlos Rojas said that the attack on Wilson "was probably one of the most vicious" he'd seen in his 30 years of being an officer.
"The murder of Nia Wilson - may she rest in the power and peace she was denied here - is unspeakable AND MUST NOT be met with silence," Hathaway wrote. "She is not a hash tag; she was a black woman and she was murdered in cold blood by a white man."
The Ocean's 8 star then shifted the onus to white people, who she said "must take into the marrow of our privileged bones the truth that ALL black people fear for their lives DAILY in America and have done so for GENERATIONS."
"White people DO NOT have equivalence for this fear of violence," Hathaway said.
"Given those givens, we must ask our (white)selves - how 'decent' are we really?" she continued. "Not in our intent, but in our actions? In our lack of action?"
"Peace and prayers and JUSTICE for Nia and the Wilson family xx."
BuzzFeed News has reached out to Hathaway's representatives for additional comment.
"She understands and gets it, we need more solidarity white people in actions, not silence," one person said, reacting to Hathaway's words.
Some expressed that they were glad that "a few" white celebrities used their platform responsibly.
TV and radio personality Bevy Smith said that saying Wilson's name "puts this heinous racist murder in front of many people who would prefer to ignore it."
And Hathaway isn't the only one in Hollywood who has acknowledged Wilson's death. Actor Tracee Ellis Ross said, "Our bodies and our humanity deserve safety and joy." She then linked to a video of Chika Oranika, who rapped a tribute dedicated to Wilson.
Actor Reese Witherspoon said her "heart is broken" for Wilson's family and friends.
"So young, super heartbreaking," said the singer Kehlani, who sent her well wishes to the family of the victim.
In a lengthy post on Instagram, actor Sophia Bush said, "The silence around the death of women of color must end. And WHILE we're at it, the behavior of news media that attempts to tarnish a victim after her untimely death must end."
And Insecure actor Natasha Rothwell said she was praying for Wilson's family "and for the safety of all my brothers and sisters out there just trying to make it home."