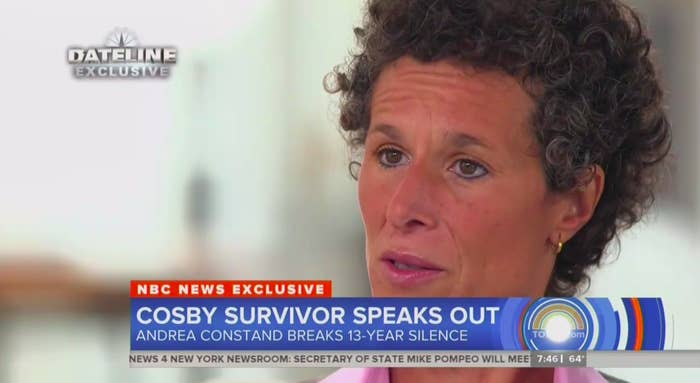 Andrea Constand, the woman who accused actor Bill Cosby of drugging and raping her in 2004, and whose testimony led to his conviction in April, is speaking out about the incident for the first time.
Constand sat down for an in-depth interview with NBC News' Kate Snow that will air in full Friday on Dateline.
"He had three blue pills in his hand," Constand said. "And he put his hand out and I said, 'What are those?'" she continued.
She recalls that he replied, "They're your friends, just put 'em down."
Constand told the outlet that Cosby had also said the pills would help her relax, and she took them because she trusted him.
At the time she met Cosby, Constand was working as a Temple University women's basketball administrator and he was an alum of the school. For months he'd been acting as her mentor as she was planning to make a career change, and he invited her to his home to discuss her plans.

Within a half hour of swallowing the pills, Constand said she was slurring her words and couldn't walk. It was then that Cosby helped her to a couch and assaulted her.

"I was in and out of consciousness," Constand said. "I was crying out inside in my throat in my mind for this to stop and I couldn't do anything."

Constand said that when she came to, she realized what had happened, but kept quiet because she didn't think anyone would believe her.

Last year, a jury was unable to reach a verdict in the case against Cosby, but on April 20, during a second criminal trial, the comedian was convicted on three counts of sexual assault.
Cosby, who has never denied having sexual contact with Constand and insists that what happened between the two was consensual, faces a maximum of 30 years in prison.
To date, more than 60 women have accused Cosby of sexual assault.
The complete interview with Constand will air Friday at 10 p.m. ET on NBC.

Watch a preview of the interview below: