It's been 15 years since Queer Eye for the Straight Guy first debuted on Bravo, becoming a ratings and cultural phenomenon.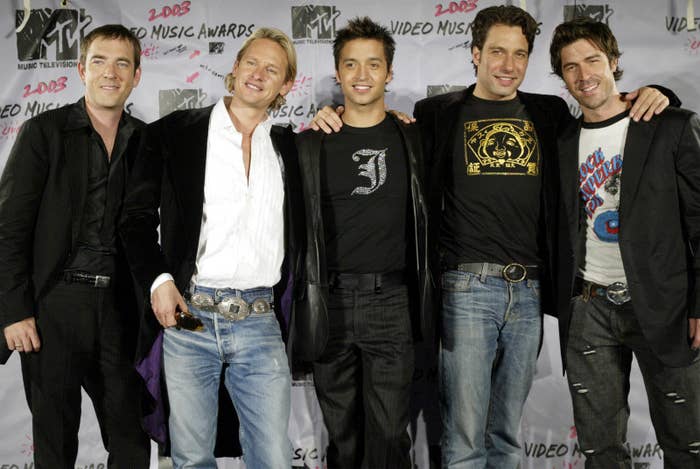 To mark the success of the 2018 Netflix reboot, BuzzFeed News caught up with all the members of the original Fab Five to get their thoughts on the new show — and see how much has changed since the original series first aired.
"Being out in 2003 was political. You being out was saying something," original culture expert Jai Rodriguez told BuzzFeed News. "Whereas now it's not really as big of a deal.
"We were talking to the guys of the new cast and they were like, 'Were any of you married on the show?' And we were like, 'Are you kidding? We weren't legally allowed!' Such a different time," he said.
Here's what the original Fab Five have been up to since their show went off the air in 2007.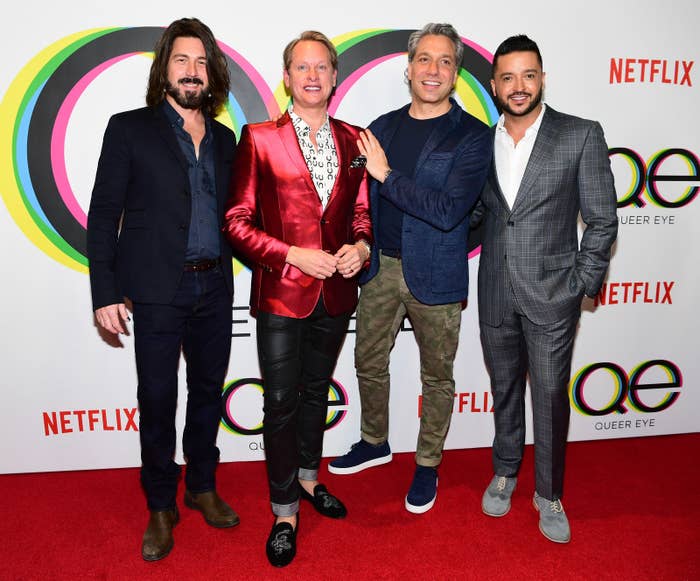 Carson Kressley — Fashion Expert
What he's been up to:
Since the original Queer Eye ended its run in 2007, Kressley has held a number of notable jobs, from hosting How to Look Good Naked to Dancing With the Stars to The New Celebrity Apprentice, but currently he serves as judge on the hit reality TV show RuPaul's Drag Race, which he's been a part of since the start of Season 7 in 2015.
What he thinks about the show's lasting impact:
When Queer Eye first premiered in 2003, it was unlike anything TV viewers had seen before. "To this day, it is the gift that keeps on giving," Kressley said, because he runs into young millennials who tell him how the show made coming out easier for them.
"I get goosebumps. That is a real blessing," he said. "Very few people get to work on a show that's that impactful.
"That is the power of being out and being visible and also of being yourself," he said.
Fun fact:
Prior to landing his Queer Eye gig, Kressley worked as a stylist and creative director for Ralph Lauren. A colleague told him about the Queer Eye search and he set off, determined to audition, although he ran into a few roadblocks in the process: He couldn't find anyone to give him an exact answer on where casting was being held until finally on the last day he was given the correct information, walked into the room, and wowed the powers that be with a personality that was "exceptionally sassy that day" — the rest is history.
Ted Allen — Food and Wine Expert
What he's been up to:
For the last 10 years, Ted Allen has been the host of the hugely popular cooking show Chopped.
What he thinks about the show's lasting impact:
"When I think about having done Queer Eye, I could die tomorrow if I had just one person — and I've already had hundreds of gay people tell me it made it easier to talk about these issues with their parents, and I know that's happened, I know that's happened a lot," Allen told BuzzFeed News.
Fun fact:
In the early '00s, Allen wrote for Esquire magazine, but when he made the decision to transition to the then-fledgling Bravo reality show that was Queer Eye, the magazine's editor-in-chief David Granger thought it was a bad idea. After the show proved a huge hit, the two met again at the 2003 VMAs and Allen says Granger told him, "Well, I guess you weren't so insane after all."
Antoni Porowski, the food expert on the Queer Eye reboot, used to work for Allen. While some fans of the new series joke that Porowski is more of a model than a cook, Allen defended his friend's culinary skills: "You're talking about guys who can barely make a Pop-Tart. Of course Antoni has to start with things that are fairly simple with these guys."
"You know, you can't expect them to build a croquembouche on lesson one," he said.
Jai Rodriguez — Culture Guru
What he's been up to:
Most people may not realize that acting was Jai Rodriguez's actual profession prior to landing the Queer Eye job — and it's how he still makes a living now.
Rodriguez boasts an impressive résumé, which began on a high point when he starred in the Broadway production of Rent at the age of 18. After Queer Eye, Rodriguez appeared on FX's Nip/Tuck, which he landed when he moved to Los Angeles a decade ago. He has also played smaller roles on shows like Grace and Frankie, Grey's Anatomy, The Magicians, and Fox's forthcoming drama The Resident.
Rodriguez said many Queer Eye fans often can't place where they've seen him before when he pops up on a TV drama: "I think when it's not in the vein of a Queer Eye, it's really hard for people to connect the dots and be like, 'Oh, it's the same person.'"
What he thinks about the show's lasting impact:
"My biggest takeaway is that over the years thousands of people have come up to me and said they could come out and it was safe because their parents loved us," Rodriguez said.
"We all took this little show on Bravo thinking no one would ever see it. Like, we were all gonna go back to our normal jobs. It was not supposed to blow up to be this cultural phenomenon and thankfully it really did and changed the dialogue around LGBTQIA issues. We were like an accidental part of that," he said.
Fun fact:
As a means of testing if Rodriguez would be compatible with the other guys who'd officially been cast, Bravo, NBC, and the show's creative director invited him to a meeting. But there was a hidden catch: While he had been tasked with trying to "hold [his] own comedically," he didn't know the others were told to make it impossible for him to get a word in edgewise.
After leaving the meeting, he called his agent to vent his frustrations with the audition, which he thought was unprofessional. His agent responded, "Well, apparently you did better than you thought. You start Monday."
Thom Filicia — Interior Designer
What he's been up to:
Thom Filicia has maintained his own NYC-based design company for nearly two decades, meaning he was well on his way to making a name for himself prior to the Queer Eye phenomenon. His impressive career has seen him design interiors for Jennifer Lopez and Tina Fey.
What he thinks about the show's lasting impact:
Filicia is still close with his fellow Fab Five friends and talked about his fondness for the work they accomplished through the show: "I love what we did. I love what we were able to accomplish at that time. I think it was a lot of fun. I think it was very poignant. I think that it had great spirit, a great point of view."
He also said that he's a fan of the Netflix reboot: "I like that it's continuing, at some level, with a new group of guys, which I think is pretty cool so it has legs to move forward."
"I think it's a really positive, wonderful thing to have been a part of," he said.
Fun fact:
According to Rodriguez, Filicia was the funniest member of the bunch. In fact, his sense of humor helped him land the Queer Eye job.
"I was stuck in an elevator with a talent scout and we were stuck in there for about an hour and it was hilarious," Filicia said. Little did he know, that random encounter would lead to the talent scout notifying him that Bravo was looking for an interior designer for an upcoming show.
While his charming and funny personality endeared him to the producers, it was his past work that ultimately landed him the job. "When I met with Bravo and the production company, I showed them my work and I showed them the projects that I was doing," he said, "and then they felt that my work was the kind of thing that made sense for what they needed."
Kyan Douglas — Grooming Expert
What he's been up to:
In recent years, Kyan Douglas has opted to slide out of the spotlight for the most part, although he still does makeovers on the The Rachael Ray Show from time to time because, he says, "nothing makes me happier than helping somebody that they sort of self-identify being in a place where a makeover will be helpful for them.
"I love that because ... there is a wonderful synergy between physical transformation and an internal transformation," he said.
Douglas said he has grappled with the fame that came from being on the show, finding the loss of privacy uncomfortable. "Fame can be a really wonderful teacher and it was for me," he said.
"Part of what I learned from my 15 minutes is that that's not so important for me and I'm not such a great candidate for fame. I found it intrusive," he said. "I found the loss of anonymity to be scary — to go into a room or to go outside walking on the street and noticing people staring at me, people taking pictures. It was personally kind of uncomfortable."
Douglas now lives in Tennessee on a seven-acre plot of land that he loves tending to. He also spends his time in New York City, where Ray's show is filmed, and his home state of Florida.
What he thinks about the show's lasting impact:
Douglas said he's proud to have been involved with the show, in part because of his own struggles as a queer kid who was "scared to walk to the bus stop or get off the bus after school because I was going to be picked on."
"[I] got to, in some ways, forward the conversation with Queer Eye and that feels wonderful," he said.
"I loved doing Queer Eye," Douglas said. "It was a fun experience, a game-changer, a life-changer, and it gave me so much of what I thought I wanted when I was in my early thirties, all that sort of stuff that we're taught we're supposed to go after in life."
Fun fact:
Douglas's name at birth was Hugh Edward Douglas Jr., but he told BuzzFeed News that he didn't really care for it, often going by Eddie or Edward growing up, but those didn't feel quite right to him either.
When Douglas was 23, the name Kyan came to him after he'd participated in an Inipi prayer, and ever since then it stuck.