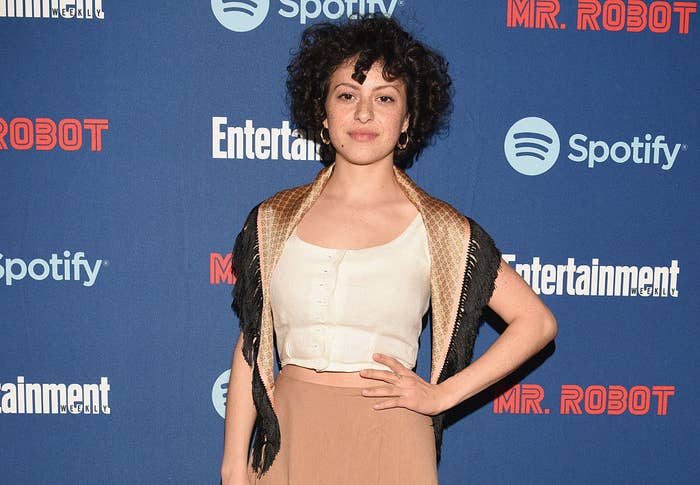 Arrested Development star Alia Shawkat says she regrets not doing more to help her costar Jessica Walter during a recent interview in which the veteran actor broke down and cried as she recounted being verbally assaulted on set.
Shawkat, who plays Maeby Fünke on the popular comedy, said she felt she should have ended the interview with the New York Times when Walter (Lucille Bluth) became emotional when recalling being screamed at by Jeffrey Tambor (George Bluth Sr.).
"The minute Jessica started crying, my instinct was just to go up to her and hug her and be like, 'This interview's over,'" Shawkat told Broadly in an interview published Thursday.
Tambor's onset behavior was the topic of conversation prior to Walter becoming emotional. The actor was fired from the award-winning show Transparent after allegations of sexual harassment surfaced. The actor has vehemently denied the claims being made.

As the Arrested Development cast discussed Tambor with the New York Times, Walter began to tear up as she recalled an incident in which he screamed at her.
"I have to let go of being angry at him," Walter told the newspaper. "Almost 60 years of working, I've never had anybody yell at me like that on a set and it's hard to deal with, but I'm over it now."
During the tense moment, Jason Bateman (Michael Bluth) jumped to Tambor's defense, saying that behavior like Tambor's wasn't unique in Hollywood. Other male stars on the show, including David Cross (Tobias Fünke) and Tony Hale (Buster Bluth), also appeared to defend Tambor.
At the time, Shawkat, the only other woman in the room aside from Walter, tried to counter Bateman by saying, "but that doesn't mean it's acceptable."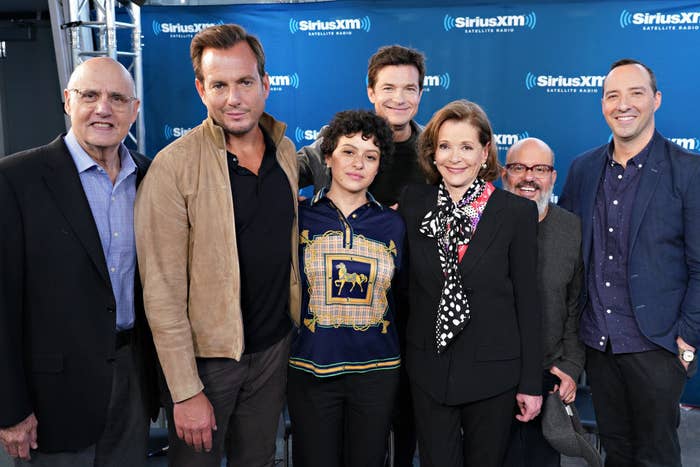 Following online backlash, Bateman, Cross, and Hale all later apologized, with Bateman saying he was "incredibly embarrassed and deeply sorry to have done that to Jessica."

Recounting the interview to Broadly, Shawkat said she became physically uncomfortable in the tense moment.
"It just kept going and I, all of a sudden, started to feel hot inside," Shawkat said. "Because I was like, Okay, if they all say this, then I now have to say, 'But, this is a bigger issue.'"
Shawkat said her colleagues continued to speak over one another and she began to realize that they were speaking "on the record about an issue that's much bigger than Jeffrey, than us, than the show."
Once the interview was complete, Shawkat said she was so upset that she cried because she felt like she didn't do enough to defend Walter.
"Women's voices need to be heard, and, ironically enough — I wasn't able to be heard. I was really scared that the interviewer didn't even hear me," she said.
"I know I said a little, but what I wish I had said was, 'Stop talking. Stop. Jessica, go on.'"
With Tambor, Shawkat said that the cast had no game plan when questions about the actor's sexual misconduct allegations came up. She also revealed that she talked with Tambor privately when the news stories about his alleged behavior first emerged.
"It's a very tricky situation," she said. "You know, Jeffrey's on the show with us and I'm supporting the show and I care about Jeffrey, but I also support the voices of the victims and it's not my decision whether he was off the show or not."
"There has to be to a certain separation for someone who's accused to answer for themselves," she said.
In light of the #MeToo and Time's Up movements, Shawkat said she would like for men who haven't been accused of sexual misconduct or harassment to realize conversations have "a lot to do with them."
"I hope that the guys on the show and now all these men of all different ages start to communicate with the women in their lives, the women they work with, and just ask openly with no shame, 'What can I do to be better?'" Shawkat said.