It's no secret that Chrissy Teigen doesn't mince words when it comes to what she thinks about President Donald Trump.
On Tuesday morning, Teigen posted a screenshot to her personal Twitter account, revealing that the commander-in-chief had blocked the supermodel. "After 9 years of hating Donald J. Trump, telling him 'lol no one likes you,' was the straw," she captioned the image.
Two days ago, Teigen fired the retort at President Trump, and it looks like he'd finally had enough.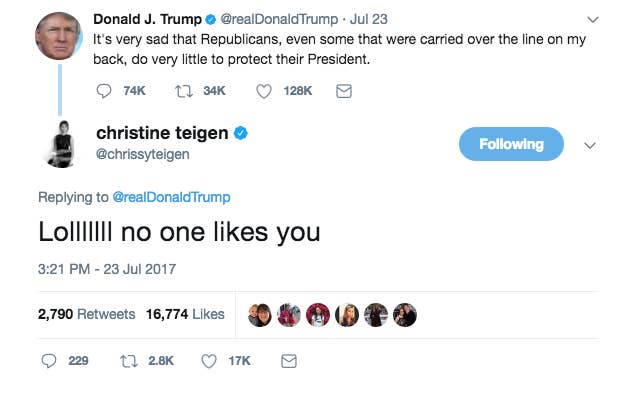 Earlier this year, she was quoted in USA Today, saying she'd "been a big Donald Trump hater for a long time."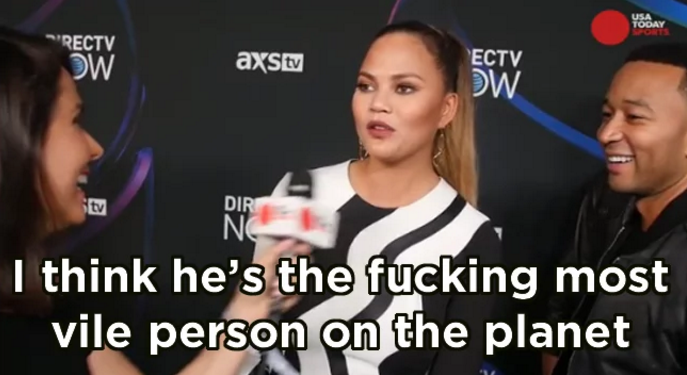 People rallied around Teigen's tweet, with a lot of people praising her.
"Iconic," some called it.
Others responded with approving GIFs.
A "badge of honor," another said.
It doesn't seem like President Trump has ever directly responded back to Teigen, but in 2015, Trump did retweet a supporter of his who called the model a "trashy gutter mouth woman."
Will Teigen continue calling Trump out on Twitter? Only time will tell, though she did say back in May that she no longer found Trump-related "trending topics or memes funny."