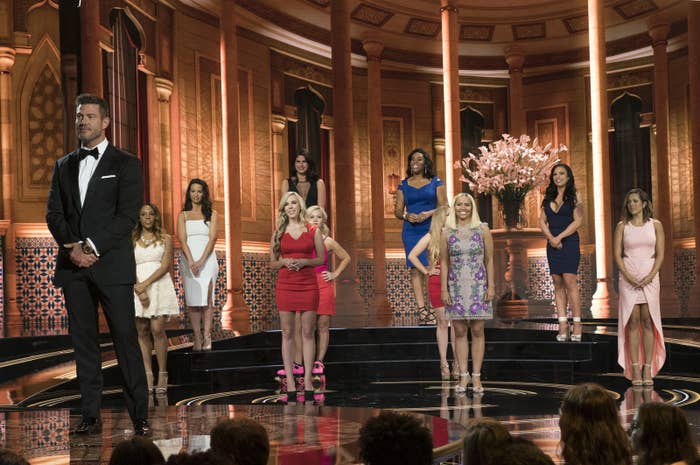 ABC decided on Friday to pull the second episode of its new dating show The Proposal after a woman accused one of the contestants of facilitating her sexual assault.
In a public Facebook post Thursday, Erica Denae Meshke alleged she met with a man she matched with on Tinder in early November, and the two agreed to meet in the lobby of a Milwaukee apartment building. That's where Meshke, who was then 24, said she met two of his "friends," who she described as men in their fifties.

"They poured me a drink, and then I was left alone with the two older men," Meshke wrote. "The original guy never came back, despite me calling and texting. I was told by his friends that he would be back soon. So while I waited, I accepted another drink, which I know now was spiked."
Meshke said she was taken to an apartment upstairs by one of the men, where she endured "unspeakable" things for the next five hours. Meshke wrote that she was threatened afterward not to talk because the men were "powerful" and would find her if she talked.

In the comments section of Meshke's original post, she identified the man who allegedly led her to this assault via photograph as Michael J. Friday, a contestant on The Proposal.
A public photo on Friday's Facebook page shows him promoting the show.
"This man is the pretty face that is used as a lure to get girls into unsafe situations," Meshke wrote in her original post.
She said when she later ran into Friday, he acknowledged his role in that evening.
Neither Meshke nor Friday responded to requests for comment.
In a statement to BuzzFeed News, ABC and production company Warner Horizon said: "An allegation has been made against a contestant on next week's episode of The Proposal. While the accusation was not related to the contestant's appearance on the program, we take it very seriously."
"ABC and the producers of The Proposal are pulling the episode while this matter is under review."
News of the episode being pulled was first published by the Hollywood Reporter.
Meshke wrote in a separate Facebook post that she appreciated ABC pulling the episode featuring Michael Friday.
"I never expected that outcome — I didn't expect any action at all," she wrote. "The fact that they pulled the episode just shows that they are willing to listen, and that they take sexual assault seriously. I very much admire that."