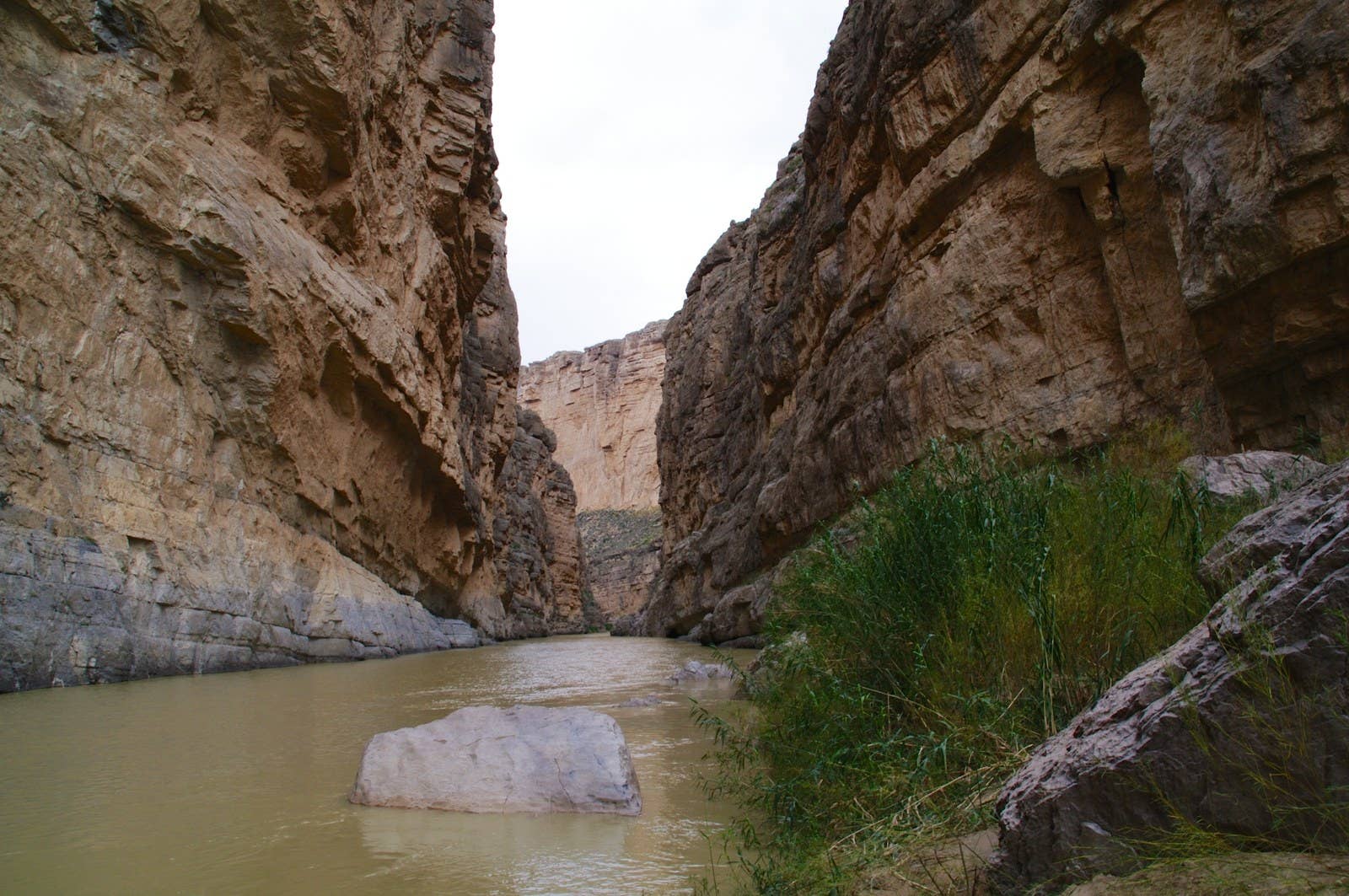 TERLINGUA, Texas — President Trump's pledge to build a wall along the US–Mexico border is quickly transforming from long shot campaign promise into official government policy, pushing one small Texas town to the front lines of a heated national debate.
Living just a few miles from Mexico, the 58 residents of Terlingua, Texas, have long felt the sway of border politics. But the town's proximity to Big Bend National Park — the only US national park that shares a border with Mexico — was assumed to be something of an inoculation against Donald Trump's mantra-like campaign promises to build a wall between the United States and Mexico.
That all changed when details of an internal Department of Homeland Security report were recently leaked to Reuters, sharpening long obscure particulars about just how serious the president is about achieving one of his most hyped proposals.
According to Reuters, border construction "in and around" Big Bend is slated for phase two of a three-phase plan that seeks to seal the entire border by 2020.
That doesn't sit well with a lot of locals — including the Brewster County Commissioners Court, which unanimously voted on Feb. 14 to oppose the construction of a wall in Big Bend's home county.
"It seems, frankly, ludicrous that anyone would even attempt it," said Brewster County Commissioner Betse Esparza, lead author of the county resolution opposing the construction of a border wall and the commission's lone Republican member. "I don't see how it's physically possible to build a wall. We have canyons. We have what people are referring to as a natural wall. I think we're pretty good."
The "natural wall" sentiment is quite popular in Terlingua — along with heavy skepticism that a wall is needed to keep out immigrants trying to cross into the US, as border hawks maintain.
We have canyons. We have what people are referring to as a natural wall. I think we're pretty good."
"We don't need a wall. Mother Nature already built our wall," an employee at a local outdoor tour operator said, referring to the formidable and picturesque Chisos Mountain range that runs through Big Bend.
"If you think it was difficult getting here, think about the other side," the man continued, pointing south toward Mexico as he stood waiting in line at Terlingua's lone gas station. "You have to go 200 miles before you hit the first paved road. If they can make it that far, let 'em in!"
Inside Big Bend, debate about the wall is even more personal for outdoor enthusiasts and vacationers who travel hundreds of miles to enjoy the park's wide open spaces and intimate corners.
"It's just silly," said native Texan Summer Teakell Horst as she soaked in Big Bend's historic hot springs — one of the park's most cherished attractions and likely a future construction site should the DHS plan become a reality.
The spring sits just inches away from a narrow channel of the mighty Rio Grande, officially marking where Texas ends and Mexico begins.
"I'm all for border security but I think they should focus on something that really matters."
It's a sentiment shared by a lot of the people who would be impacted the most by any decision to build a wall in Big Bend — including the NPS staff that live in the park full-time.
Standing across from another channel of the Rio Grande River, US park ranger Jennette Jurado said building a wall through the park was technically feasible but the cost would likely outweigh any benefits. "We're a great nation that, when it set its mind to things, has sent people to the moon... So, could we build a wall here? Of course, of course, we could do that. But I think we should ask ourselves why we're choosing to do that."
The park ranger's congressman agrees with her.
Following the signing of a new border security executive order in January, Republican Rep. Will Hurd, who represents Texas's vast 23rd District, stated that, "Building a wall is the most expensive and least effective way to secure the border… . Big Bend National Park and many areas in my district are perfect examples of where a wall is unnecessary and would negatively impact the environment, private property rights, and economy. There is no question that we must secure our border, but we need an intelligence-led approach."
There's also the issue of eminent domain. As a Wall Street Journal opinion piece recently pointed out, the US does not own 1,254 miles of border land, which it would need to in order to build the wall.
Those living on the other side of what could soon be Big Bend's Big Wall are similarly concerned about the impact the barrier might have on the local economy.
About 20 miles from the hot springs is the US-administered Boquillas Crossing Port of Entry — the only legal way to enter Mexico in the entire 800,000-acre national park. The crossing was closed in the aftermath of 9/11, leaving the single Mexican town on the other side of Big Bend, Boquillas del Carmen, virtually cut off from the rest of the world for more than a decade.
"Before 9/11, people from town here could go to Rio Grande Village Store and buy fresh eggs, milk, lettuce…" Lilia Falcon said, referring to a National Parks Service–run shop about two and a half miles into Big Bend. "After 9/11, though, the gate at the port of entry was closed and we couldn't go in anymore."
Shutting down the crossing not only cut off Boqullias's small population from the only grocery store within 200 miles, it also prevented Big Bend visitors from crossing over and spending a few hours in Mexico — the longtime lifeblood of Boquillas del Carmen's minuscule economy.
With the border closed, the vast majority of the town's residents were forced to leave and Falcon — who owns and operates one of two restaurants in Boquillas — shuttered her business.
Boquillas, though, has started to come back to life. The port of entry was reopened in 2013 with heavy backing from the Texas state government, and a few hundred visitors now cross over into Boquillas daily, bringing with them the cold hard cash that has helped rejuvenate the town.
Recent talk of building a wall along the border, however, has begun to trouble Boquillas's tiny population, casting a cloud of uncertainty over the community.
Falcon, who is a dual US-Mexican citizen, has a rare perspective on the situation.
"I have feelings for both sides," she said as a group of American backpackers gently interrupted us to inquire about a vacancy in the three-room hotel she also owns. "If a wall is made here, they can make it, or he [Trump] can make it…but I think he should come over here first. I think if he came over here a lot of what he thinks would be so different."
On the short walk from the hot springs back to the parking lot, it was apparent that despite the customs agents and routine patrols, the border in Big Bend is quite fluid.
Along the path sat a dozen or so handmade metal animal figurines for sale, placed on a small blanket, by Mexicans living across the river. The four-inch tall figures stood alone — no merchant in sight — next to a coffee tin and sign asking for donations should a park visitor decide to take one.
Purchasing the figures is illegal according to the National Parks Service, but here, just a few hundred feet from the border, it was clear that the warning goes routinely unheeded.
The coffee tin was filled with greenbacks and once the sun set, someone from Mexico would undoubtedly be over to collect the money. The river, the mountains — maybe even a wall — would do little to stop them.
Micah Spangler is a freelance journalist. His work has appeared on CNN, The Daily Beast, VICE, Maxim, The Week, The National Interest, and more. In addition to his writings, he works full-time for an NGO based in Washington, DC, where he specializes in foreign policy issues.