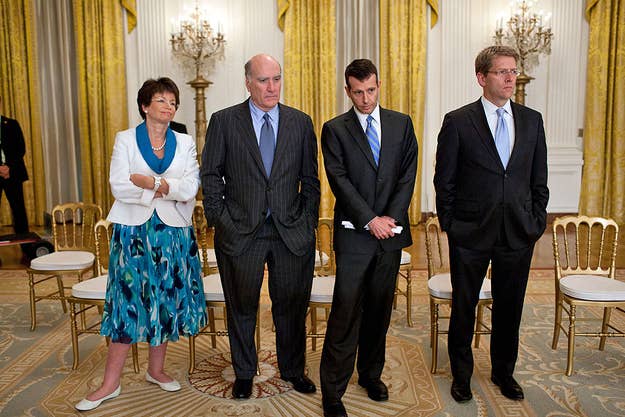 Valerie Jarrett is hard to find. Outsiders catch only short glimpses of her — a public conversation with Natalie Portman at a campaign event for women in Las Vegas, a wire photo with Will.i.am on the convention floor, a rare television appearance on Morning Joe. She's not one of the administration's leading public faces, but her low profile belies her importance. She holds the title of senior advisor to President Barack Obama; she is a best friend to Michelle. She is one of the most powerful black women in American history.
Since 2008, more than 42,000 words in at least three dozen major-media profiles and large sections of Jodi Kantor's bestselling book The Obamas have sought to convey her importance. The New Republic alone has called her "The Third Obama" and "Barack Obama's Fixer" and "protector of Barack's immortal soul." The Washington Post has dubbed her "Obama's Cold Shoulder" and "the real power" in the White House. Vogue says she's "Barack's Rock."
But she has her haters. She's butted heads with some of the biggest male egos in the administration, including Rahm Emanuel, Robert Gibbs, David Plouffe, Larry Summers, Peter Orszag, and even the relatively mellow David Axelrod. And in the final stretch of the president's reelection campaign, Jarrett's position has come under persistent attack from both inside and outside the White House. A piece in the New York Times gave her the nickname "the Night Stalker" (for allegedly playing the family-friend card to access the White House's residential wing and lobby the president after work hours) and reported that some anonymous fellow staffers said she enjoyed "the trappings of power" to an unbecoming degree. In the piece, Axelrod was quoted on the record describing Jarrett's powerful but not strictly defined place within the White House's organizational hierarchy as a "manageable problem" — not exactly a ringing endorsement.
Meanwhile, Bob Woodward gave her an unflattering portrayal in his new book, The Price of Politics. In chapter nine, former economic adviser Larry Summer blames Jarrett for the White House's frayed relationship with Wall Street. In chapter six, the former CEO of Verizon complains Jarrett didn't arrange enough time with him for the president at a Super Bowl party. "15 seconds," the CEO is quoted as saying. Jarrett is alleged to have responded by telling him he was lucky just to be in the room.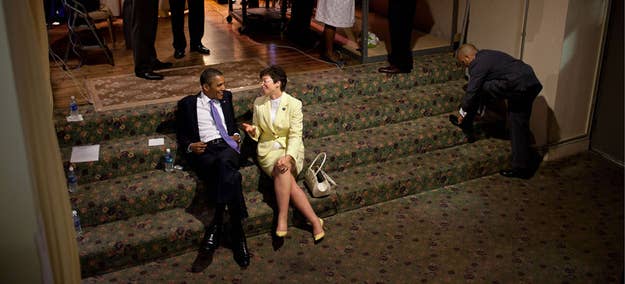 What makes Jarrett such a contentious figure inside the White House? Some friends and colleagues say it's the envy provoked by her powerful bond with the First Family. What terrifies Jarrett's internal critics most, her friends say, are the moments that only she shares with Barack and Michelle, and the idea — real or imagined — that those discussions may have more sway than the conversations the president and first lady hold with other top advisors in the court. That those private moments between Jarrett and the president are essentially unknowable, even to the inner circle, makes her presence a threat. "There's a certain parlor game about people who have pre-existing relationships with the First Family or with the president — people whose jobs you can't necessarily put in a neat box," says a former White House aide who worked with Jarrett. "There's a natural curiosity about that, and for people, there's a natural insecurity about that."
There's also the fact she's not from the Beltway. She had already established a separate universe of power before coming to Washington, which might intimidate those political creatures whose resumes include little achieved beyond the Acela corridor. And then there's the fact that, however liberal the ideals of the Democratic Party might be in theory, she's still a black woman in a world of white men. Jarrett's friends and allies suspect the recent attacks stem not just from resentment over her close relationship to the president but from blatant sexism. "If she wasn't a woman, it would be different," one close friend and former White House official told BuzzFeed. "Sexism is there."
Jarrett has faced this Revolt of the White Male Ego in her usual style — with discretion and the confidence that her place within the administration is always secure. She has a twenty-year friendship with Barack Obama and gave Michelle her first important job. She's inured from the Washington anxiety of worrying about your status with the president in a time of crisis. Her role is too broad and essential for that. She is a political North Star — trying to keep, say, a sense of continuity for the First Family between DC and Chicago; reminding Obama that his values, shaped on the city's South Side, are truly liberal and progressive. She ensures that no unseemly suitors — like insufferable CEOs or overeager staffers — get inappropriately close to Barack. She's Michelle Obama's proxy in policy debates — "the reason you don't see Michelle's fingerprints on anything is because of Valerie," says one scribe who's covered her extensively. And she's an enforcer. "To work with Valerie, you have to understand that she'd cut your throat and your children's throat to protect the president," one White House official told BuzzFeed. "If you go into it understanding that, then there's no problem."
Jarrett has continued to be what campaign spokesperson Stephanie Cutter calls one of Obama's most "sought-after surrogates," involved in "raising money, launching Women for Obama, visiting college campuses, traveling the country, rallying our supporters." Besides the media hits and campaign events, Jarrett has done at least seven private fundraisers this year. "Valerie helps the Obamas achieve what they want to do," says her cousin, Anoinette C. Bush, a partner at Skadden, a powerful law firm that hosted a phone bank for Obama's 2008 bid. That's not as obvious an observation as it sounds. To someone powerful, an advisor that has no personal agenda — even a benign one — or biases is a precious commodity. "Her role [now] is to get the president re-elected."
Only once during the 2012 campaign cycle has Jarrett truly advertised the extent of her power — the week of the Democratic National Convention in Charlotte. She was relentless. At the DNC, Jarrett's days began around 5 a.m. She did seven major media appearances over the three-day period. Jarrett's octogenarian mother proudly accompanied her onto CBS This Morning, "in awe" of her daughter, as one friend put it. VJ — as she signs her emails to friends, and is referred to in internal White House communications — traveled to events with a robust Secret Service escort, shaded from hassles in a cocoon of black sedans. Unapproved reporters struggled to get close to her, while she was treated with deference at her appearances.
On Tuesday of the convention, she headlined the California Democratic Party breakfast in the Blake Hotel, right after spending thirty minutes on stage for a Bloomberg Q&A. On Wednesday evening, she partied with President Obama's closest friends and supporters in a private event at Delta's, a southern-themed soul food restaurant and bar. The guest list included Obama's former body man Reggie Love, uber-bundler and private equity player Brian Mathis, consulting and finance bigshot Robert Wolf, and the New York Times' Kantor. Eyewitnesses said she tore up the dance floor, enjoying her role as "the Queen Bee" of Obamaland, as one guest put it. Topping off Jarrett's week: on Thursday night, she watched Barack Obama's acceptance speech from Michelle Obama's box seats on the Time Warner Cable Arena's third floor. It was a display of status unmatched by anyone else in Obama's inner circle.
How did Valerie Jarrett come to be powerful enough to brush off attacks conveyed through such Establishment mediums as the New York Times and Bob Woodward? She declined a request to be interviewed for this story. BuzzFeed did, however, interview over a dozen of her friends and colleagues. We visited the Chicago neighborhoods where she built her Illinois legacy, and spoke at length with other journalists who covered her. And in the course of the reporting, BuzzFeed did get to meet Jarrett once — but in an off-the-record setting on the campaign trail. Though we're not allowed to report what was said, our general impression was that Jarrett, among Obama's advisors, projects a certain fearlessness and composure exclusive to accomplished maternal figures the world over. It reminded us of a story we'd heard about her: unflinchingly watching a Chicago housing project demolished in 1998, her face and clothes covered in soot. "She took so much pride in being there," says a friend who was with her that day. "Not just talking about it, [but] an ability to turn talk into action."
In other words: she's a woman who is not going to take any shit, from anyone, including the President.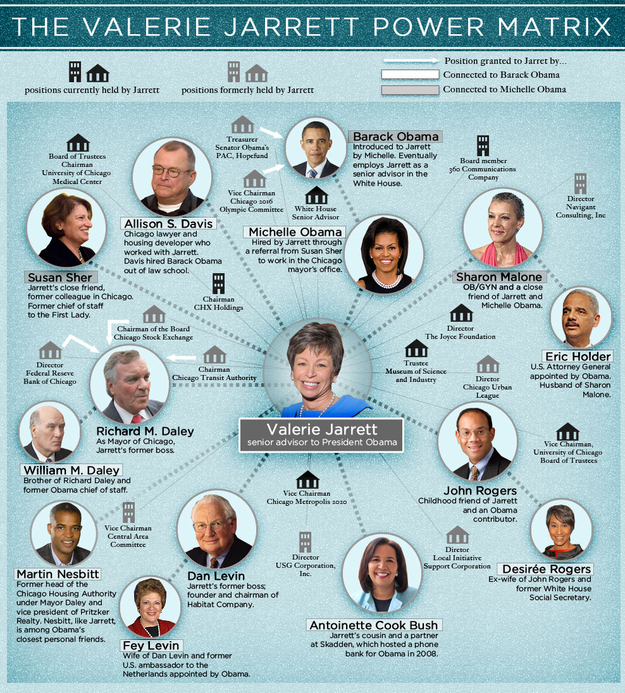 Before putting her stamp on Washington, Jarrett established herself over a lifetime in Chicago. Born in Iran in 1956 to two parents committed to public service — her father, Dr. James Bowman, ran a children's hospital in Iran, and her mother, Barbara Taylor Bowman, worked in public schools and would later found the Erickson Institute, a leading center for child development research — Jarrett moved back to the city when she was six years old.
Six-year-old Jarrett might have been new to Chicago, but her family was already one of the most well-known in the city's black community. Her grandfather, Robert Taylor, was a housing activist and chairman of the Chicago Housing Authority. His name would be made famous — or infamous — by the Robert Taylor Homes, a housing project Jarrett would later help tear to the ground. Taylor envisioned a working-class black population provided with safe, government-funded affordable housing in good neighborhoods. It wasn't a dream realized during his own lifetime, and Jarrett would take it up in her own career.
Chicago was — and still is — one of the most segregated cities in the country, and Jarrett's neighborhood, Hyde Park-Kenwood, was mostly black. It was, however, an upscale area — it's where both she and the Obamas currently have their homes — and she was tagged early to have a bright future.
"Valerie and I grew up on the same block," said John Rogers, chairman of Ariel Investments, a friend to the Obamas, and the ex-husband of Desirée Rogers, the former White House social secretary. "As a kid she was always sort of a very quiet and thoughtful young person — just a little quiet, and always a little shy. I can remember when I started to realize her leadership skills."
"As a child, Valerie read a lot," remembers Antoinette Bush, who lived in the same neighborhood as her cousin and Rogers. "I remember growing up and going to political rallies with Valerie when I was, like, ten. There was a mall in our neighborhood, and we would go to these rallies at a really young age. Our parents were very involved in the community, and it rubbed off on us," said Bush.
Jarrett's roots in Chicago shaped her worldview — one that respects established power but prioritizes responsibility to the larger community. In September of 2011, she'd speak at length about the importance of Chicago — and her neighborhood — at her father's funeral. "At her dad's funeral," Rogers recalls, "the one thing that Valerie talked about was that her parents could have settled anywhere in the world — they were comfortable around the world and had lived in different places — and they choose to live in the Hyde Park-Kenwood area and be a part of the Chicago community."
"It's not a coincidence that two of the three elected African-American senators came from Kenwood," added Rogers.
Jarrett spent her college years at Stanford University studying psychology, then got a law degree from the University of Michigan. After school, she returned to Chicago, where she found her very first summer job as a clinic coordinator at the University of Chicago Medical Center (she would later end up on the hospital's board). "My responsibility was to greet patients when they came to the clinics and make sure that their medical records were complete," Jarrett would later say. "I learned a lot about dealing with people who are under an enormous amount of stress, attention to detail, showing up to work on time, making sure that everything from the beginning of the visit to the end of the visit went well. And all of those skills have helped me enormously in the White House."
In the early '80s, while Barack Obama was finding himself at Columbia University and then later on Chicago's South Side, the city elected its first black mayor — Harold Washington. Washington's election sent shockwaves through the political class — it was the first significant break from Mayor Richard J. Daley's decades-long stranglehold over the town's notorious political machine. Washington beat Daley's son, Richard M. Daley, in a tight three-way race, pushed over the edge by more than one hundred thousand new black voters, a bloc not dissimilar from the first-time young and black voters that would put the first black president in the White House three decades later. By the time Washington won a second term as mayor in 1987, Jarrett had left her job at the hospital for a spot at law firm Sonnenschein, Carlin, Nath & Rosenthal — where she had worked her way into an office on the 79th floor of the Sears Tower — but the job left her unfulfilled. Jarrett signed up to work for Washington, becoming the mayor's finance deputy before his untimely death later in the year. When the younger Daley took over after Washington's passing — reasserting the family power over the city — Jarrett was kept on staff.
"We were so desperate to talk to competent people to have them show us the ropes," remembers MarySue Barrett, then a new Daley staffer who helped make the transition between the two administrations. "Like, who are the good guys we need to talk to here? And Valerie stood out as a good resource from day one. Mayor Daley saw that and promoted her."
Jarrett stayed with Daley for six years. He first promoted her to Deputy Chief of Staff in 1989, and then, in 1992, tapped her to oversee the Department of Planning and Development. He recognized not only her talent, but her ability to bridge the gap between Chicago communities — white and black, public and private, rich and poor — and to connect "all these intersecting circles," explained Barrett. "She lived in Kenwood and was very plugged into that community, to the University of Chicago, and to African-American leadership. Not a lot of people have networks as broad as she does."
Sticking with Daley would lead to the two of the most profound events in Jarrett's career — both personally and professionally. In 1991, Susan Sher, who had the office next door to Jarrett's at City Hall, handed her a resume from a woman named Michelle Robinson. Sher, who later would become chief of staff in the East Wing, recalls that Jarrett and Michelle hit it off immediately. As Jarrett would later recount, she spent an hour and a half meeting with Michelle, and made her a job offer on the spot. Michelle became an aide to Daley, then worked as an assistant in the city's Planning and Development office.
Michelle and Jarrett's lives would be forever intertwined: soon enough, Michelle had told Jarrett about a guy she was dating, Barack Obama. One of Jarrett's longtime policy assistants in Chicago, Greg Longhini, remembers thinking of the future President as "just a guy dating Michelle." But Jarrett had heard of the "hotshot" young lawyer who headed up the Harvard Law Review, and gave him her seal of approval. She started to introduce Obama around town, and held a book party for Dreams From My Father. "My first recollection of meeting him [Obama] was when his first book came out," says Bush. "Valerie was very enthusiastic about him and his book. She had already been involved in his early campaign efforts at that point."
As her relationship with the Obamas developed, Jarrett embarked on what would be her most ambitious — and controversial — project of her lifetime: radically transforming Chicago's housing projects. It would be much of her life for almost 15 years, from the moment she left the Mayor's office in 1995 to head a development company called Habitat until she left Chicago for Washington, D.C. in 2008.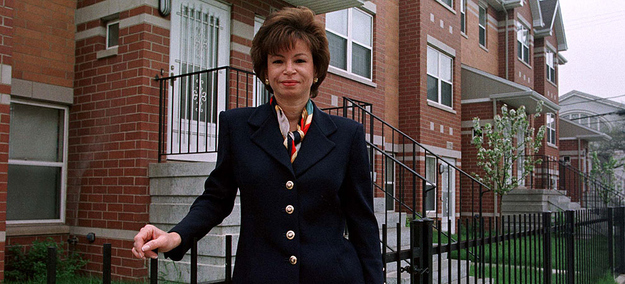 In the '80s and '90s — and to a slightly lesser extent today — the projects in Chicago were known around the country for their horrible violence and squalid conditions. Names like Cabrini Green would enter the national consciousness as abysses of gang violence, drugs, and despair. In 1981 then-mayor Jane Byrne moved into Cabrini for three weeks to prove that it was safe. But nearly 20 years later it still wasn't — a 9-year old girl, who became known nationwide as "Girl X," was left for dead in Cabrini's stairwell, where she had been found raped, choked, and poisoned.
The projects were a problem, and when Jarrett left the mayor's office for Habitat Company — the court-appointed supervisor of all Chicago Housing Authority projects — it was her job to fix them. Her decision to leave the Mayor's office for Habitat was controversial and much talked-about in the Chicago papers. Crain's Chicago Business speculated that her decision had to do with public-sector red tape — "bickering alderman, anxious developers and bureaucratic infighters." Others said it had more to do with the resignation of key Jarrett allies and a crop of unfamiliar aides coming in. Jarrett told the Chicago Tribune that her new job would allow her to focus on what she called her "real love": community development.
Despite the high-profile departure, Jarrett kept close ties to the public sector and to Daley, who appointed her chairman of the Chicago Transit Authority, a part-time post she held for him until 2003. Barrett explains that Jarrett and Daley had an umbreakable trust — and "very easy chemistry," she said, adding that Daley "always had strong support with African-American leadership, and his support grew overtime — that's true in part because of Valerie making sure that he would get to know certain people, meet people, interact with organizations he wouldn't otherwise," said Barrett. "She helped him be a more effective mayor."
At Habitat, Jarrett was tapped to oversee a scattered-site housing program, designed to desegregate the city by placing publicly-funded low-rise units — town homes or small apartment buildings — in affluent neighborhoods. It was a new vision for public housing, and a sharp departure from the school of thought that had given Chicago its dozens of supposedly modern, uplifting high-rises in the 1950s and '60s.
For Jarrett, that meant tearing the high-rises down and relocating residents into low-rise, mixed-income housing. "Chicago essentially had two choices in front of them: to rebuild on the land, to rehabilitate and restore, and to raze completely," says Sudhir Venkatesh, a professor of sociology at Columbia University who is writing a book about the city's so-called Plan for Transformation. "They chose not to rehabilitate; they decided to tear down everything." And that included the notorious Robert Taylor Homes, named after Jarrett's own grandfather.
But that's what her grandfather would have wanted, her friends say. The chairman of the Chicago Housing Authority from 1943 to 1950, Robert Taylor was one of the first advocates for mixed-income community development. He abhorred the idea of high-rises, but after he stepped down as chairman, the CHA went on to build them throughout the city, and christened one complex for him in 1962, well after his death. Destroying the high-rises and replacing them with housing that would lead to economic and racial integration, Jarrett would later say, was "how my grandfather's vision will be realized."
This was Jarrett continuing — or trying to rectify — her own grandfather's failed attempts at providing decent housing. "When we were growing up," remembers Bush, "the housing projects in Chicago were terrible. It was clear that the idea of these high-rise compounds of poor people was not a successful model. I think she's proud of her work. She's implementing her grandfather's vision." Bush added that some might have been "afraid to say that a project named after her grandfather was not successful. But it was a problem, and she attacked it."
According to Mark Segal, Habitat's current president and CEO, the company has developed scattered-site housing in 43 of Chicago's 50 wards. Their work — though impressive in scale — has not been without controversy. The Plan for Transformation is running nearly three years behind schedule. Grove Parc, a Habitat-managed property, was handed over to a new company after it received a score of 11 on a 100-point scale during a federal inspection. BuzzFeed visited some Habitat sites during the reporting of this story. On a Saturday night in September at Grove at around 1 a.m. a gang of youths hung outside an unwelcoming row of apartments, while only two blocks away a man on a corner advertised the availability of drugs and prostitutes. However, in other neighborhoods — like where the Robert Taylor Homes once stood — the area around public housing had taken on a safe, almost suburban feel.
Meanwhile, finding temporary and new housing for the thousands of residents whose homes in high-rises were razed is an ongoing challenge. There are some residents in Chicago, too, who blame the bloody gun violence — on one September weekend this year, there were 19 shootings in under 12 hours, much of it in neighborhoods that have never seen such levels of crime — on the scattering of gangs across the city. A 2008 cover story in The Atlantic publicized the research of scholars who believed mixed-housing policies like Chicago's could actually raise overall levels of violence by pushing borderline-dangerous neighborhoods past a tipping point at which crime skyrockets.
That said, according to the most comprehensive study, crime has dropped 4 percent since the plan took effect. "We released a study in April — and this is not an easy question to study — but there was a theory that was promoted by the Atlantic that when you tear down high-rises, crime rises," said Dr. Susan Popkin, Senior Fellow at the Urban Institute. "The CHA and McArthur Foundation asked us to look into the question in a more meaningful way. Our research shows that when they tore it down there was an enormous reduction in crime, and a net benefit for the city overall. It reduced crime for the whole city."
Though the overall success of the transformation project is still up for debate, Jarrett's reputation has only grown since she took the Habitat job. She makes colleagues feel like friends; people who meet Valerie Jarrett become her allies. By the time she left Chicago for Washington, DC, she sat on over 25 boards and had a rolodex that included bankers, celebrities, media titans, and political insiders. "A lot of people have a web of relationships, but it's like a spider web that doesn't withstand pressure — a heavy wind comes along and it's gone," said Barrett. "Valerie's network has been so valuable because those are really deep ties. They don't come down. When controversies do arise, people stick by her. She always assumes that someone she meets will reappear later in life." Even those pegged as rivals — like Joseph Shuldiner, executive director of the CHA, who reportedly clashed with Jarrett in the '90s — have benefited from Jarrett's extensive network. "I did then and do now have absolute respect for Valerie," Shuldiner told BuzzFeed. "My daughter went to Lab [the University of Chicago Lab School] after spending a day at the school with Valerie's daughter."
When Jarrett was still in Chicago, she had her assistant create a database of young talent, people to keep in mind down the road. "She set up a system to track resumes of people who were asking for help," remembers Barrett. "Then people like me would say, 'I'm looking for a board members with these skills, or a worker with these skills,' and she was always had someone to refer to me. I remember her saying, 'Oh, let me check my list!'"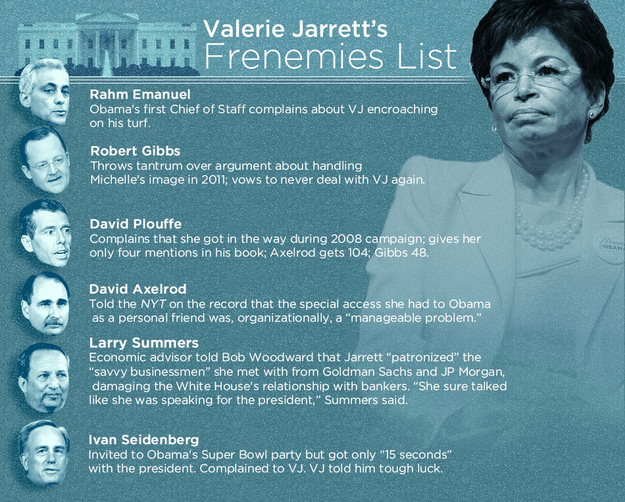 After flirting with the idea of trying to replace Barack Obama as senator, Jarrett moved to Washington, D.C. to join the Obama administration. She took an apartment in Georgetown, where she's been a "totally cool" neighbor, according to a source in her building — the type who didn't mind knocking on the door to, say, borrow an opener for a bottle of wine. At work on 1600 Pennsylvania Ave., however, she would begin to clash with others around the president, including Rahm Emanuel and spokesperson Robert Gibbs. Rahm, according to friends, didn't want her anywhere near the Oval Office, while Gibbs clashed with her over how to handle Michelle Obama's image. It should be noted, however, that Gibbs is the one who left the White House, not Jarrett.
Her colleagues quietly built a case against her in the press, starting with Kantor's book earlier this year, putting the blame on her for the Obama administration's unsuccessful Olympic bid for Chicago in 2016. She also had the unenviable job of doing outreach to a business community whose feelings had been hurt by Obama's criticism of "fat cats," and his comment that big corporations shouldn't be blowing money on trips to Las Vegas. In Nevada, Obama's line about Vegas would be seized upon by casino magnates Sheldon Adelson and Steve Wynn, who would blame the president for a downturn in business and throw tens of millions of dollars into the effort to get him out of the White House).
In her other role as the "protector of Barack's immortal soul," she's put her imprint on a range of issues that have been popular with the president's liberal base, including financial regulations, immigration, marriage equality, and women's health. During the crafting of new financial regulations, she lobbied for the input of Paul Volcker — which put her on the wrong side of other advisors like Larry Summers and Tim Geithner. "I remember her saying this about Volcker, that Volcker was not having a voice," says a former White House official. "She was playing her typical role — she felt he deserved to have input, she thinks there are people without a voice, and she considers the voiceless."
She also takes it upon herself to implement what she sees as the president's true vision when he faces resistance from other staffers. "The president was giving an immigration speech, and [told the staff] what he wanted, but the draft kept coming back that it didn't go as far as he wanted to go. So she was telling people, you heard what he said he wanted." Earlier this year, she pushed hard to ensure women's birth control would be covered by employers, regardless of religion, a position that insiders speculate Michelle held as well.
Despite having recently come to a head in the press, White House drama might be behind her, according to her friends. Rahm is gone, Gibbs is gone, and Plouffe — who never particularly cared for Jarrett, as he makes clear in his book The Audacity to Win — he's sticking in his own geeked-out lane on the campaign. (In the book, Plouffe mentions Jarrett an icy four times; Gibbs and Axelrod get over 50 mentions each.) "If you look at the current chief of staff, there's none of that infighting," says a former White House official. "[Jacob] Lew's a grownup, he doesn't seem to be threatened by her."
As for the nickname "Night Stalker," current White House officials and friends say they've never heard her called that. "An attempt to get a nasty nickname to stick," as one friend put it. Said another former East Wing aide: "I read that and it struck me as weird. I never heard that term used… I am not saying Valerie is perfect — who is? — but she is smart, loyal, and tough in the best sense of what any presidency needs to get big things done. It seems to me that a lot of the chatter is coming from quarters that can't win an argument on substance and can't earn a place of greater proximity on merit." As yet another close friend explained: "She doesn't go over to the residence very often. It is true, every once in a while on invitation she will, if the president's out of town, and hang out with the first lady. If the first lady is out of town she might go over with the president's invitation. She goes over there more than other senior staffers, but I'll bet it's less than once a month, or less than once every two months."
With less than two weeks left to the election, Jarrett is focused on keeping the president in power. Jarrett has done 15 campaign events so far this year, all of which have been in swing states, save for a few private receptions in Washington. Last week, she was spotted leaving with the president's entourage for the town hall debate at Hofstra, getting off Marine One at JFK Airport. Earlier that day, she'd been keeping Michelle company at a campaign stop in North Carolina, "FLOTUS emerged from the bus a minute later and hustled to a black SUV where she took a seat next to Valerie Jarrett," as the White House pool report noted. And this week, she's been traveling on Air Force One.
Maybe it is easy to find Valerie Jarrett: just look by the Obamas' side.