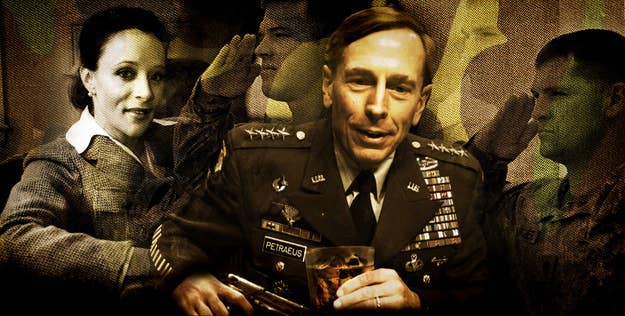 The fraud that General David Petraeus perpetrated on America started many years before the general seduced Paula Broadwell, a lower-ranking officer 20 years his junior, after meeting her on a campus visit to Harvard.
More so than any other leading military figure, Petraeus' entire philosophy has been based on hiding the truth, on deception, on building a false image. "Perception" is key, he wrote in his 1987 Princeton dissertation: "What policymakers believe to have taken place in any particular case is what matters — more than what actually occurred."
Yes, it's not what actually happens that matters — it's what you can convince the public it thinks happened.
Until this weekend, Petraeus had been incredibly successful in making the public think he was a man of great integrity and honor, among other things. Most of the stories written about him fall under what we hacks in the media like to call "a blow job." Vanity Fair. The New Yorker. The New York Times. The Washington Post. Time. Newsweek. In total, all the profiles, stage-managed and controlled by the Pentagon's multimillion dollar public relations apparatus, built up an unrealistic and superhuman myth around the general that, in the end, did not do Petraeus or the public any favors. Ironically, despite all the media fellating, our esteemed and sex-obsessed press somehow missed the actual blow job.
Before I lay out the Petraeus counter-narrative — a narrative intentionally ignored by most of the Pentagon press and national security reporters, for reasons I'll soon explain — let me say this about the man once known as King David, General Betray-Us, or P4, by his admirers, his enemies, and his fellow service members, respectively. He's an impressive guy, a highly motivated individual, a world-class bullshit artist, a fitness addict, and a man who spent more time in shitty places over the past 10 years than almost any other American serving his or her country has. I've covered him for seven years now, and he'll always have my respect and twisted admiration.
So it's fair to say that P4 probably deserves something a little better than the public humiliation he's about to endure. Sources who long feared him have already begun to leak salacious details; one told me this weekend that he took Broadwell along with him on a government-funded trip to Paris in July 2011. And questions about his role in the Benghazi debacle are also likely to deepen.
And Broadwell, too, is about to get slandered in a way no woman deserves. She's the Pentagon's Monica Lewinksy — and, despite Team Petraeus' much advertised lip service to courage and integrity, it didn't take long for his allies to swarm the press with anonymous quotes smearing the West Point graduate and married mother of two: that she wore "tight clothes," as The Washington Post reported, or that she had her "claws in him." In other words, how could Old Dave have resisted that slut's charms?
Pretty shitty behavior, all around. As Petraeus ally and counterinsurgency scholar Dr. Andrew Exum might put it, stay classy!
But the warning signs about Petraeus' core dishonesty have been around for years. Here's a brief summary: We can start with the persistent questions critics have raised about his Bronze Star for Valor. Or that, in 2004, during the middle of a presidential election, Petraeus wrote an op-ed in The Washington Post supporting President Bush and saying that the Iraq policy was working. The policy wasn't working, but Bush repaid the general's political advocacy by giving him the top job in the war three years later.
There's his war record in Iraq, starting when he headed up the Iraqi security force training program in 2004. He's more or less skated on that, including all the weapons he lost, the insane corruption, and the fact that he essentially armed and trained what later became known as "Iraqi death squads." On his final Iraq tour, during the so-called "surge," he pulled off what is perhaps the most impressive con job in recent American history. He convinced the entire Washington establishment that we won the war.
He did it by papering over what the surge actually was: We took the Shiites' side in a civil war, armed them to the teeth, and suckered the Sunnis into thinking we'd help them out too. It was a brutal enterprise — over 800 Americans died during the surge, while hundreds of thousands of Iraqis lost their lives during a sectarian conflict that Petraeus' policies fueled. Then he popped smoke and left the members of the Sunni Awakening to fend for themselves. A journalist friend told me a story of an Awakening member, exiled in Amman, whom Petraeus personally assured he would never abandon. The former insurgent had a picture of Petraeus on his wall, but was a little hurt that the general no longer returned his calls.
MoveOn may have been ill-advised to attack the general as "Betray Us" in Washington, but there was little doubt that many in the Awakening felt betrayed.
Petraeus was so convincing on Baghdad that he manipulated President Obama into trying the same thing in Kabul. In Afghanistan, he first underhandedly pushed the White House into escalating the war in September 2009 (calling up columnists to "box" the president in) and waged a full-on leak campaign to undermine the White House policy process. Petraeus famously warned his staff that the White House was "fucking" with the wrong guy.
The doomed Afghanistan surge would come back to bite him in the ass, however. A year after getting the war he wanted, P4 got stuck having to fight it himself. After Petraeus frenemy General Stanley McChrystal got fired for trashing the White House in a story I published in Rolling Stone, the warrior-scholar had to deploy yet again.
The Afghan war was a loser, always was, and always would be — Petraeus made horrible deals with guys like Abdul Razzik and the other Afghan gangsters and killed a bunch of people who didn't need to be killed. And none of it mattered, or made a dent in his reputation. This was the tour where Broadwell joined him at headquarters, and it's not so shocking that he'd need to find some solace, somewhere, to get that daily horror show out of his mind.
(This past summer, there were more attacks in Afghanistan than in the summer before the surge, a devastating statistic. I could keep going, but if you're interested, check out The Operators: The Wild and Terrifying Inside Story of America's War in Afghanistan.)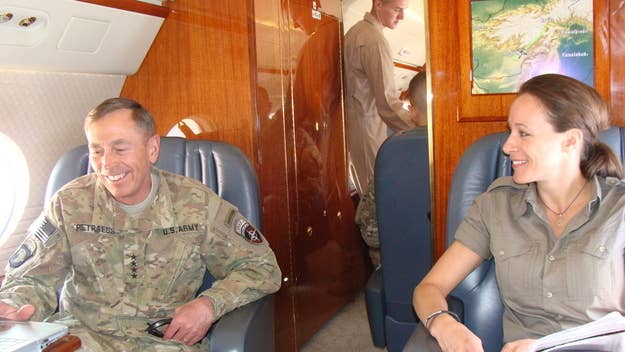 How did Petraeus get away with all this for so long? Well, his first affair — and one that matters so much more than the fact that he was sleeping with a female or two — was with the media.
(For the record: Who really cares whom P4 is sleeping with? The idea that the FBI was investigating his sex life says more about the FBI and our absurd surveillance and national security state than it does about King David's morality.)
Petraeus' first biographer, former U.S. News and World Report reporter Linda Robinson, wrote a book about him, then went to CENTCOM to work for him. Yes — a so-called journalist published a book about him, then started getting a paycheck from him soon after. This went largely unremarked upon.
Another huge supporter was Tom Ricks, a former Washington Post journalist who found a second career as unofficial press agent for the general and his friends. Ricks is the ringleader of what I like to call "the media-military industrial complex," setting the standard for its incestuous everyday corruption. He not only built Dave up, he facilitated the disastrous liaison between Broadwell and Petraeus. Ricks helped get Broadwell a literary agent, a six-figure book deal, and a publisher.
Broadwell was sold to publishers as much for her looks as what she was writing — she was an attractive package to push Petraeus and his counterinsurgency ideas. Little, Brown editor Geoff Shandler once told me how "hot" he thought Broadwell was after she came in to meet him at his office, and indicated to me that Broadwell had made him somewhat aroused. Intellectual integrity all around, to be sure.
Ricks blurbed her in All In, and earlier had promoted her content on his blog — the oddly titled Travels With Paula, a headline he slapped to a story about the U.S. military's total destruction of a small village in southern Afghanistan. Broadwell described the ultra-violent wipeout in favorable terms — and when she was confronted with an angry villager whose house had been destroyed, she wrote that the Afghan's tears and anger were a "a fit of theatrics."
This was the kind of bullshit Ricks and Broadwell had been pushing — and it not only wasn't called bullshit, it was embraced as serious work. Ricks wasn't the only offender, of course — Petraeus more or less had journalists from many major media outlets slurping from the Pentagon's gravy train. The typical route was to have all the cash and favors funneled through a third party like the Center for a New American Security.
CNAS was a Petraeus-inspired operation from its inception in 2007, and it made its reputation promoting Petraeus' counterinsurgency plans. No problem, right? Except that it put the journalists who were covering those same plans and policies on its payroll. For instance, New York Times Pentagon correspondent Thom Shanker took money and a position from CNAS and still covered the Pentagon; Robert Kaplan, David Cloud from the Los Angeles Times, and others produced a small library's worth of hagiographies while sharing office space at CNAS with retired generals whom they'd regularly quote in their stories.
But Petraeus' crash is more significant than the latest nonsense sex scandal. As President Obama says, our decade of war is coming to an end. The reputations of the men who were intimately involved in these years of foreign misadventure, where we tortured and supported torture, armed death squads, conducted nightly assassinations, killed innocents, and enabled corruption on an unbelievable scale, lie in tatters. McChrystal, Caldwell, and now Petraeus — the era of the celebrity general is over. Everyone is paying for their sins. (And before we should shed too many tears for the plight of King David and his men, remember, they'll be taken care of with speaking fees and corporate board memberships, rewarded as instant millionaires by the same defense establishment they served so well.)
Before Dave fell for Paula, we fell for Dave. He tried to convince us that heroes aren't human. They are human, like us, and sometimes worse.