Obama Tries To Get Back To Hope
During the closing stretch of 2012, Obama promises a "brighter future," 2008 style. "A big agenda," promises a senior campaign official.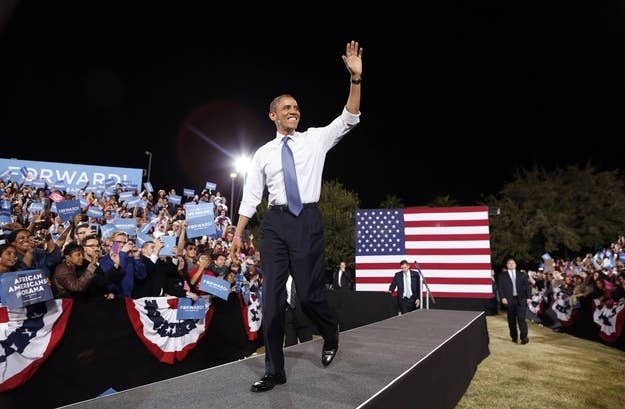 TAMPA, FL—One of the most persistent criticisms dogging President Barack Obama this election season was famously summed up in a question earlier this year from CBS's Bob Schieffer: "Whatever happened to hope and change?"
The question, later used in a Romney attack ad, hit on the widespread belief that the Obama campaign was overly negative and lacking the kind of grand vision that had inspired an entire generation of new voters to go the polls four years ago.
But with only 12 days left until election day, Obama is on a sleepless, 48 hour, six state trip, laying out a vision for a second term that builds on optimism the campaign hit in 2008.
"The good news is, Americans, we're always tougher, we always bounce back," Obama told the approximately 8500 person crowd during an early morning speech in Tampa Thursday.
"We always come out on top because we pull together… We look forward to a future that is brighter. We look at the distant horizon and we say, 'that's where we're headed,'" he added.
Obama's retooled stump speech echoes his closing arguments during Monday night's debate, when the president clearly pivoted from the often grim and negative tone that had at times marked much of his rhetoric this year.
"You know, we've been through tough times, but we always bounce back because of our character, because we pull together," he said on Monday in Boca Raton.
"And if I have the privilege of being your president for another four years, I promise you I will always listen to your voices, I will fight for your families and I will work every single day to make sure that America continues to be the greatest nation on earth."
Aides acknowledged that Obama has begun to move back towards his more optimistic style that helped launch him to victory in 2008.
"I'm a little puzzled by the notion that the president's not been laying out an agenda," a senior campaign official told BuzzFeed. "Because it's a big agenda, with very concrete ideas on how to get there."
"In our speech we're giving out here, we're talking about ending wars, building an economy, reducing the deficit, dominating a green energy future," senior White House advisor David Plouffe told reporters yesterday. "These are big things, basically as big as anything can be."
Plouffe strongly rejected the idea that the campaign was being too negative by focusing on "Romnesia"—the popular stump line rolled out last week.
"On Romnesia this is about as big a thing you can have in a presidential election, it's about trust," Plouffe said. "You have never seen a major party nominee this close to an election trying to fudge what he's going to do as president…This about the presidency of the United States of America. Talk about something big, this is as big as anything gets."
Plouffe, who paid a rare visit to the campaign's press charter bus yesterday, implored reporters who believed this year was more negative than 2008 to revisit what the president's closing argument was last time around.
"Listen in 2008, go back and pull our speeches for the last week in 2008," Plouffe said. "We contrasted ourselves with John McCain and the Bush years…Go back and read them, they weren't just gauzy, they were hard hitting about the choices and differences."