Team Obama Rides Post-Convention Wave
Obama hits rough waters with a scary job report. The president acknowledges bad news, but tells supporters in Iowa not to "buy into the cynicism" and to register for early voting.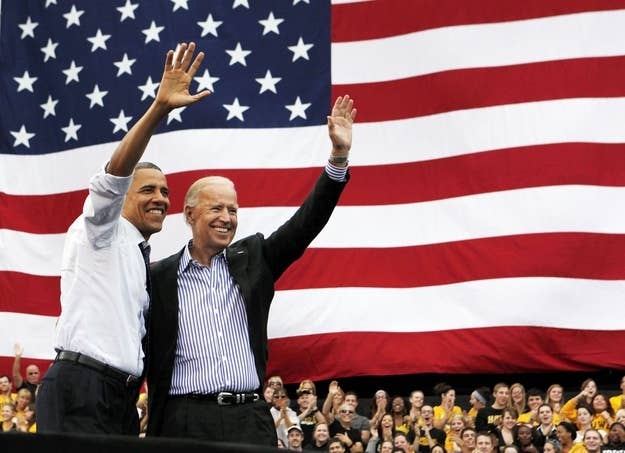 IOWA CITY, IOWA — On the first day of a seventy-two hour swing state trip, President Barack Obama weathered reports of a stalled economy, trying to keep alive the momentum gained from the Democratic National Convention in Charlotte.
Before a crowd of eight thousand people on the University of Iowa campus, Obama called the convention "amazing." His wife, Michelle Obama, used the same word in a fundraising email, while his campaign released a statement that described the convention as "thrilling." Campaign officials were also pleased that each high-profile speaker delivered in Charlotte their primetime speeches at the convention, keeping close to the president's script.
"Somebody sent around a Tweet saying you need to appoint [Bill Clinton] secretary of explaining stuff," Obama said, referring to the former president's speech on Wednesday.
"For three days of this convention you could feel palpable enthusiasm in the convention hall," campaign spokesperson Jen Psaki told reporters earlier in the day.
Before the convention, senior officials had predicted there would be no lasting bounce —only a "sugar high."
This phenomenon appears to be reflected in the latest Gallup Poll conducted over the past week which showed a 7 point bump in favorability.
Perhaps more important, the convention served as a way to animate "the largest grassroots campaign in history," according to the campaign. Chicago claimed that more than 14,500 volunteers took part in the event. At the same time, Obama supporters held 6200 house parties across the country last week. There are 7,000 smaller events scheduled for this weekend, the campaign said.
The swing today included a stop in New Hampshire, then Iowa, leading into a two day Florida bus trip over the weekend. Michelle Obama, Vice President Joe Biden, and Jill Biden also joined the president on the campaign trail.
The sense of urgency to motivate Obama's grassroots network has increased due to the large number of voters expected to cast their ballots early. According to pollster Michael P. McDonald, early voting may account for up to 35 percent of the vote, up five percent increase from 2008. Early voting in key swing states begins this month: New Hampshire residents can start mailing ballots on September 22; Iowa opens the polls on Sept. 27, and Florida on Oct. 2. (North Carolina's voting started today.)
The good vibes from the convention were lessened by an ominous jobs report, saying that only 96,000 jobs were created in August, with 368,000 people dropping out of the workforce. Obama said that was "not good enough, we can do better, we need to fill the hole left after this recession."
He also pushed back slightly, claiming his administration had added more than 4.6 million jobs, while imploring those in the audience to register for early voting in Iowa.
His Republican rival, Mitt Romney, shadow-campaigning in New Hampshire and Iowa, used the job report to try to blunt any possible convention gains, saying the report was "unimaginable" and stating that Obama didn't know how to run an economy.