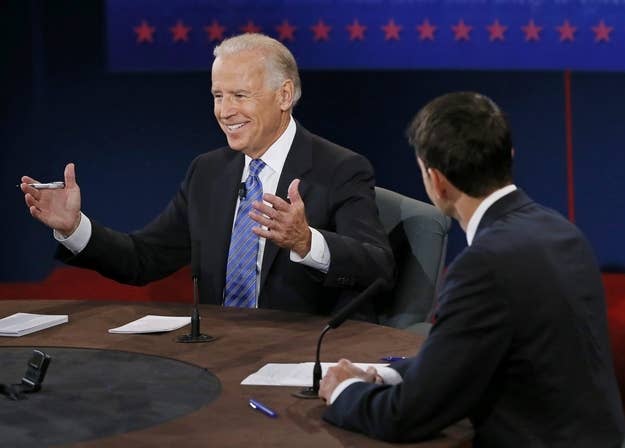 DANVILLE, KY—Vice President Joe Biden appeared to stop the Obama campaign's week-long slide on Thursday evening, easily dominating the debate against his 42 year old opponent, Rep. Paul Ryan, who was making his debut on the national debate stage.
"We are absolutely psyched, we had a very big night, a decisive win for the vice president," Obama campaign manager Jim Messina told BuzzFeed. "I felt sorry for Ryan because he couldn't defend his running mates positions on these issues."
On foreign policy, Medicare, and the economy, Biden delivered a vigorous defense of the Obama administration's policies, often effectively displaying his well worn charm to personalize complex arguments with an array of personal anecdotes.
On Israel, he dismissed criticism of the administration's Israel policy, waxing poetic on his meetings with Prime Minister Benjamin Netanyahu "who's been my friend for 39 years." He referred to him as "Bibi" five times, and discussed a recent conference call before the United Nations: "I was in a conference call with the -- with the president, with him talking to Bibi for well over an hour."
Defending the stimulus package against Ryan, Biden referred to the "two letters" the congressman personally sent him, requesting some of the $800 billion in funds for his home state. " I'm not allowed to show letters but go on our website, he sent me two letters saying, "By the way, can you send me some stimulus money for companies here in the state of Wisconsin?"
On Afghanistan, Biden talked about the 20 trips he'd taken to the country, as well as his time sitting in "the Oval Office" with the president and the Joint Chiefs of Staff. It was an issue where he appeared to trip up Ryan, who said that he agreed with the administration's 2014 withdrawal timeline while at the same time saying he was against deadlines.
And responding to the criticism that Obama failed to mention the 47 percent line at the debate in Denver, Biden used the phrase six times: "The idea -- if you heard that – [Romney's] little soliloquy on 47 percent and you think he just made a mistake, then I think you're — I — I think — I got a bridge to sell you."
Paul Ryan appeared flustered and outgunned at times, at one point even imploring Biden to stop "interrupting."
The Ryan campaign responded largely by attacking Biden's on stage persona. Surrogates flooded an unusually calm spin room, easily out numbering Democrats by two to one and with one simple message on their lips: all of Biden's smiles and laughs were meant as a distraction from their man's "serious" performance.
He looked like "an arrogant Cheshire cat with a big smile," said Senator Rand Paul from Kentucky.
"I thought Congressman Ryan looked like someone who had the stature to be vice president and the fact that Vice President Biden tried to be somewhat of a distraction was really a surprise to me," Ryan advisor Dan Senor said.
"It was bizarre," Senor said when asked about Biden's laughs, arguing that while Ryan appeared "energetic and brimming with ideas … the Vice President had no real reaction to that, so think he was just trying to create distractions. It was really quite stunning."
Even privately Republicans argued that while Ryan hadn't won Thursday night's debate, be had fought Biden to a draw, which they insisted was a victory in and of itself.
"He's been doing this since Paul was born," one Republican strategist said of Biden
Obama advisor David Axelrod defended Biden's laughing and smiling during the debate.
"When you're debating an opponent who is serially evading and distorting facts, I think you react to that," he said. "And when Congressman Ryan lashes the recovery act and the vice president knows he received letters from Congressman Ryan [requesting funds] … you are tempted to laugh at something like that."
Biden's performance was a much needed boost for the Obama campaign, still reeling from the poor debate in Denver by the president last week.
One of the most telling moments of the evening, however, was when Ryan whiffed on an attack against Biden's larger than life persona--what some had viewed as the vice president's major weakness.
"I think the vice president very well knows that sometimes the words don't come out of your mouth the right way," Ryan jabbed.
"But I always say what I mean," Biden responded.