Obama Prepares To Run Against The "Radicals"
The Obama campaign has failed to paint Romney as an extremist, but now Chicago sees another chance. The choice is "insane," says one Obama official.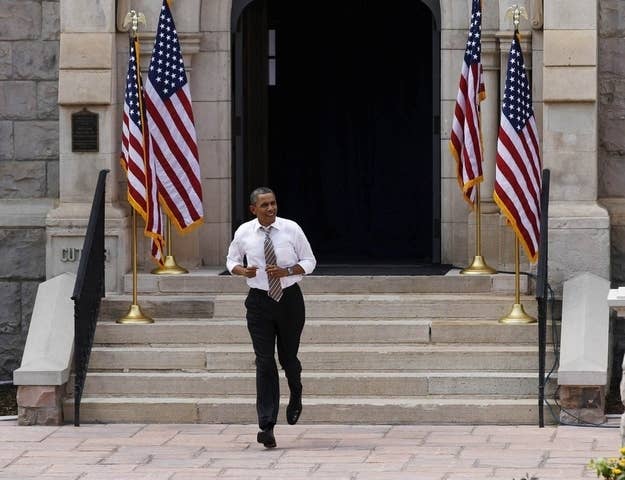 Within minutes of Gov. Romney taking the stage to announce Paul Ryan as his vice-presidential pick, Obama campaign manager Jim Messina dropped the "R-word" in an email blast to supporters.
"Congressman Paul Ryan," Messina wrote, "is best known as the author of a budget so radical The New York Times called it 'the most extreme budget plan passed by a House of Congress in modern times.'"
So radical.
It was a line of attack that the Obama campaign had tried over the past year to pin on Romney.
In April, Obama himself blasted what he called Romney and the Republicans attempt to "impose a radical vision on our country."
But the line didn't quite stick to the former governor — Romney's shifting positions and technocratic record made painting him as an extremist a messaging challenge for Chicago.
(Romney of the Republican primary era might come off as a tad extreme, while the Romney who governed Massachusetts was someone independents could possibly support, Obama officials would say. )
For the most part, the Obama camp abandoned their attempts to make Romney seem like a radical. They found more success in describing the Republican candidate as an out of touch, super-rich corporate felon with bank accounts in the Caymans and tax loopholes wider than gaps in the O-Zone.
But the choice of Paul Ryan makes the R-word once again chic, and Chicago is now going to combine the narratives they've set for their rivals--to, in essence, run against the rich guy and the radical.
Since the Ryan news broke, the Obama team's response has been one that borders on glee. (Or sleep deprived excitement.) Privately, campaign officials started a pre-emptive victory lap: calling the Ryan choice crazy; viewing "end of the Medicare as we know it" as a gift from the Gods; observing that neither man had foreign policy or military experience, a first for a Republican ticket. And that Ryan was not only radical, but green.
"The guy is pretty smart," one Obama official told BuzzFeed. "But should be way out of his league at this water depth."
Added this official: "To be clear, I think it's insane."
Of course, Romney and his Republican allies have also painted Obama as a radical for years. Paul Ryan himself described the president's policies as "European," as Ryan Lizza reported in the New Yorker. Romney referred Obama's "radical policies" just last month. And Romney attack dog John Sununu recently said he wished Obama "would learn how to be an American."
With 87 days until the presidential, the two sides are now about to embark on a nationwide tour to convince their bases that it's really the other side is the one that's going to drag the country in a radical direction. It's going to offer the kinds of "contrasts" political operatives enjoy displaying in the clearest way so far in 2012.
But there is one man who thinks both Obama and Ryan have a touch of the radical in them: Newt Gingrich. The former speaker and lukewarm Romney ally famously described Ryan's budget plan as radical "right wing social engineering;" he also regularly calls Obama a "radical," and "the people he appoints are more radical," as he said this month.
For today, though, it's Romney who took the most radical step.