State Rep. Teams With Anonymous To Bust "Child Porn" Ring
The hacktivist group says it's compiled a list of "pedophiles" from Twitter. Then they contacted Rhode Island Republican Dan Gordon, who gave the info to the authorities.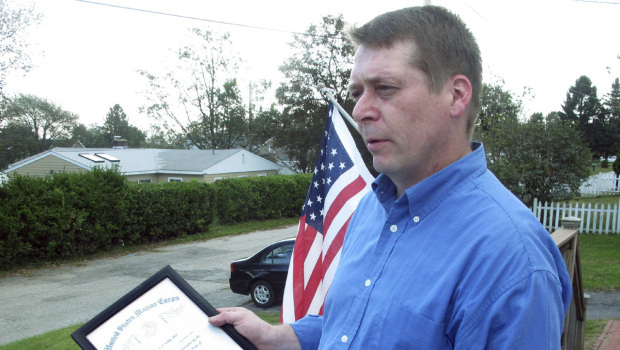 On Monday, members of the hacktivist group Anonymous claimed to have compiled a list of Twitter users who are part of pedophile ring, listing the account names in Pastebin.
The operation, given the hashtag #twitterpedoring, appeared to be the work of a small group of hackers who uncovered the accounts and then reached out to media outlets, federal authorities, and U.S. elected representatives to have the accounts investigated.
The information posted to Pastebin lists about 84 account names. A number of those accounts already appeared to have been suspended.
And in an unusual move, a Rhode Island elected official agreed to help the controversial activist group bust up the alleged lawbreakers.
Rep. Dan Gordon from Rhode Island, responded to Anonymous request for assistance on Twitter, replying:
@RepDan_Gordon
I have just spoken w/ the RI State Police Computer Crimes Division
re: #TwitterPedoRing I need the latest list & any d0x to fwd, to them plz
TYVM #Anonymous & all for all of ur hard work in tracking dwn those that
would harm kids. Pastes outbound to authorities.#TwitterPedoRing
One member of Anonymous who appears to be involved in the operation told BuzzFeed over email: "They have tracked down quite a few accounts, and are working on tracking down more," the member of Anonymous said.
The member described what the group had claimed to uncover, including "Pictures and requests for pictures. Also open talk of pedophilia. There are people taking screen shots of what they found, and we still are able to access a few of the timelines... There were links to different pedophile sites in the twitter timelines as well. Some of the people were openly talking about molestation of young children."
This member described the role of him/herself as "management….I provide support with the how to, or answer questions when the team working on it gets stuck on a problem. I am more of a teacher to the younger anons who are just figuring out the real power of information on the internet, and how to find it. I have worked on quite a few high level anonymous projects not related to breaking in to systems. My interest is more in information security, and how to track down pretty much anything on the internet that is available."
Rep. Gordon did not respond to request for comment in time for publication. His tenure in politics, however, has been marked by controversy, including an arrest for multiple traffic violations in 2011 and allegations he fabricated his war record.
Anonymous is a online organization whose members have been actively targeted by the FBI and other international law enforcement agencies for their role in a number of high profile hacks against governments and corporations, including contractor HB Gary, Stratfor, Paypal, and Amazon.
(Anonymous claimed to be responding to the way these companies had worked with the U.S. government to hamper Wikileaks, the pro-transparency group lead by Julian Assange.)
The collective's political activism has also lead to attacks on the government websites in Tunisia and Egypt during the Arab Spring, as well as occasional involvement in the Occupy movement.
This act of Internet vigilantism appears to be one of the more high profile operations in recent months, and the first that has been supported by an American elected official.
Roseanne Barr, the actress who is currently vying for the Green Party nomination, also Tweeted her support for the group.