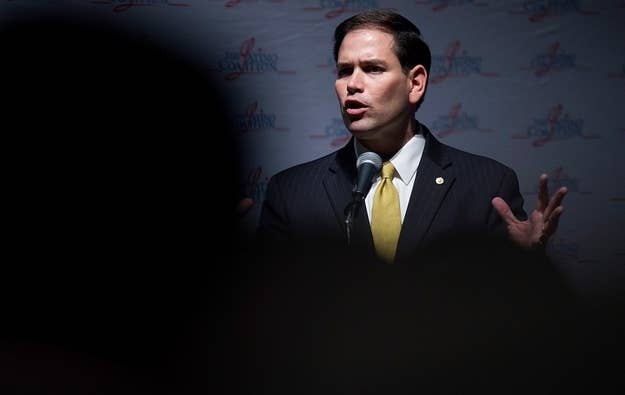 Senator Marco Rubio called for a "Coalition of the Willing" to take on the Assad regime in Syria, where in recent days government forces have launched a brutal crackdown against the rebel movement, killing at least 108 civilians.
In an interview with BuzzFeed, Rubio borrowed the famous phrase from President George W. Bush, who invaded Iraq in 2003 without broad international support.
"The US is indispensable [in] increasing a Coalition of the Willing, for lack of a better term," Rubio said. The goal of the partnership is to create "that safe operating space where Syrians that desire freedom are able to organize themselves and create a cohesive political and military positioning," he said.
During a trip to New York, where Rubio is scheduled to give his second major foreign policy address of the year at the Council On Foreign Relations on Thursday, the oft-mentioned candidate to be Romney's running mate continued to outline an internationalist vision for American foreign policy.
"The world has benefited greatly from America's power since the end of the Second World War," he said. "When America doesn't lead, what ensues is chaos - which is what you have now in Syria."
Syria, he said, was an opportunity for American leadership.
"We need to help the rebels organize themselves," he said.
Rubio suggested that the U.S. should play a role in the effort to arm the rebel fighters, by enlisting allies such as Turkey to give the movement weapons, training, and communications equipment.
"I don't think the US is ever going to have to arm them," he said. "I think there are plenty of other nations willing to train and arm them."
The senator stopped far short of calling for direct American military action against Damascus at a moment when Syria appears to be sliding into civil war after 15 months of unrest. He also declined to join Romney and Senator John McCain in calling for shipping arms to the Syrian opposition, instead offering a vision that in some ways echoes current White House attempt to shape an aggressive international response, though without the White House focus on a U.N. effort led by former Secretary-General Kofi Annan.
He did, however, say it was up to the U.S. to lead an international coalition to create a "safe operating environment" to allow the rebels access to humanitarian aid and assistance.
Rubio, who came to power as a Tea Party favorite, has rejected that movement's more libertarian strain in favor of being "an internationalist hawk," as Time magazine's Michael Crowley recently put it.
Rubio rejected the characterization of his views as "neoconservative," preferring to distance himself from the label of an ideology that remains associated with a decade of unpopular adventures in Iraq and Afghanistan.
Rubio did note, however, that he'd been influenced heavily by writer Bob Kagan's book, The World America Made.
Kagan, an influential neoconservative writer who was one of the leading foreign policy experts behind the Iraq invasion, is a Romney advisor whose book is also reportedly a favorite of President Obama. His thoughts also featured prominently in Rubio's speech to the Brookings Institution last month.
The massacre in Houla, Syria, on May 29 was the worst atrocity since the uprising began.
President Bashir Assad is still holding onto power, despite earlier predictions from White House officials that the regime would soon collapse.
Assad, warned Rubio, thinks he's winning.
In recent days, the White House has increased the sanctions against the Assad government to "strangl[e]" the regime economically, and reiterated that the regime would end up in the "dustbin" of history, as deputy national security advisor Dennis McDonough told reporters.
The risk of arming the rebels are high, as part of the opposition appears to be made up of Sunni insurgents with links to Al Qaeda.
Those insurgents waged a bloody campaign from Syria against neighboring Iraq for years, setting up bases of operations in Damascus and elsewhere to run terror networks in Baghdad.
Earlier this month, a massive double car bombing that had all the hallmarks of an Al-Qaeda bombing, killed over 50 people in Damascus.