Obama Recharges On Beer-Soaked Iowa Nostalgia Tour
Plastic cups, a pork chop, and memories of 2008 to remind him "he's the underdog." A boozy jab at Romney's lifestyle? "Four More Beers!"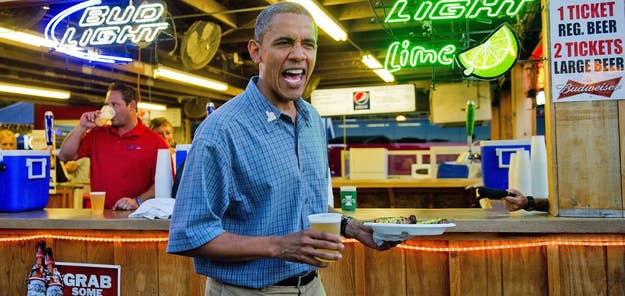 DUBUQUE, Iowa — On the penultimate leg of a three day bus tour, President Barack Obama took the stage at Star Brewery in Dubuque to spend his final hours basking in his recent, glorious, hoppy, past.
"This is our third day in Iowa," he said, sharing the spotlight with the first lady, Michelle, who had joined him for the final day. "Every stop I got reminders of what makes Iowa so special…. This is where our movement for change happened."
Since arriving in the state on Monday, the president has not missed an opportunity to drink a beer or reminisce about his electrifying rise to power four years ago, when he stunned the political establishment by beating Hillary Clinton in the Iowa caucus. It was one of the greatest and unexpected political victories in American history, and one the President clearly remembers as the best year of his political life.
"See, the sun is coming out," he said at his first event on Monday, in the western part of the state. "It was on your front porches and in your backyards where the movement for change in this country began."
The 51-year-old commander-in-chief--now a gray haired, wonkishly grim figure who has become accustomed to haunting the halls of the West Wing, Roosevelt Room press conferences, NATO Summits in Lisbon, and picking names on a kill list in the Oval Office--seemed to draw energy from his 72 hour bus trip from Council Bluffs to Dubuque.
It's as if he'd been waiting the past three years to get on the campaign trail again to plunge into crowds at coffee shops, beer tents and county fairs.
"It's the presidents treat, right here," he said at a stop to buy sno cones where he purchased rainbow flavored ice, of cherry, watermelon and lime for himself and another for a small child. "Many of you know, I grew up in Hawaii and I know shaved ice."
For the president, it's clear that campaigning is much more fun than governing: speeches and friendly crowds, cheering on command at each applause line.
Beer has been the recurring joke of the trip, enshrined in a stop the Iowa State fair with a chant from supporters for "four more beers" rather than "years" and multiple White House pool reports ("pool report 9—more beer," read the subject line of one.)
"Pork chop and beer," Obama said at the Star Brewery today, responding to Michelle's Obama's question if he had eaten a fried Twinkie.
"They were saying, 'four more beers,'" Obama said at a speech yesterday night in Waterloo. "So I bought him four more beers."
"I might have another beer today," Obama said earlier in the afternoon on Tuesday in Marshalltown. "Just one. Just one."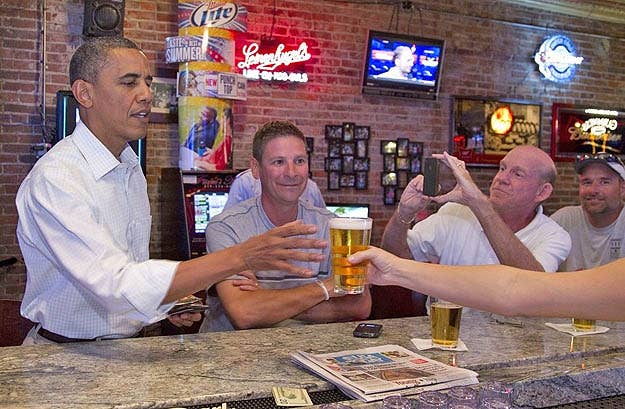 "There was some extended discussion about [a] beer brewery at the White House, which turns out a light and dark beer that [Jay] Carney said he had seen the president drink," per Time magazine's Michael Scherer's pool report even earlier Tuesday afternoon. "No comment on how often Obama travels with beer."
"I had a beer and a pork chop," Obama said on early Tuesday morning at a wind farm in Oskaloosa.
And, on Monday night, he'd had what appears to have been the first beer of the trip at the State Fair.
The hoppy theme lead to speculation among a few members of the press corps that Obama was emphasizing the beer to draw a subtle contrast with Romney's alcohol free Mormon lifestyle. "He's never really gone to the beer tents before," mused one thirsty campaign reporter. "It's subtle. Who's the president you want to have a beer with?"
A campaign official dismissed the speculation as baseless and pointed out that Obama has long history of drinking at public events from a "beer summit" to resolve a racially-charged Massachusetts incident to an exchange of a six pack with the British Prime Minister.
However, this sort of theorizing — was this intentional effort by Obama, or just harmless fun? — was given added credence after the president made a total of four jibes at Romney for once putting his dog on top of the car on a family vacation. "I know he's tried some other things on top of a car," he said yesterday, or in a slight variation, at four different events.
The trip's relaxed vibe seems to be fulfilling two critical needs of the Obama campaign.
The first is to win Iowa's six electoral votes. The state he'd handily won by 8 points four years is now a "toss up," as Iowa State Representative Pat Murphy said when he spoke at the Star Brewery event on Wednesday, reminding the audience Gore won Iowa by 4,000 votes, and Bush beat Kerry here by 10,000. It's also a state where green energy works for the White House—campaign officials say the president himself was behind the push to hype Iowa's wind power projects after he read a story in the Des Moines Register pointing out that if a tax credit expires (which Romney doesn't want to renew) 7,000 jobs could be at risk. Radio ads hitting Romney on wind energy are already running across the state.
The second purpose of the visit appears to be to designed to meet some kind of psychological need for the president—to recharge his battery and get some "strength and spirit" from the voters, as he said today.
At points during the trip, Obama even tried to paint himself as the underdog. "I've been outspent before and I've been counted out before," he said at an event in the town of Boone, as if he wasn't an incumbent president, leading in most swing state and national polls. "But the reason I love this state is because all of you gave me a chance."
His language, of course, is meant to convince voters it's not a sure thing he'll be re-elected. (Meaning: volunteer, give money, and don't forget to register.) And there's another reason that gets at the president's psyche.
"For him to get where he needs to get, he may need to convince himself he is the underdog," as one campaign official told BuzzFeed.
But certainly, the president himself admitted that he got an emotional charge to run from connecting again with the Iowa voters who put him in office four years ago.
"We will win Iowa, we will win this election," he said, before taking off for his final stop in Davenport.