Obama Offers "Cure" To Romnesia
ObamaCare. Duh.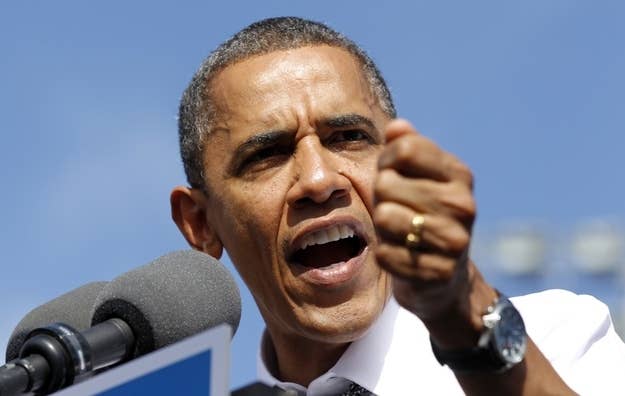 DELRAY BEACH, Fla. — President Obama appeared at a packed tennis stadium Tuesday morning on his first campaign stop following last night's final presidential debate, continuing his aggressive attack on what the campaign views as Mitt Romney's seemingly shifting positions, or "Romnesia."
"We're breaking down the symptoms here if you've come down with a case of Romensia. If you can't seem to remember the policies on your website or the promises you've been making over the six years that you've been running for president, if you can't even remember what you said last week," Obama told the crowd of approximately 11,000. "Don't worry, ObamaCare covers pre-existing conditions!"
The campaign is hoping that last night's strong debate performance, coupled with an intense 48 hour swing state tour of five states, can help regain the momentum lost at the first debate in Denver earlier this month.
"I need you to vote," Obama urged the Florida crowd in a state that has been slipping out of the campaign's grasp according to post-Denver polls. "There are still folks out there who are still making up their minds…I ask folks to compare my [economic] plan to governor Romney's."
According to the campaign, Obama has traveled to Florida 13 times and held 25 political events and 7 official events in 2012.
Obama also continued his attack on Romney's foreign policy chops, calling the former Massachusetts governor's ideas "reckless and wrong" and "all over the map."
Obama hit on another theme Chicago revived last night: Romney's failure to name check veterans in RNC convention speech, which the campaign claimed he did again in the final debate.
"By the way, I just want to point out in the same way Governor Romney didn't even mention the Afghan war or our troops in his convention speech, Governor Romney didn't even mention our veterans last night," Obama said. "He didn't say a word about it."
With only two weeks left, the Obama campaign distributed a 19 page booklet Tuesday morning called "The New economic Patriotism," outlining the president's plan for jobs and what they've dubbed "middle class security."
Obama was introduced in Delray by Scott Van Duzer, the man responsible for one of the most viral moments of the election, a picture of him bear-hugging Obama.
"A few weeks ago, president Obama, stopped by my pizza shop to say hi, you and the Secret Service might remember from the bear hug I gave him," Van Duzer said to cheers. "We've made a lot of progress, my business is better off than four years ago."