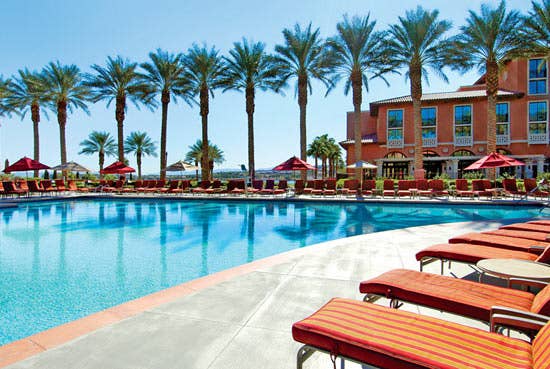 LAS VEGAS, Nev. — President Obama arrived in Las Vegas on Sunday to begin three days of debate prep at the luxurious Westin Lake Las Vegas Resort and Spa.
On Sunday evening, Obama addressed a crowd of some 11,200 supporters at a pre-debate rally with an opening act from hit Latin rock group Mana.
Obama began his speech by poking fun at the media's debate expectations game while simultaneously playing the game by talking down his own debating chops.
"Governor Romney is a good debater," he said, with a hint of irony. "I'm just okay."
Team Obama is bigfooting Vegas to shore up his base in a state he easily won in 2008. Top White House and campaign officials, along with a hefty security apparatus have most of the rooms booked up at the Westin Lake getaway. There, he'll be able to rest up and enjoy the perfect Nevada weather at a resort with "a strange mix of desert sand pits, green lawns, palm trees and new homes...[near]a replica of the Ponte Vecchio and some luxurious lakeside estates, also unfinished lots and a browning golf course," according to the White House pool report. Advisers David Axelrod and Joel Benenson, along with Anita Dunn, Ron Klain and Sen. John Kerry, are also reportedly there for the debate prep. (Most of the traveling press is staying a good distance away at another hotel on the Strip.)
Obama won't be cooped up at the resort the entire time, with the campaign promising to allocate a few hours to retail politics: "We could be making some local stops as well," campaign spokeswoman Jen Psaki told reporters. It's his eighth trip to Nevada this year, according to the campaign, and the deadline for the state's early voting registration ends on October 6th.
The choice of Vegas sends another sly message to his most bitter political foes, Sheldon Adelson and Steve Wynn. Those two men more or less own a good chunk of Vegas, including Wynn's Encore — site of the recent Prince Harry bash and occasional early morning prostitution sting — and Adelson's Venetian, where he hosted Paul Ryan last month. Billionaire Sheldon Adelson is already a reported $70 million deep this cycle to prevent Obama's re-election, in what could be one of the largest expenditures on a campaign by a private citizen in American history.
Adelson has one strong ideological reason to oppose Obama — he is pushing for a harder line on Iran — but he and Wynn may also have calculated that money spent beating Obama is a worthwhile gamble: under a Romney administration, Adelson alone is set to save $2 billion for his corporations in taxes, mostly from his international casino chains in Macau, China, responsible for some 90 percent of his profits. Wynn also stands to profit handsomely, though after giving money to Karl Rove's super-PAC, he's hasn't been nearly as visible as his fellow casino magnate.
Towards the end of the evening on Sunday, Obama responded to the Romney claim that Obama had said he couldn't change Washington from the "inside." It was perhaps previewing an attack he'll use at the debate: Obama raised a series of questions about what kind of "inside job" Romney wanted to implement, suggesting a Romney administration would be run by oil men and corporations.