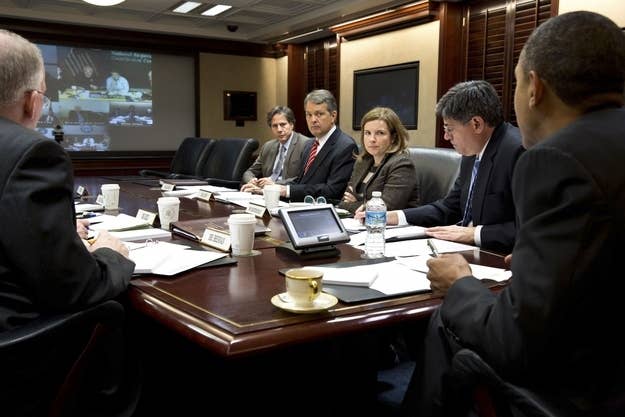 WASHINGTON, DC — At approximately 5:43 p.m. Sunday evening, President Obama arrived at Andrews Force Base en route to Florida as one of the most catastrophic storms in the history of the Eastern Seaboard crept toward America's coastline.
Wearing a sport coat and no tie, the president hurried onto Air Force One to escape the gray drizzle from the oncoming storm. He'd already declared a state of emergency in Maryland — where Andrews is located, 30 minutes outside of Washington — and by midnight, he'd add seven more states to list of places not to hang out.
But that didn't stop Obama or his campaign from taking off for a swing state visit in Orlando, wheels up at 5:52 p.m., to "squeeze in some campaigning before Sandy really bears down," as the White House pool report described it.
Almost 24 hours later, the storm did really bear down, making landfall in Cape May, New Jersey. When it finally let up, it'd killed at least 30 people in the U.S. and 60 in the Caribbean, having done an estimated $20 billion in damages. It also opened up another uncertain chapter in a general-election campaign that started with a steady, predictable rhythm but has been thrown increasingly off-kilter by Benghazi, the post-debate poll shift and Romney's late charge toward centrism.
The White House had risked getting stuck in Florida so that it could salvage at least one campaign event before the hurricane moved in, paralyzing the race. With eight days left, campaign officials believed they could hit the Orlando rally with Bill Clinton at the University of Central Florida and turn around first thing Monday morning to get back to DC by 2 p.m.
Maybe it seemed a little crazy, but at this stage of the 2012 election — where close to $1 billion is being spent, sleepless advisers and staffers are swinging hourly between insanity and serenity, and the legacy of an even-more-momentous-than-usual presidency is at stake — riding the leading edge of a 1,000-mile-wide hurricane made perfect sense.
That Sunday was originally supposed to be a down day for Obama, the last chance he'd get to recharge before the manic homestretch to November 6. Following the final debate in Boca Raton and an adrenaline-fueled 48-hour, six-state tour last week — where he'd campaigned to the point of exhaustion, nearly losing his voice — the 51-year-old candidate could have used the rest. The campaign hadn't scheduled any events for him on Friday, and he had only one 20-minute speech in sunny New Hampshire on Saturday.
Fate didn't have rest on its agenda for the president. On Sunday morning, Obama strolled across Lafayette Park with his two daughters, Sasha and Malia, on the way to St. John Episcopal Church. Gusts of winds were already kicking up leaves around them as they walked the one block from the White House. There were many empty pews inside. The first family took seats on cranberry-colored cushions, several rows back from the front, blending in with the crowd (except for the president's ears, the pooler noted — those stood out).
The mass began, and Obama and his girls joined in a hymn.
"Amazing Grace, how sweet the sound, that saved a wretch like me," the small congregation sang.
Through many dangers, toils and snares I have already come;
'Tis Grace that brought me safe thus far
and Grace will lead me home.
An hour later, Obama was already heading across town to FEMA, getting what would be a first of at least a dozen major briefings in the coming days. By 6 p.m., he'd be on the plane to Florida.
The Obama campaign press corps followed him, taking off from Andrews into an unhappy sky at a time when most commercial flights in the Northeast had already been cancelled. The press charter was severely buffeted; journalists aboard made at least one morbid wisecrack about who'd get mentioned first in the obit if the plane went down.
By 8 p.m. in Orlando, Obama had already delivered pizzas to campaign staff and volunteers, and the plan was still to do the event the next morning at 10 a.m. and dodge the storm. The White House, however, miscalculated. "The storm overnight picked up speed and intensity," White House press spokesperson Jay Carney explained the next day, "and a decision was made that in order to return to Washington to monitor and oversee the efforts to prepare for the storm and respond to it, we needed to leave earlier than planned."
Obama officials traded e-mails in the middle of the night, trying to figure out if it was possible to save the rally with Clinton. Could they move it even earlier? Should they start calling reporters in their hotel rooms, prepping them for the morning? The president himself wanted have the event with Clinton if possible, according to campaign sources.
"We wanted to do this badly," as one staffer put it.
At around 6:30 a.m. on Monday, word went out to the Secret Service agents at the university campus in Orlando to stand down; the rally was cancelled — at least the president's part in it — even as die-hard Obama supporters showed up early, including a couple with a disabled child whom they were hoping to introduce to the president.
Obama's plans for a sudden exit didn't sit all too well with the traveling press either, stranded now in Orlando, away from the storm, the president, and the story. (The only thing left to do that morning was listen into a conference call with David Axelrod, who accused Romney of wearing the Halloween costume of "an agent of change.") The president's dramatic return to Andrews a few hours later, with footage replayed throughout the day — at 10:29 a.m., AF1 rockily touched under darker-than-usual skies, the motorcade pulling up to within 15 feet of the plane, the president heading down the steps wearing a black trench coat, rain whipping against his face, jumping into a Suburban — fueled a conspiracy theory among a handful of media that, perhaps, we'd been used down in Florida, jerked around by a campaign to help create a very presidential-looking moment. The commander-in-chief, forgoing politics and returning from the storm. It was a sentiment vigorously denied by Obama officials — an "insane" theory, said one; "offensive," said another.
And the Obama officials were probably telling the truth — the election, at this stage, is making everyone, the press included, a little more paranoid, more willing to recklessly speculate, a little short on reason, long on tantrums. Having a storm on the way, threatening family and friends left behind in the Acela corridor while we were sitting in a hotel looking at Disney World, didn't help much either.
All of that would seem absolutely trivial once the storm hit seven hours later. The president held a press conference, where he told the public that he wasn't thinking about politics. And how could he be? A historically destructive hurricane, it turns out, can even put a presidential election in perspective, for a little while at least.
Obama started working the phones, receiving continuous updates, according to White House officials. At 2:15 p.m. on Monday, he put a call into New Jersey Governor Chris Christie, the bellicose get-the-hell-of-the-beach executive who'd flirted with running for president himself. The Guv, as he is affectionately known among his staff, had nothing but praise for Obama. Obama, Christie said, had even given him a personal number — either his own phone or the phone of his body man — to call at anytime to cut through the red tape.
Obama's actions, of course, had political undertones. Facing an opponent who called for the death of FEMA, Obama's job was to make FEMA work — and to demonstrate not only the usefulness of government but the fact that a strong executive could make the government work even better.
"What he has been focused on is making sure that the bureaucracy doesn't impact the ability to provide assistance to state and local responders…the role of federal government is to provide its vast resources to support their efforts," a White House official told BuzzFeed. "The thinking here is he wants to to use his authority to cut through the bureaucracy."
It was the kind of language that spoke to Christie, a moderate conservative who'd had perhaps the most harrowing night of his political career. Christie's own family's home in Mendham, NJ, lost power, and his kids had to spend the night in the governor's mansion. Mendham,too, was where one of the most horrific tragedies of the storm struck: A couple were killed by a falling tree in front of their 11- and 14-year-old children. Describing the moment at a press briefing today, the tough-talking governor almost choked up. The storm had not hit close to home, it had hit home directly — his memories of the Jersey Shore as a child, the deaths of a couple from his own town, his family and staff under threat. On Monday night, as the storm swept across Jersey, Christie and his team worked out of the police headquarters in Trenton, finally making his way home to his family through a maze of fallen trees while staffers stayed at a nearby hotel.
At around midnight, he took another phone call from Obama — the governor didn't get much sleep, but you don't refuse a call from the president, he joked. The crisis, still in its early moments, had bonded the two political figures, both charismatic and popular in very different ways — the cool Obama, the bombastic Christie. "I've got a job to do here in New Jersey that's much bigger than presidential politics, and I could care less about any of that stuff," he said on Fox. "I have a job to do. I've got 2.4 million people out of power. I've got devastation on the Shore. I've got floods in the northern part of my state. If you think right now I give a damn about presidential politics, then you don't know me."
Obama also didn't get much sleep. "The last couple of days, he's had late nights and early mornings," an administration official said.
On Tuesday morning — the morning after a chunk of New York had gone underwater, Queens up in smoke, and a Con Ed plant exploding like it was Baghdad 2003 — Obama ran a meeting in the situation room, where he returned to the message he'd started to drive throughout the crisis. "I want everyone leaning forward on this," Obama said, according to the White House officials. "I don't want to hear that we didn't do something because bureaucracy got in the way." He told his team to think creatively about ways to assist local areas and utilities that had been hit with power outages. Over a dozen top-level officials participated in the situation room teleconference. White House officials, too, were quick to give a shout-out to the man Obama appointed to run FEMA, Craig Fugate, as an example of bipartisan competence — he'd been head of natural disaster crisis response under Jeb Bush in Florida, yet his GOP ties didn't prevent the White House from choosing him. As the White House readout dryly described it:
The President told his team that their top priority is to make sure all available resources are being provided to state and local responders as quickly as possible and directed them to identify and resolve any potential bottlenecks or shortfalls should they arise. The President made clear that beyond the immediate lifesaving and life sustaining activities, which remain the primary focus, he wanted his team to continue to focus on what they can do to support state, local, and private sector efforts to restore power and asked the Department of Defense and the Department of Energy to continue to work in support of FEMA towards this goal.
Later on Tuesday, Obama would visit the Red Cross, arriving to applause and shaking hands as he somberly delivered a message not only about red tape, but about just how deep this disaster had struck. "I want to emphasize to the public at the top: This storm is not yet over," he said. Meanwhile, Christie was flying over Jersey to witness the horror show firsthand — what he and his team saw was devastation, Seaside Heights destroyed, streets underwater — so he could tell the president personally about it himself. As darkness fell on Day One of what is likely to be a months-long cleanup effort, Obama announced he'd be going to New Jersey the next day. The campaign trail would have to wait until Thursday, when the president is likely to have his first official campaign event in five days, probably first hitting swing states in the West, a good distance from the storm. As David Letterman put it yesterday, taping his show in an empty studio: "The storm has stopped the presidential campaign, so at least some good has come from it." There was no one there to laugh.