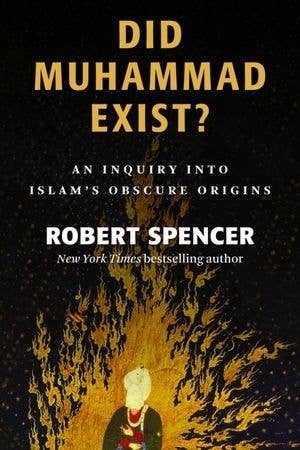 The press release:
From: Susan Fensten
Date: Fri, Jun 1, 2012 at 4:30 PM
Subject: AUTHOR OF BOOK RECEIVES DEATH THREATS FOR QUESTIONING THE EXISTENCE OF MUHAMMAD THE PROPHET
To: michael.hastings@buzzfeed.com


FOR IMMEDIATE RELEASE

AUTHOR OF BOOK ON THE HISTORICAL ORIGINS OF ISLAM RECEIVES DEATH THREATS

NEW YORK, June 1, 2012 – Bestselling author Robert Spencer, director of the popular website, Jihad Watch and the author of the newly-released book Did Muhammad Exist?: An Inquiry into the Obscure Origins of Islam published by ISI Books was threatened with a violent death for theorizing that the prophet of Islam, Muhammad never existed.

Threats of beheadings and stabbings were sent to Robert Spencer via Twitter from a Muslim Australian man who goes by 'abdulhakim' on Twitter on May 30. Tweets from 'abdulhakim' who's twitter handle is @83_amira stated: "1,200 of your books were burnt in Australia yesterday by me Cause you a liar, lucky you are miles & miles away", and "slandering the prophet is not freedom of speech you dog, scumbag.I would not slash u, but cut your head off and hang it on the White House."Several more threats from the same twitter account were sent that called for killing kill David Wood, a blogger and Teaching Fellow in Philosophy as well as blogger, Pamela Geller which said, " she needs to be hung or slaughtered because of her hatred."

The following day tweets from 'Adam' who goes by @allahuakbar12 supported these death threats by tweeting to Spencer: "Its your fault you brought it upon yourself." Another twitter account in favor of violent jihad against Islam's critics, @frigidfire23 said, "That man would do humanity a great favor!Maybe he should pay you a visit too.World would be much better place without u 2!"The twitter account @83_amira has since been suspended.

In what is amounting to a worldwide silencing campaign against any critical examination of the religion of Islam itself or of the theory that existence of the prophet of Islam threats to silence honest inquiries or critical debates are going without media notice.Attempts to muzzle free speech should not be tolerated anywhere in the world.

Did Muhammad Exist? meticulously examines historical records, archaeological findings, and pioneering new scholarship to reconstruct what we can know about Muhammad, the Qur'an, and the early days of Islam.The evidence Spencer presents challenges the most fundamental assumptions about Islam's origins—assumptions made by Muslims and non-Muslims alike.

Robert Spencer is the author of several widely acclaimed books about Islam, including the New York Times bestsellers The Truth about Muhammad and The Politically Incorrect Guide to Islam (and the Crusades). He is a columnist for FrontPage Magazine and the director of Jihad Watch, a program of the David Horowitz Freedom Center.Spencer holds a master's degree in religious studies from the University of North Car olina at Chapel Hill and has been studying Islamic theology, law, and history in depth for more than three decades.

http://www.isi.org/books/

Robert Spencer is available for interview.