Democrats In The Jimmy Carter Trap
An Obama surrogate makes one of the biggest gaffes of the summer, derailing Chicago's well-crafted "forward" campaign narrative. How do they get beyond it? "An honest conversation," says DNC chairwoman Debbie Wasserman Schultz.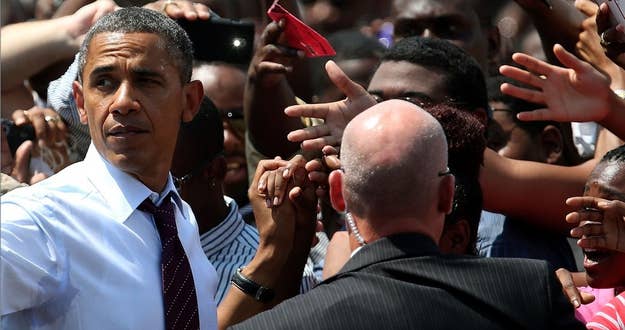 It's rare when the word "no" is considered a gaffe.
But that's what happened when Governor Martin O'Malley admitted—then retracted—that Americans aren't better off than they were four years ago.
"No," O'Malley told CBS's Bob Shieffer on Sunday. "But that's not the question of this election."
It has, though, become the central question of the Democratic National Convention, the most important campaign-managed media spectacle of the year.
Obamaland has been scrambling to come up with a satisfying answer, having focused one of their main campaign messages — captured in the slogan FORWARD.
As in, think about future, and if you do think about the past, it's not our fault.
A number of speakers tonight — O'Malley included — are likely going to spend time explaining in detail that Americans are actually in a better place, despite what they might think. A new and widely cited poll in The Hill observed that 52 percent of the public believes O'Malley was right, a theme that the Romney campaign and the RNC have quickly picked up on.
Partly, it's not necessarily an argument that can be won by just reciting the fourth quarter numbers from 2008, as the Obama campaign has done.
It's not about facts—it's about feelings.
Mainly, four years ago—the summer of 2008 — the Great Recession hadn't really hit.
Retirement hadn't been wiped out, or lost their homes and jobs. What was lost—perhaps temporarily, perhaps for good—was a sense of economic security and confidence. And, despite an easing in foreclosures and a massive Wall Street rebound, that confidence hasn't returned.
It's posed a problem for Chicago, and they've responded quickly yet indecisively. Blaming the previous administration—however much blame that administration deserves—isn't the most convincing argument for leadership, and frankly, it's getting a bit stale.
DNC chair Debbie Wasserman Schultz says it's about having an "honest conversation."
"When President Obama accepts our party's nomination Thursday night, he'll have an honest conversation with the American people about where we were," she told BuzzFeed. "We've made progress, we know we have a ways to go but we need to continue to focus on having everyone being successful."
Former Governor Ed Rendell preferred the word "complicated" to explain the fine line Obama needs to walk.
"It's a complicated message," Rendell told BuzzFeed. "But he's [Obama] is a good messenger."
Rendell suggested Obama needs to hit all the data points—"student loans are cheaper, Pell grants are up, five million more kids getting help in the CHIP program."
"And again, he's got to look to the future," he said. "He's got to acknowledge where we were, say that we've made progress, say that he knows that progress isn't enough, and then layout his plans for the future."
In another slightly ominous sign: the president who knows all about what it means to not to be able to answer the better off question is speaking. It was Ronald Reagan who pointedly used the phrase to hammer Jimmy Carter in a debate in October 1980. Carter, too, had been offering a "complicated" and "honest" argument to the public.
"That's why the President must sometimes ask for sacrifice when his listeners would rather hear the promise of comfort," Carter said in his 1980 convention speech. "When I took office, I inherited a heavy load of serious economic problems besides energy…" That message didn't really work.