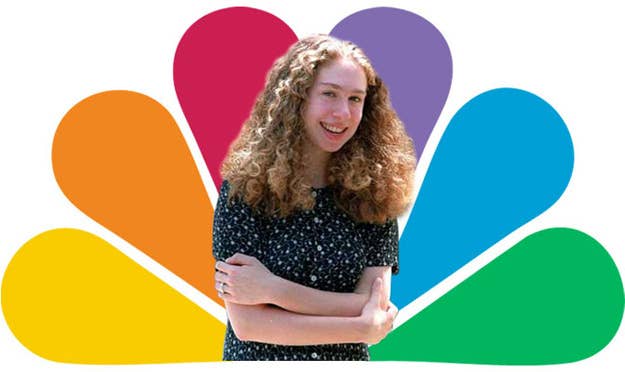 We've entered into a kind of Clinton renaissance: Hillary is now officially Internet famous—LOLZ, bitches, etc—and Bill, universally beloved, is giving the keynote to a gathering of Nobel Peace Laureates next week in Chicago, still hot on the quest for his own big prize. (Carter has one. Gore has one. Obama has one.)
Then there's Chelsea Clinton, the former first daughter, and NBC's latest high profile hire.
With Chelsea, it's complicated.
To get the TV gig, Chelsea's team played off rival networks, holding a series of meetings in New York last fall with all the major television news outlets, including ABC, CBS, and CNN. "Her agent calls, asks if you want to meet with Chelsea Clinton, you take the meeting," one network executive tells BuzzFeed.

But she didn't blow anyone away with her presence during the interview process, according to network executives who interviewed her. "Horrible," says another high ranking TV executive who met with Chelsea. "There were ground rules, what she could and couldn't report, only good news, no politics, " says the executive, who felt Chelsea would be a dud and passed.
There was a sense in the meetings that that the news channels were auditioning for her — not the other way around — which rubbed a few of those she met with the wrong way. "They acted like we should be grateful" that she was offering herself to the networks, says the exec.
Even high ranking company officials within NBC, according to sources at 30 Rock, weren't that impressed with her. One senior staffer told colleagues after multiple meetings that Chelsea was going to be simply "terrible" on television. Upon her arrival, Chelsea was given a welcome bag, filled with NBC swag, 30 Rockers tell me. NBC's David Gregory responded by jokingly asking: "Where's my welcome bag?"
Gregory's joke hints at the unprecedented level of special treatment Chelsea receives: she didn't do live shots on her Rock Center debut; she gets chauffeured everywhere in a town car while others her age strap hang with the suckers in Gotham's sewers; she has her own personal spokesperson; and she has her own chief-of-staff, Bari Lurie. (Lurie is to Chelsea what Huma Abedin is to Hillary: a fiercely loyal female aide and confidante, who logged over 7,000 miles with her during the 2008 campaign.) Other top talent at the network noticed that luxury: Lester Holt, Hoda Kotb, Natalie Morales, and Savannah Guthrie all share a single assistant. (An NBC spokesperson says, however, that Chelsea pays for her own chief of staff.)
Not to mention how all the kids in NBC reacted. "The message was, 'You didn't waste your journalism degree,'" says one NBC news staffer. "There's resentment." The critical reception of her debut on Rock Center wasn't great, either: the Washington Post described her as "one of the most boring people of her era." And, NBC sources say, for her debut, they pre-taped her intro interview with Brian Williams at least twice (they ended up using the first taping,) an unusual move for what's presented as a spontaneous interview.
Chelsea just renewed her original three-month contract, but there isn't much to show for it. "Almost nothing," is how one well-placed industry observer describes her tenure at NBC. The industry observer, who has had dealings with Team Chelsea, continues: "Certainly she's not operating as a reporter. You need a regular presence to become established and break through. Yes, she has world wide name recognition at a young age, but you still have to do the work and show up on screen." So far, she's only done three Making A Difference segments in five months, according to Lexis/Nexis, while juggling other roles as corporate board member and in the Clinton Global Initiative.
To say that Chelsea's hire hurts the credibility of television news is a debate for J-school deans. But there is a larger issue at stake here for our American psyche: Chelsea is a Clinton, ergo, she deserves a place in our heart, alongside her parents.
So why can't we connect?
Almost everyone I spoke to for this story—from within NBC and at other networks as well—agree that that problem is that she won't talk about the one thing that makes her undeniably compelling. How did it feel to be Chelsea Clinton during the Monica years? In the past, she's responded angrily to that question. "It's none of your business," she told an audience after being questioned about it on the 2008 campaign trail.

That line doesn't play anymore, now that she's entered the family business of living in public. "What's she giving us?" one NBC executive, who sees Chelsea regularly, asks. "There's that wall that needs to be torn down. She sounds like a smart and intelligent woman, but there are lots of smart and intelligent women." Until she's willing to answer the Monica question, or any real question—to finally open her soul to public view, paying the required tribute to the media gods, to have her Oprah moment —it's unlikely she'll be given a warm public embrace. "Is she just boring," wonders the NBC exec. "Or can she come out of her shell?"
The days of Chelsea having it both ways are over. It's one thing to want your total privacy, and stay totally private; it's another thing to want your total privacy while reaping all the rewards and privileges that contemporary celebrity has to offer.
Moderating panels, honorary awards (she'll receive the The History Makers Medal from the New York Historical Society at the annual Strawberry Luncheon next month ) lucrative speaking gigs, the most expensive fashion labels on the planet, all after a decade spent as a corporate mercenary for McKinsey and Avenue Capital. (Share Our Strength, Women of the World Summit, Celebration of Teaching, the World Economic Forum in Davos…) She's dipping into politics, too, slamming Rush Limbaugh during the Sandra Fluke controversy, and hosting a discussion about Islamophobia.
I did find one defender of Chelsea inside NBC. "Everyone needs to get a grip," says this high level executive. "She's hardworking, she's taking it very seriously. She really wants to genuinely do these Making a Difference pieces. She knows she's a lightening rod. When people write nasty things, she takes the lumps." After all the bad press during the roll out, there were fears Chelsea was going to pack it in. Instead, she decided to tough it out. "I respect that," says the NBC insider. Clinton's personal spokesperson, Matt McKenna, had strong words for her detractors: "When Chelsea's critics are ready to step forward and use their names, she'll be more than happy to answer them. In the meantime, she's enjoying working for NBC and NBC is glad she's a part of their team."
Chelsea has, within her, one of the final untold chapters of the Clinton era scandals, a piece of '90s history that we already look back on with a mix of bewilderment, denial, and shame. (Did the political media class really spend the 90's investigating a blowjob? Yep.) There was plenty of trauma in her childhood: Mocked on Saturday Night Live; mocked by Rush; her parents subject to unprecedented, invasive, public scrutiny. A "private person," as she calls herself, in an "inadvertently public life."
Now that her life is advertently public, it's time to let us in. In fact, the Chelsea Clinton interview would be one of the all-time blockbuster gets—more memorable than any of her TV segments so far. And forget Oprah, have Brian Williams do it on Rock Center.
The must ask questions: What was it like to live through that in the White House? What did you know, and when did you know it? How pissed were you at your father? How do you feel about marriage? Should your mother have stayed?
Eventually, Chelsea will have to answer the questions listed above, and she'll likely do so on NBC. (My hunch is that NBC's chief Steve Capus's gamble will prove brilliant in the long run.) But right now, we're stuck in another awkward Chelsea Clinton phase, a kind perpetual sheltered adolescence, still getting to know you after all these years. And who wants to watch that?