Barack Obama Tries To Show He Wants It
An exclamation mark on his slogan, and his stump speech. "He already won it — I just feel it," says a supporter.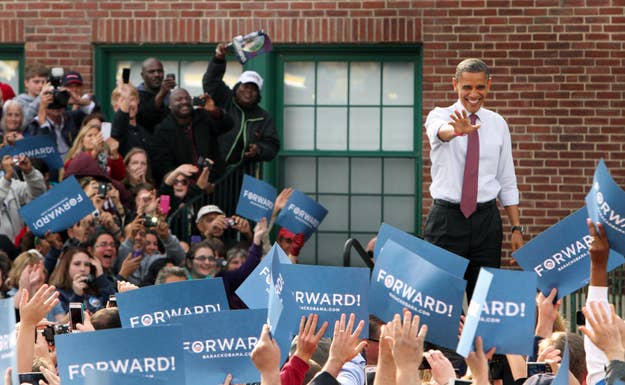 NASHUA, N.H. — With ten days left before the election, President Obama is ending his campaign with an exclamation mark. Literally.
In New Hampshire on Saturday — a swing state where Obama holds a narrow lead in public polling — the president's campaign debuted a tweak to its slogan.
"Forward" is now "Forward!"
Emphasis on the new punctuation!
It's just one more sign that Team Obama has decided that the president has to do more than explain his ideas to supporters, defend his record, and lay out a grand vision for a second term. After the lackluster performance in Denver, Obama must also demonstrate to the public how badly he wants to stay their president.
During a campaign stop on Saturday with the Teamsters for Obama, at the office of Teamsters local 633 in Manchester, the president made a point of shaking every hand in the building, according to the pool report.
"I'm gonna start down here and work my way," he said, pointing to the end of the room. "I'm gonna shake every hand in the hall."
The stop in New Hampshire follows a week that included the most intense 48 hours of campaigning in 2012 for Obama, who is stumping through six states in two days and has almost lost his voice.
Obama told supporters in Colorado on Tuesday that he wasn't planning on sleeping during his campaign's "48-hour, marathon-extravaganza fly-around."
"We are pulling an all-nighter," he said. "No sleep; quite a bit of coffee."
Obama seemed to make good on his word, with an overnight flight on Wednesday on Air Force One from Las Vegas to Tampa, ending with a dawn visit to a Krispy Kreme shop, where he made at least one sleep deprived and slighlty non-sensical comment.
"Trent is a math teacher, he is buying donuts for his kids," he said at the store. "That whole math and donut connection is the key to school reform because I know his kids are doing great."
The campaign, too, made a point of mentioning his energy, as the following exchange from a gaggle on Air Force One on Thursday made clear:
REPORTER: Is he taking anything for his voice? Is he drinking tea with honey or anything like that? He talked about today being hoarse, and everyone can hear that as well.

JAY CARNEY: Not that I'm aware of. I mean, he's obviously giving a lot of speeches and using his voice. Not as a political point, but just an observation -- if you saw -- I mean, his energy at the last event last night and the first event this morning I think demonstrates where his head and where his body are right now. He's got a lot of energy and he's having a very good time.

JEN PSAKI: And just a light story, but last night our van didn't work so we missed the motorcade, a lot of the staff. Or, we didn't miss the motorcade, but we were in the van -- and so we got to the Bellagio last night as it was ending. And so we're all kind of doing jumping jacks and trying to stay awake, and thinking, okay, this is our last one. And we walk in, and he's walking out and he's kind of skipping along and saying, "Where were you guys? That was great. That was really fun in there."

CARNEY: "It was a great event! It was a great event!" And he was very pumped, he was very excited.
By Thursday night in Cleveland, Obama told the crowd for his final stop that he'd been " going for about 38 hours straight, even though my voice is getting kind of hoarse, I've still got a spring in my step." (Did he mean 38 or 48 hours?)
The president returned to the campaign trail Saturday, addressing a crowd of 8,500 at the Elm Street Elementary school in Nashua, N.H.
At points, the president raised his voice to a fever pitch (now sounding much better after a relatively quiet Friday in Washington), imploring the crowd to vote for him.
In the most impassioned portion of his speech, he leaned in over the podium, almost yelling, delivering what has become the most well received part of his stump speech.
"You can stand up for that basic principle enshrined in our founding documents: that all of us are created equal — black, white, Hispanic, Asian, Native American; young, old; rich, poor; gay, straight; able, disabled," he said, seemingly putting his whole body behind his words and pointing at the crowd. "No matter who you are, no matter what you look like, no matter where you come from, you've got a place in America. You can make it here if you try. That's what we believe."
Supporters who attended the event agreed: Obama's channeling of the Bill Clinton "'Till the Last Dog Dies" spirit was much needed, and welcome.
"The first debate really woke him up," said Paul Vonck, 47, an engineer from Nashua. "He's just doing what it takes to win until the very end. I heard his voice go hoarse in Ohio, and you can tell they're a little desperate, but it's more like he's just trying to fire people up."
"I think he's always wanted it, but just wasn't into the theatrics of the debates and campaigning," said another supporter, Pete Henry, 60, a defense contractor.
"Yeah, he didn't want to play that game," added Kerry Donnelly, 46.
Another attendee, 53 year-old Thomas Blackmon, has attended dozens of political events this year selling Obama and Michelle buttons, observed the recent change as well.
"I can feel it and hear it when he talks, I can tell he wants it bad," said Blackmon. "He's making his stand. He already won it, he already won it — I just feel it."