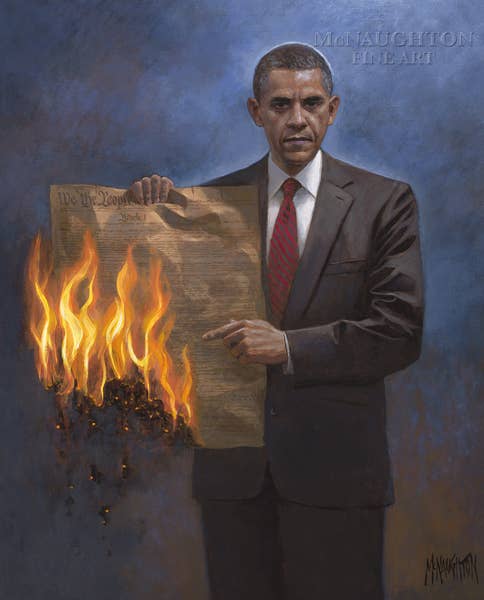 You won't see it at the Whitney, but the hottest contemporary art on the market right now features a devilish President Barack Obama burning the Constitution .
The asking price for an original painting trashing the Obama presidency will be about $300,000, conservative political painter Jon McNaughton tells BuzzFeed. The 44-year-old landscape artist has produced three works over the past two years depicting what he views as America's abandonment of "constitutional principles." McNaughton's already sold his latest painting to Fox News host Sean Hannity for an undisclosed sum, and he says he expects to sell the other two originals for at least six figures.
McNaughton isn't going for subtlety.
The first in his series of paintings, titled "One Nation Under God," features Jesus Christ holding up the Constitution in Washington, DC, surrounded by an audience of historic figures like Benjamin Franklin and Thomas Jefferson, kneeling soldiers, and an astronaut. There's also what his website) calls a "Liberal News Reporter" and a man he dubs "Mr. Hollywood," who looks down upon a pregnant mother with "ridicule and amusement." A small child stands before Jesus, reading the document.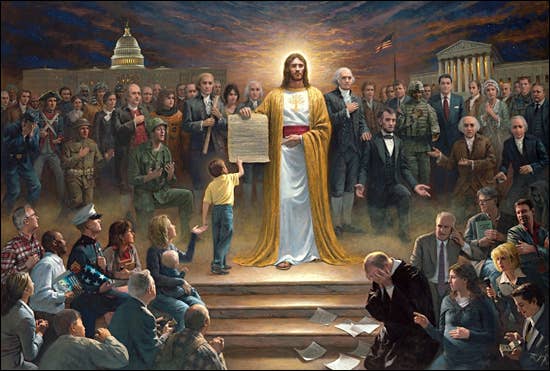 Obama's Affordable Care Act — the health care bill now under assault from the Supreme Court — inspired McNaughton's next painting, "The Forgotten Man." It's been his most popular piece so far (reproductions of the paintings go for from $24 to $400), with a video explaining it getting almost 4 million YouTube hits.
Rather than focusing on Jesus this time, McNaughton spotlights President Obama himself, standing, arms crossed in front of the White House, his foot on the Constitution like he's putting out a cigarette. The forgotten "everyman" man sits on bench, despondent. An audience of former presidents looks on—favorites Lincoln, Reagan, and the Founding Fathers appear to be imploring Obama to stop, while big government liberals like FDR and Bill Clinton are pictured applauding.
"It resonates with a lot of Americans," he says in a telephone interview from his studio in Provo, Utah.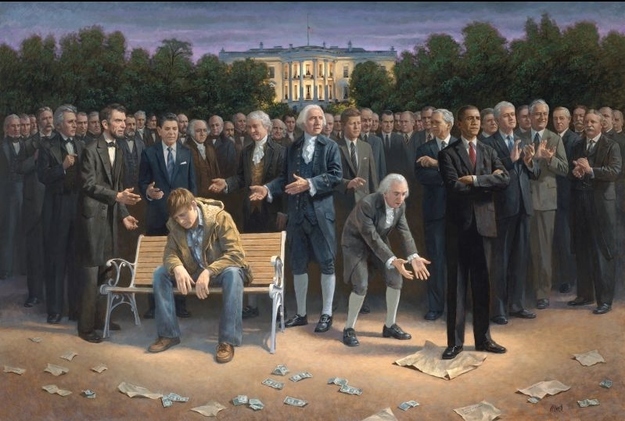 McNaughton's latest — "One Nation Under Socialism"— is his most controversial work to date. It's a portrait of Obama literally burning the Constitution. He painted Obama to look "sinister," he says.
He brushes off online charges of racism that have met some of his work.
"You hear it so much, it's like wow, whatever. I can't help the fact President Obama is partly African American." McNaughton explains the painting this way: "He's fanning the flames…It's a very dark painting."
Like Norman Rockwell, McNaughton stages the scenes for his paintings with real human beings. (The model who played Obama does not want his name to be revealed publically.) To best capture what it would look like to burn the Constitution, McNaughton, who attended Brigham Young University on a full arts scholarship, lit a piece of paper on fire and watched it burn. "I lit it on fire to see what would happen. It went up fast," he says, recalling the experiment.
The art world, though, hasn't been too kind to McNaughton. Critics in New York and Cambridge, England, have accused him of being "didactic" and "not understanding socialism," he says. New York Magazine's art critic called his paintings "typical propaganda art" and "visually dead as a doornail." McNaughton brushes off the pans. "I don't expect to get a grant from the National Endowment for the Arts or be in a museum, at least in my lifetime," he says. "It's like having those experts in jazz criticize country music. One type of art trying to tell everyone else what real art is."
If art critics don't like his work, conservative media figures certainly do.
Matt Drudge featured a link to a story about his work, Glenn Beck has talked about his paintings on the Blaze, and Fox News host Sean Hannity threw down a chunk of cash to get the original acrylic version of "One Nation Under Socialism."
According to McNaughton, it's the first painting Hannity has ever bought. On Wednesday, McNaugthon is making his Big Apple debut, coming to New York to be on Hannity's show. (Fox News did not respond to a request for comment.)
Art industry insiders say that there are only about 100 living artists in the world who can command the kind of prices McNaughton is likely to get. "It's completely unheard of," one high-powered art dealer emails.
How does McNaughton stands up to the great masters? You can get a small Andy Warhol painting for $300,000, while a Picasso original starts around a million dollars. "When I paint a patriotic painting," he notes, "It's like throwing a stick of dynamite in the pond!"