It's close to midnight in early December on Waterfront Road in Olongapo, Philippines, which stretches along the water's edge where U.S. military vessels dock. Dimly lit by yellow tungsten lamps, women's figures in tight clothing — short dresses or body-hugging jeans — walk down the street, shadows covering their faces. The women tend to travel in small groups of two to six, as do larger figures that come into sight less frequently: foreign men, as it turns out, mostly white, a few black. There are rows of tiny lights on the ocean tonight, from a couple of U.S. military ships in the distance.
At the Olongapo Hall of Justice the afternoon before, U.S. Marine Lance Corporal Joseph Scott Pemberton was sentenced to six to twelve years in Philippine prison for killing Jennifer Laude, a trans Filipina sex worker, in October 2014. His sentence was downgraded from the usual 20 to 40 years for homicide under Philippine law, in part because Laude failed to disclose to Pemberton that she was trans.
The courthouse is two miles north of Waterfront Road along Rizal Avenue Extension, which turns into Manila Avenue after a bridge over the Kataklan River, but not before passing a roundabout that leads to Magsaysay Drive. There, in a motel near the end of the block, is where Pemberton choked Laude to unconsciousness, then dunked her head in the shallow water of a toilet until she died.
There's a hush after crossing the river now, as narrow streets full of people give way to broad avenues and wide sidewalks. This area used to be part of the Subic Naval Base, a major U.S. military facility that was closed in 1992, after a volcano eruption that resulted in widespread damage coincided with a wave of Philippine nationalism. The base was then converted into a tax- and duty-free commercial area called the Subic Bay Freeport Zone, with its U.S.-built facilities repurposed for commercial and business use. U.S. service members used to be able to roam around the area outside the former base during their leisure time, where a large number of bars, massage parlors, and other establishments that catered specifically to their needs awaited them. But since Laude's death last year, the U.S. military has confined service members to the Freeport, and its long stretch of bars and restaurants, right next to the ocean.
"Why would I tell a man I'm trans? I need to say I'm a real woman or they wouldn't want me."
Now, a young woman, with hair halfway down her back, walks alone on Waterfront, in tight jeans and a shirt with quarter-length sleeves. Her figure is slim and taller than most of the girls on the street. At the very end of the road, off to the side, is an area that the city has fitted with fluorescent streetlights but has yet to be developed. "I take my customers there," the woman says in Tagalog as she gestures toward the darkness beyond the road, "or we do it in their cars."
Rose Ann claims she's 17, but her voice hasn't noticeably dropped. Her skin is dark, her face long and delicate, with a slightly upturned nose that gives her both a distinctive and proud appearance. It's doubtful that anyone would identify her as any different from other young Filipina girls, except maybe that she's taller and thinner than the norm.
When asked if she knew Jennifer Laude, Rose Ann says that Laude once told her she was beautiful and asked her to hang out with her crew, but she felt too young and intimidated by sex work. She saw Laude at local hangouts every once in a while, but did not speak to her except for that one time. Rose Ann recalled that single interaction with the beguiling transgender woman who was dark like her after she'd heard from a friend that she died.
Even though Pemberton killed Laude after finding out that she was trans, Rose Ann insists that she needs to keep her transgender status from U.S. service members who pay her for sex.
"Why would I want to tell a man I'm trans?" she asks, aghast. "I need to say I'm a real woman or they wouldn't want me."
Other trans sex workers, along with many locals and members of the LGBT community, confirm Rose Ann's account: Trans sex workers in Olongapo keep their status secret from service members as a matter of course. These workers have operated in Olongapo even after Laude's death, taking businessmen from Korea, China, and other countries as customers when U.S. ships were prevented from docking there. In the verdict's aftermath, local officials and residents are eager for U.S. troops to come back and bring money into the city as they once did. The mayor's office has convened a task force to prevent violent incidents involving trans women and U.S. military service members from occurring in the future, which encourages trans sex workers to disclose their trans status early on. But, because disclosing would inevitably lose them clients, there's little sign of meaningful change to the conditions that led to Laude's death at the hands of a U.S. military service member.
For her part, Rose Ann exhibits a confidence beyond even her stated age. She asserts that what happened to Laude won't happen to her.
"I evaluate their character," she says, her chin jutting out defiantly as she discusses her customers. "I only go with the gentlemen, and I only give blow jobs. I don't let them touch me down there."
But Rose Ann also occasionally goes to motels with customers, where other trans workers have reported finding it more difficult to hide their status, as Laude did the night she died. Rose Ann says she makes sure to be near a phone so she can call in case there's trouble.
According to a number of other trans women who saw her at the bar the night she and Pemberton met, Laude also took this precaution, and even made sure to bring a friend whenever she had a customer. On being informed of this, Rose Ann expresses a fatalism common in the Philippines, a country that is both deeply Catholic and prone to superstition.
"It was simply Jennifer's hour," Rose Ann says. "That was why she died."
Jennifer's mother, Julita Laude, does not live in Olongapo, but in the far-flung province of Leyte. She took a ferry and a bus for more than 20 hours to see her daughter's killer get convicted. She spends a quiet afternoon in her daughter Michelle's apartment following the verdict, after enduring a battle with Pemberton's camp the previous night about where the Marine would be detained following his conviction. That fight ended when Judge Roline Ginez-Jabalde ordered Pemberton to be housed at a military camp near the capital, separate from other Philippine prisoners but under local guard.
Julita sits on a brown floral-print couch in Michelle's modest one-bedroom duplex. Despite the conviction, she is far from satisfied, not just because of the short length of Pemberton's sentence, but also because of the judge's decision to keep Pemberton away from Philippine jail.
"It's like if I wore the mask of a younger woman then he killed me when he found out that I am old."
"We already know he's a killer, and he still gets special treatment," she says, her eyes welling up with tears. She also confides that there has been strife between her and Jennifer's eldest sister, Marilou, over Julita's decision to use some of the money from Jennifer's bank account to pay for renovations on her house in Leyte, where she lives with her second husband. She's concerned about how the money from the judge's verdict, about 4 million pesos, or around $100,000 – a substantial sum by Philippine standards – would affect her relationships with her children.
Julita's face shifts from sadness to anger as she recalls another aspect of the case: the judge's decision that Jennifer's failure to disclose her trans status was a mitigating factor, which led to Pemberton's lighter sentence. While Judge Ginez-Jabalde ruled that "[t]here is no lawful aggression that justifies [Pemberton] to defend his honor," throwing out Pemberton's claim that he acted in self-defense when he choked Laude, she also wrote, "The mitigating circumstance of passion and obfuscation is present in this case." The family's head attorney, Harry Roque, later expressed his anger over this part of the verdict, asserting that Pemberton's action was "a hate crime against the LGBT community."
"It's like if I wore the mask of a younger woman then he killed me when he found out that I am old." Julita says. "The judge wants to say it's my fault. It's just not right."
Laude's German fiancé, Marc Sueselbeck, is also incensed at the verdict. He heard about Pemberton's conviction only from Laude's family, as he is banned from entering the Philippines following an incident where he scaled a local military camp fence and was deported. But more than being angry, Sueselbeck is not entirely convinced that Pemberton's testimony is true.
"Only two people know what happened in that room," Sueselbeck says over video chat from his home in Duisburg, Germany, as he smokes a cigarette. "One of them wants to protect himself, and the other one is dead."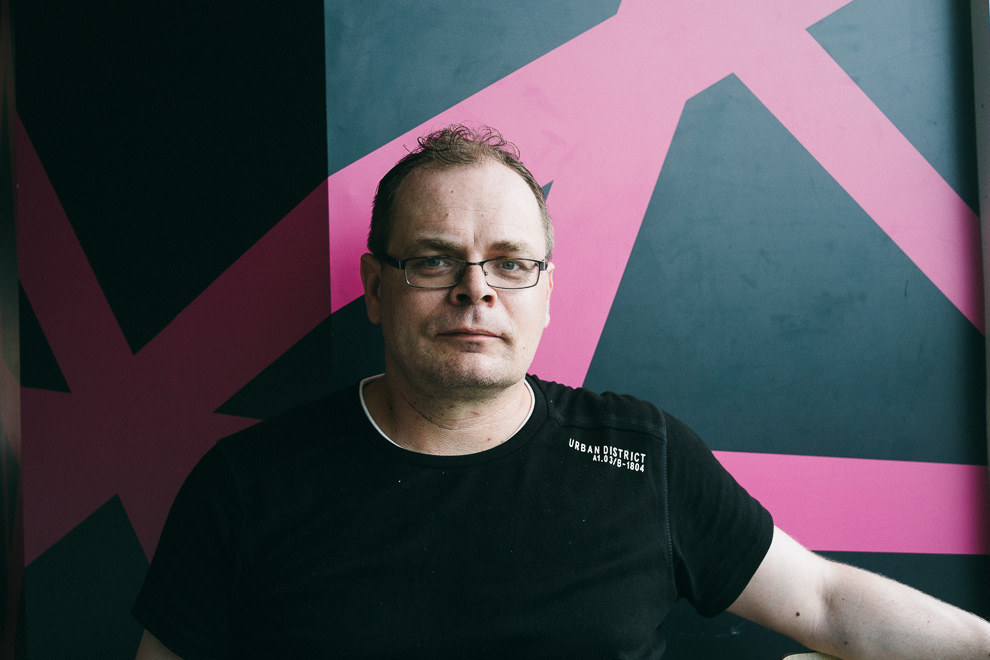 One detail that Sueselbeck finds particularly galling is the fact that a U.S. forensics expert testified to finding the same lubricant on Pemberton's penis as was found on Laude's anus, indicating that the two engaged in anal sex. Yet there is no mention of anal sex in Ginez-Jabalde's verdict, as the court seems to have accepted the Marine's testimony that he found out about Laude's status while she was performing oral sex on him.
"It's possible Jennifer didn't even want to have sex and he raped her," Sueselbeck says of Pemberton as he expands on his own theory of how Laude died. "He might have known who she is even before they had sex, and killed her because he couldn't accept being rejected by a transgender woman."
Jennifer's former roommate Jamille was in Olongapo for the verdict but chose not leave her apartment, to avoid the chaos, and could be reached only by video chat. She was with Laude the night she died and claims to have had Jairn Rose — Pemberton's friend who testified in court that Pemberton told him he might have "killed a he/she" — as her customer.
Jamille, too, is dissatisfied with the verdict, and believes that Pemberton should have been convicted of murder and not homicide. "America is still the favorite," Jamille says, a reference to the longstanding belief in Olongapo that U.S. citizens get special treatment in cases involving Filipinos, even in the Philippines. "And there is still discrimination. If Jennifer were a real girl, the conviction would automatically be murder." (In the Philippines, it's still common to refer to cisgender women as "real" in contrast to transgender women.)
As for Laude's responsibility in disclosing her trans status, Jamille believes that Laude is partly at fault for not telling Pemberton she's trans, but doesn't believe this should have been a factor in lightening his sentence.
"Yes, it is our fault that we do not tell men we are not real women, and it is also our fault that we do this type of work," Jamille says. "But that doesn't matter when life or death are at stake. At least Pemberton is alive; he's in jail, but still alive. Jennifer is dead. He should be jailed for life."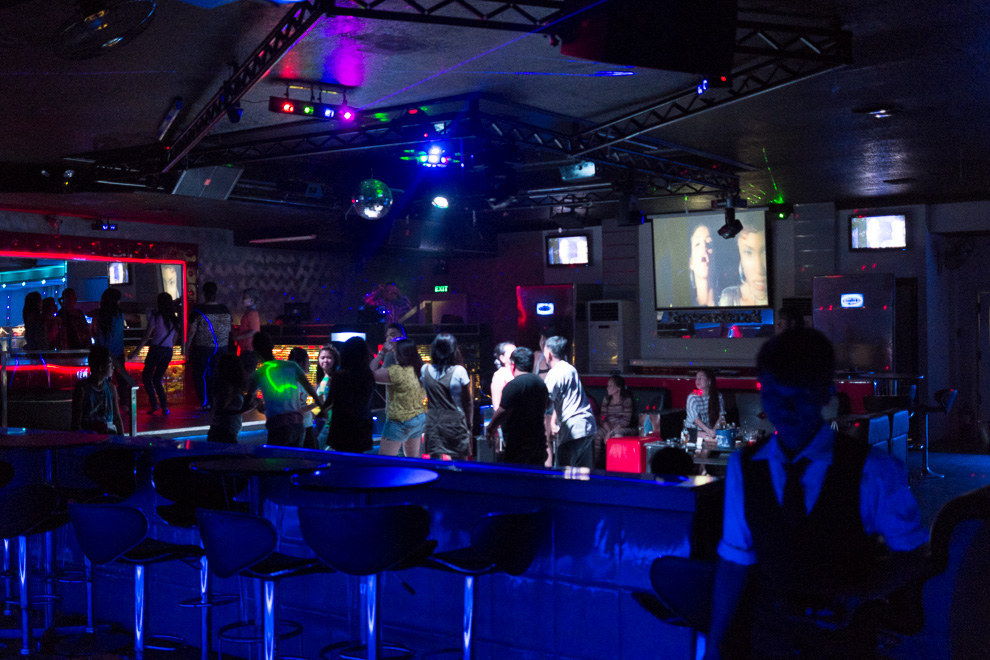 Whether or not trans women's failure to disclose should be a factor in cases where they become victims of violence, there's no question that the practice leaves the workers in Olongapo vulnerable. Trans workers themselves have claimed that they've been threatened or beat up when service members find out they're trans — and have been discouraged from pressing charges by local police, who have been instructed by national police authorities not to discuss the Laude case with reporters.
However, many local residents are eager to move past the Laude incident altogether. Locals have even accused the Laudes of being selfish by not settling the case early. By having gone to trial, the liberty privileges for U.S. troops remained suspended, which in turn has directly led to hundreds, if not thousands, of locals losing their sources of income.
"Transgenders are respected in the beauty parlor business and the fashion industry. They shouldn't end up in situations where they pretend to be a real woman."
The city's designated spokesperson on the Laude verdict, Olongapo City Councilor Aquilino Cortez Jr., emphasizes that the city has lost an estimated 20 million pesos (about $425,000) as a result of the U.S. suspension of off-base leisure activity in the area, as the absence of servicemen has led to loss of business from establishments as humble as corner stores and as large as retail brands in the local malls. Speaking outside his City Hall office, with his confident English and polished manner, Cortez echoes local sentiment in his eagerness to assert that Olongapo is ready to move on — starting with normalizing relations with U.S. troops.
"We expect that liberty will resume now that Pemberton has been convicted," Cortez says, using the military term for service members' leisure time off-base. "We are working to address safety concerns when people like Jennifer Laude come into contact with servicemen."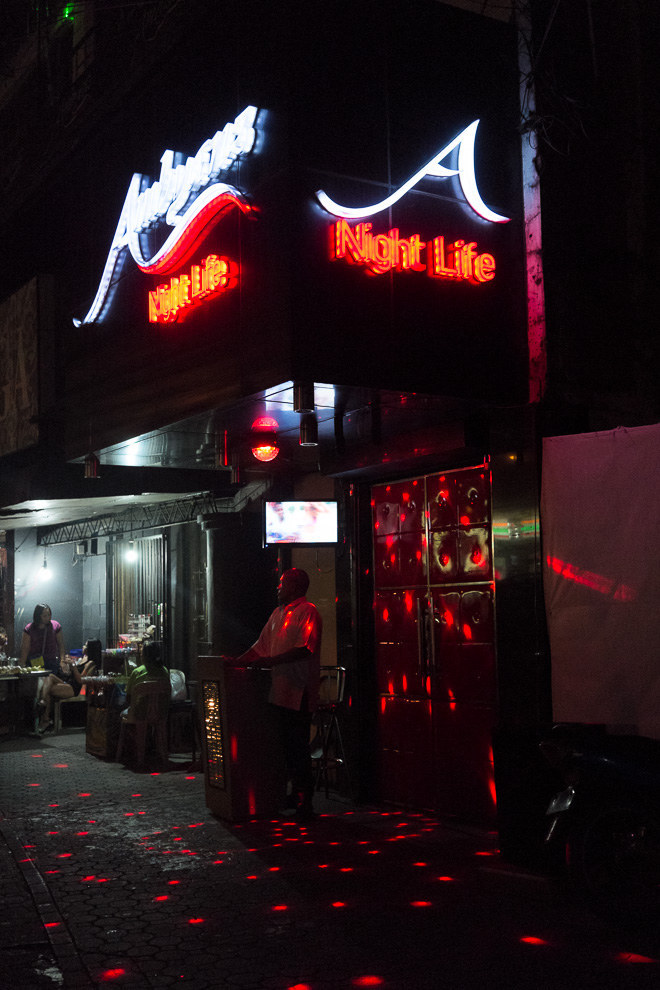 Cortez is not perturbed about the downgrade in Pemberton's sentence as a result of Laude's failure to disclose her status. He believes that any sentence, however long, is already a win for the Philippines, because, if Pemberton's conviction holds up after his yet unscheduled appeal, it will be the first time that a U.S. service member would be successfully convicted of a crime against a Filipino citizen in a Philippine court. Another Marine, Daniel Smith, was convicted of raping a local woman, Suzette Nicolas, in 2006, but his conviction was overturned on appeal in 2009 after Nicolas recanted then left for the United States. The Smith case led to widespread speculation that U.S. authorities compelled Nicolas to recant in exchange for a U.S. visa.
According to Cortez, the mayor's office does not officially condone prostitution but is resigned to the reality that "it is everywhere." A 2010 Philippine Senate Bill estimated that as of 2005, as many as 800,000 Filipinos engage in sex work — nearly 1% of the population — and the industry is concentrated in cities with large numbers of foreigners like Olongapo.
"I advise people to try to be honest with servicemen," Cortez says, "like the culture in Thailand where it is known that when men come into contact with transgenders, they are who they say they are."
Cortez bristles at the accounts of trans women who say they have few options because service members wouldn't go with them if they knew they were trans. These women also claim that they can't get jobs outside of sex work unless they dress as men, because local industries do not allow male-assigned individuals to dress in women's clothing. In a communication to the United Nations Human Rights Committee, a national transgender rights group reported that corporate and government offices in the Philippines have "no cross-dressing" policies that target transgender women.
"If it were me, I would have killed her, too."
"I don't understand this. Transgenders are respected in the beauty parlor business and the fashion industry," Cortez says, indicating two sectors where trans women are reported to be able to dress in women's clothes (though Laude's family claims that salon owners also forced her to dress in men's clothes). "They shouldn't end up in situations where they pretend to be a real woman."
Other locals express a mixture of sympathy and rejection when it comes to the presence of transgender sex workers in Olongapo. A souvenir vendor on Waterfront Road, Jerry Calubuhay, says that he is indifferent to the Pemberton verdict and wishes only that full liberty would resume so that ordinary people in Olongapo can have income.
"I've never been in a situation where I find out that someone I am with is not a real woman," Calubuhay says. "But of course you would react if that happened to you. You would think of your family and friends and how shameful it is that you are with a transgender."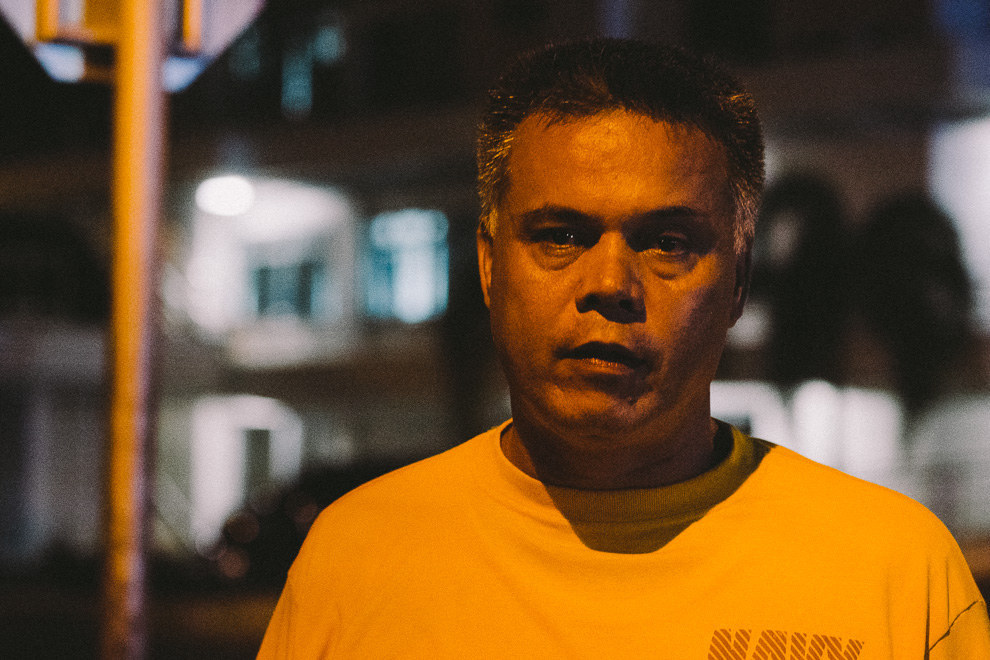 Down the street from Calubuhay's stand, a group of five taxi drivers stand by, waiting for customers even though the servicemen are confined to a walkable area and their services are hardly needed. "That has nothing to do with us," one of them shouts when approached about the case.
A female bystander sitting on a nearby park bench shouts back, "Transgenders need to be kicked out of Olongapo."
Another taxi driver replies: "Your words hurt too much. Those are our fellow Filipinos."
This is when Ronald Troops Jr., a light-skinned taxi driver a head taller than the rest, joins the conversation. "If it were me, I would have killed her too," he asserts. "[The Laude family] should take their money and stab it down their throats. There are so many families that have gone hungry because of their greed."
Troops says that he is half American but he has never been able to locate his father, Ronald Sr., who was a service member based in Olongapo. He recounts his struggles trying to make a living as a taxi driver when service members are not allowed to leave the area. Suddenly, his mood turns calmer.
"I was only joking when I said I would have killed Jennifer," Troops says, balking. "Transgenders are also Filipinos like us."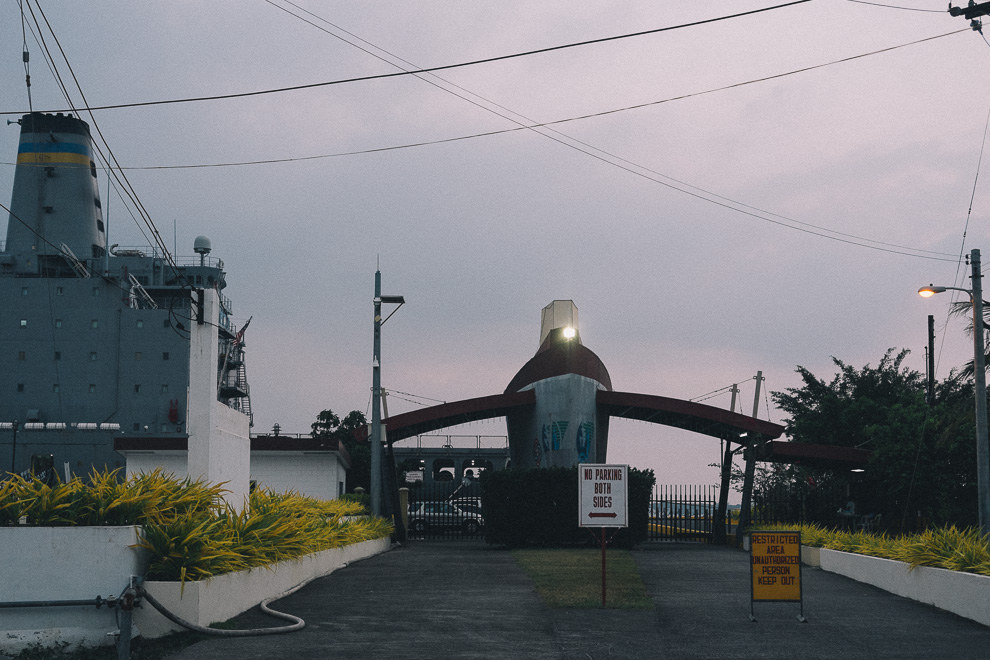 Rose Ann is worried about people identifying her and finding out she's a sex worker. Her father doesn't know that she roams the streets looking for customers. He's back in Manila, having sent Rose Ann to Olongapo with her mom to study at a good school.
"I don't want to bring dishonor to his family name," Rose Ann says. Nevertheless, she is clear about her desire to tell her story. "It's important for people to know the life we live, and what we have to do to survive. Knowing that Pemberton is not going to jail for as long because Jennifer is trans, it's like we're not equal to other people. We need to be equal because we are equal."
Her mother knows that Rose Ann hangs around bars and clubs in the area, but is not aware that she is doing sex work. According to the young woman, "She thinks I'm just looking for a handsome boyfriend who will take me to America." This is Rose Ann's ultimate goal: to find a foreign man who will accept her for who she is and take her abroad, as Laude's fiancé was prepared to do before she died.
"It's important for people to know the life we live, and what we have to do to survive."
Laude's former roommate and close friend Jamille, for her part, seems on her way to fulfilling that goal, as her Canadian fiancé John joins her over video chat, an older man who she met on the internet and has known for over a year. They are making plans to get married.
Even before she and John decided that their relationship was serious, Jamille says that she had already curtailed her sex work, afraid of the consequences of revealing her status.
"But in terms of other trans women," she says, "there hasn't been a real change. They still get customers who don't know they're trans. It's the same as ever." According to Jamille, the only difference she's noticed is that taxi drivers and other locals are quicker to out them to foreigners.
"They would shout, 'That's a ladyboy!' and then the trans woman would run," Jamille says.
John was not aware of Jamille's transgender status until late November, when she informed him after he came to Olongapo to visit her. Though Jamille says they've been going through a period of adjustment in response to her revelation, John has come to accept her, and has continued making plans for their upcoming marriage, which would eventually allow her to immigrate to Canada.
"I was married for 44 years," John says. "Before my wife died, she told me that as long as I find someone to love, it doesn't matter what or who, I should go for it. And that's what I'm doing."
Like modern fairy tales, stories like Jamille's give sex workers in Olongapo hope: hope of finding foreigners who will take them away from lives of poverty and struggle, even if the already small odds are even smaller for transgender women. As Rose Ann continues to roam the streets of Olongapo at night, she has to believe that she will encounter men like Jennifer's and Jamille's fiancés, and not a man like the kind who ended Jennifer's life.
CORRECTION
Joseph Scott Pemberton is a U.S. military service member. A previous version of this article implied that he is an officer.