In the wake of at least 18 trans women killed in 2015, most of whom were women of color, black trans women and gender-nonconforming leaders collaborated with Black Lives Matter and other black movements to organize a National Day of Action on Twitter and in at least 14 cities on Tuesday. BuzzFeed News estimates that around 250 people gathered at dusk in front of the Barclays Center in downtown Brooklyn for what organizers called Trans Liberation Tuesday.
With tears in her eyes, one of the event organizers, black trans woman Cherno Biko, recited a poem by Lucille Clifton that concluded: "Come celebrate with me that every day something has tried to kill me and has failed." Later, she and co-organizers Aaryn Lang and Joshua Allen announced the names of murdered black women like Amber Monroe from Detroit, Kandis Capri from Phoenix, and Elisha Walker from Salisbury, NC, while members of the crowd lit candles.
"The reading of names was the most beautiful part for me," Allen said afterward. "My sisters and I talk about these trans women in our little groups, but usually no one else cares. It was wonderful to hear their names in this crowd."
The event began with Lang speaking about the need for non-trans people to be involved in the movement to support black trans women. She then invited black cisgender men to come to the front of the makeshift stage — about twenty of them did. Timothy DuWhite, a cisgender black poet and activist, called upon black men to mobilize around what he called "the genocide of black trans women."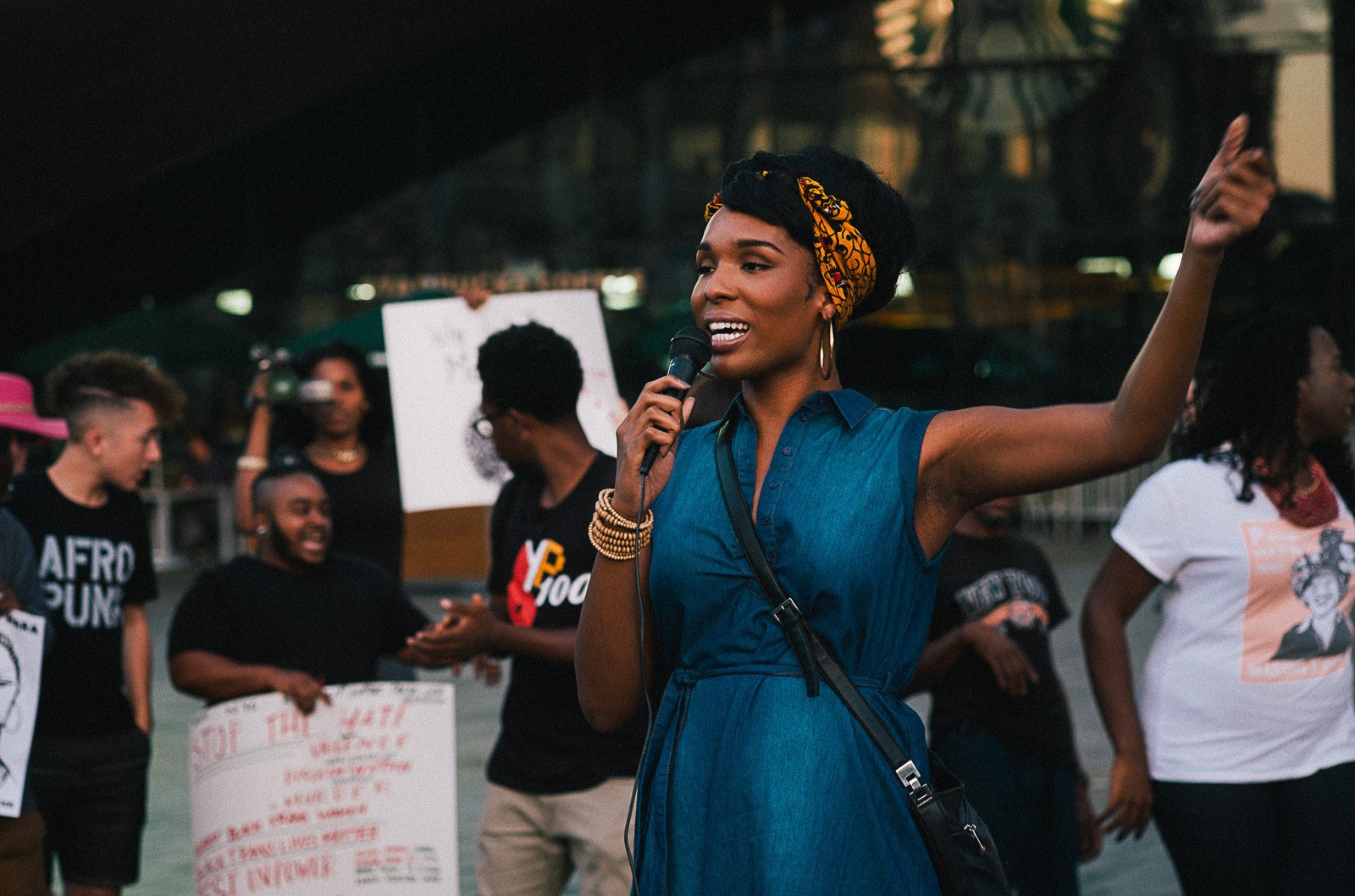 "We are the murderers," DuWhite said, referring to black men enacting violence against black trans women. He also criticized activists who tell black men that black women are their sisters and mothers to invoke sympathy, which he sees as an indication that black men only defend women who they see as possessions. "Let's substitute possession with love," he concluded.
A member of Black Youth Project 100, Imani Brown, held cisgender black women accountable for what she saw as their dismissal of black trans women's concerns. "We [cisgender black women] know what it's like to be erased," Brown said. "Yet we are also guilty of enacting that violence."
Rosza Lang-Levitsky, who described herself as a "white trans dyke" told BuzzFeed News: "I don't know what world you're living in if you're not fighting for the lives of black trans women." She volunteered to monitor security and potential police interactions at the event through the Audre Lorde Project, an organization which advocates for queer people of color.
Brown, Dwight, and Biko all stressed that while online activity is important, tweeting is not enough. "There are black trans women leading the movement, and we need your support," Biko implored. "We shouldn't need to do sex work to fund the revolution." Biko also recounted how even though she's a nationally-recognized organizer and appeared on the three main stages of AfroPunk last weekend, she is in danger of being homeless because she can't pay rent.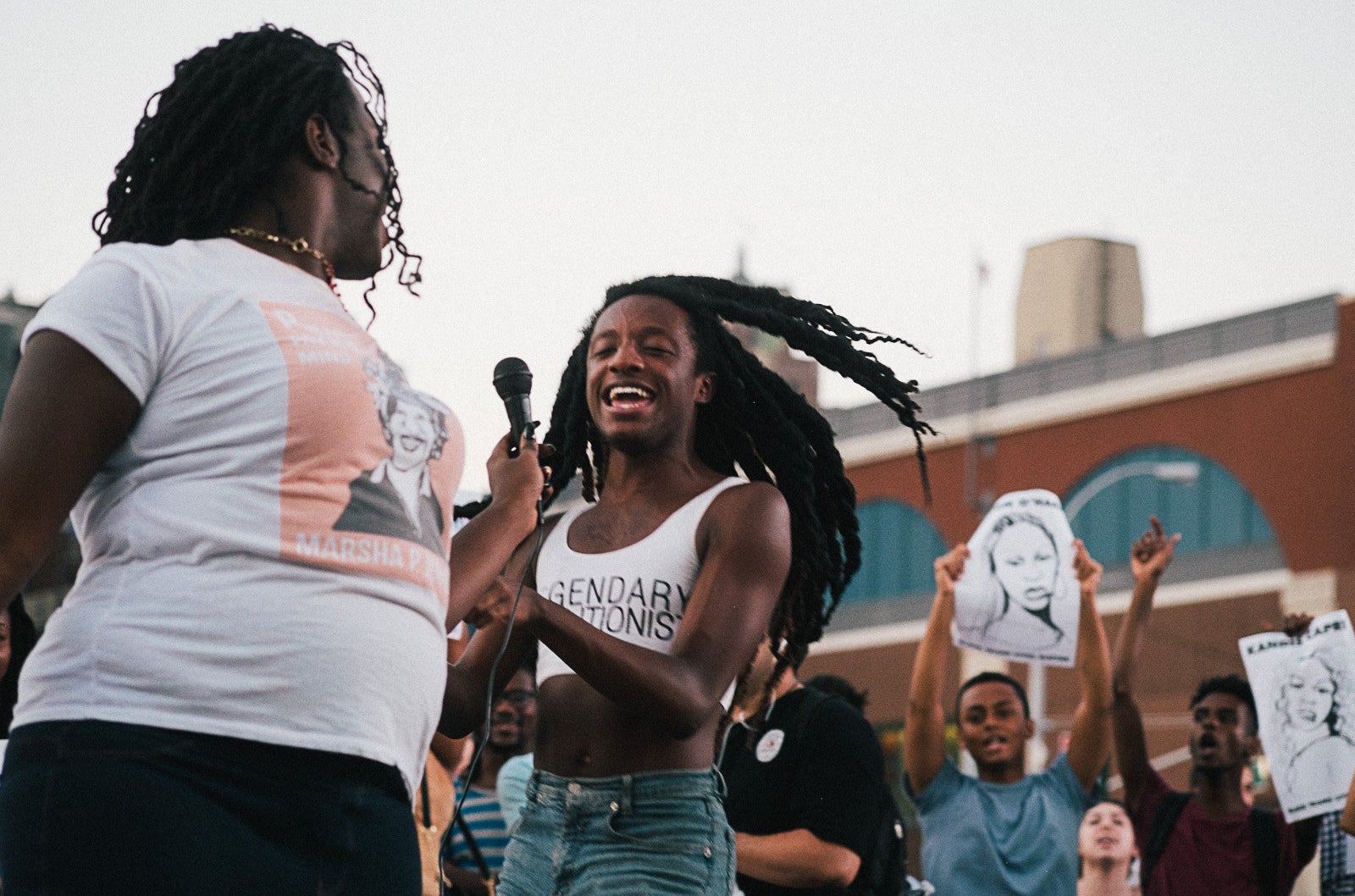 Other speakers included Kei Williams, a transmasculine member of Black Lives Matter NYC chapter, who, along with a call to stop the murders of black trans women, also called attention to vulnerable black trans men, and in particular the suicide of activist and former homecoming king Blake Brockington in March. Genderqueer activist Jamal T. Lewis also spoke: "None of us will experience liberation until we free those in the margins."

The speeches were punctuated by frequent calls for the crowd to move or shout. Williams led the group in the chant, "All lives will matter when black lives matter!" and Biko asked the crowd to jump up and down while shouting, "I believe that we will win!"
At the end of the speeches and after sunset, many people continued to linger and talk, as Biko and another black trans woman, Shagasiya Diamond, spontaneously drummed on buckets and sang the Janelle Monae protest song "Hell You Talmbout" and its title refrain, along with the repeated invocation, "Say her name!" Except instead of Sandra Bland, Freddie Gray, Michael Brown, and Eric Garner, they shouted names like Islan Nettles, Amber Monroe, and Penny Proud, all black transgender women who've been killed in recent years.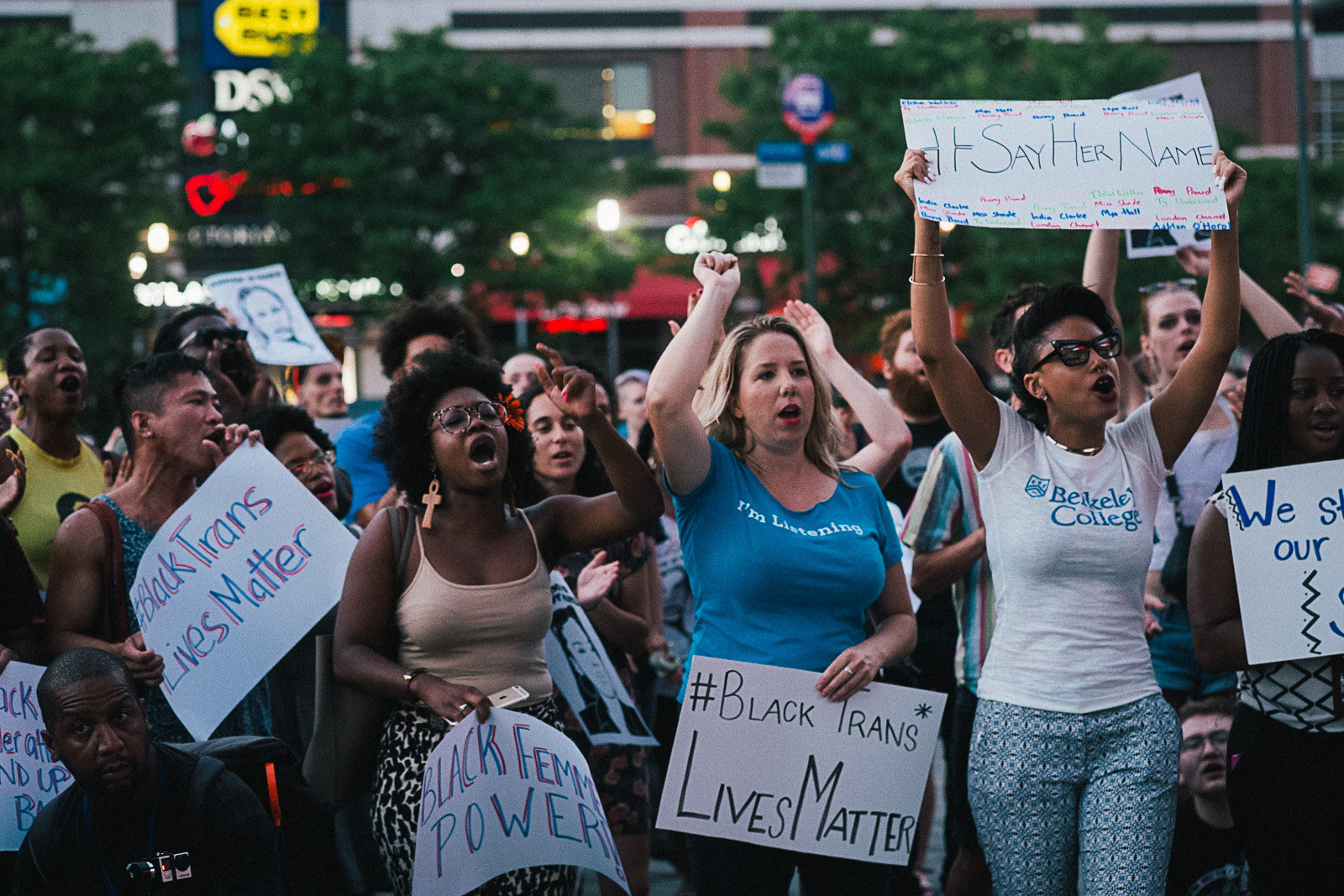 Responding to criticisms that the Black Lives Matter movement has not been responsive to the needs of black trans women in the past, BLM strategic partner and co-organizer of the National Day of Action Elle Hearns said, "Black Lives Matter is a decentralized movement… There's a network of certified chapters and partners that have formed in collaboration with the co-founders of #BlackLivesMatter. The critiques that are happening are not reflective of the leadership or vision of the co-founders."

Lang called the National Day of Action unprecedented. "For the first time, "we were able to center black trans women's concerns and make them a vital part of the conversation." According to Lang, it has long been her hope that the larger black community could be more fully involved in supporting the lives of black trans women. The New York rally, as well as actions all over the country, give her hope that this can happen.
"We just need to continue to do the work," Lang said. "We will do the work."