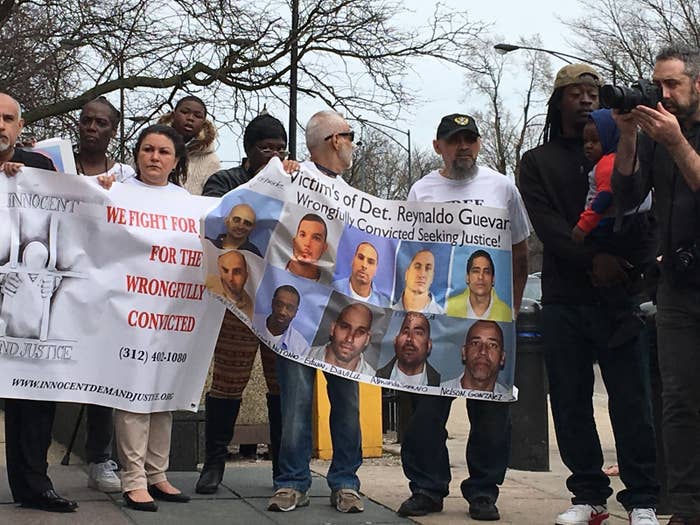 Two men who claim they were beaten by a Chicago Police detective until they falsely confessed to a gruesome double murder they swear they did not commit will be released from prison after Cook County prosecutors dismissed all charges against them Thursday.
Gabriel Solache, 43, and Arturo Reyes, 45, alleged that over the course of a three-day interrogation in 1998, Chicago Police Detective Reynaldo Guevara slapped them across the face, punched them in the stomach, deprived them of sleep, and gave them little to eat or drink. Solache told city investigators that the physical abuse prompted him to confess falsely to stabbing a young couple on the city's northwest side and the kidnapping of their two young children. The confessions were the key pieces of evidence against Solache and Reyes.
But a judge tossed those confessions last week after ruling that Guevara had told "bald-faced lies" when prosecutors called him to the stand in October in an effort to discredit Solache and Reyes' beating claims. Cook County Circuit Court Judge James Obbish ruled that the detective "has now eliminated the possibility of being considered a credible witness in any proceeding."
Guevara, who is now retired, was the subject of a BuzzFeed News investigation last spring that found he has been accused of framing at least 51 people for murders they say they did not commit. Following that story, Cook County prosecutors dismissed charges against Roberto Almodovar, who served 23 years for a murder he did not commit.
Guevara has consistently declined to comment. He has also repeatedly asserted his Fifth Amendment right against self-incrimination when asked to testify in court about his cases. In October, compelled by a court order and given a grant of immunity, the detective testified. He denied beating Solache and Reyes but also said he did not remember much of the investigation and appeared to refuse to review his own police reports when asked to do so on the stand. The judge did not find that credible.
Solache and Reyes are the 11th and 12th men who have had their convictions overturned, at least in part, due to Guevara's alleged misconduct. Cook County State's Attorney Kim Foxx, who campaigned last year on an agenda that included police accountability, has dismissed charges against five of those 12 men since assuming office last December. A spokesperson from her office has said the office is currently reviewing other Guevara cases.
Attorneys for Solace and Reyes had been fighting to overturn their convictions for more than 16 years. Solache's attorneys from Northwestern University's Center on Wrongful Convictions had played leading roles in developing what they argue is evidence of a pattern and practice of Guevara's misconduct. Solache and Reyes' appeals also helped establish critical case law that's aided other Guevara defendants in their exonerations.