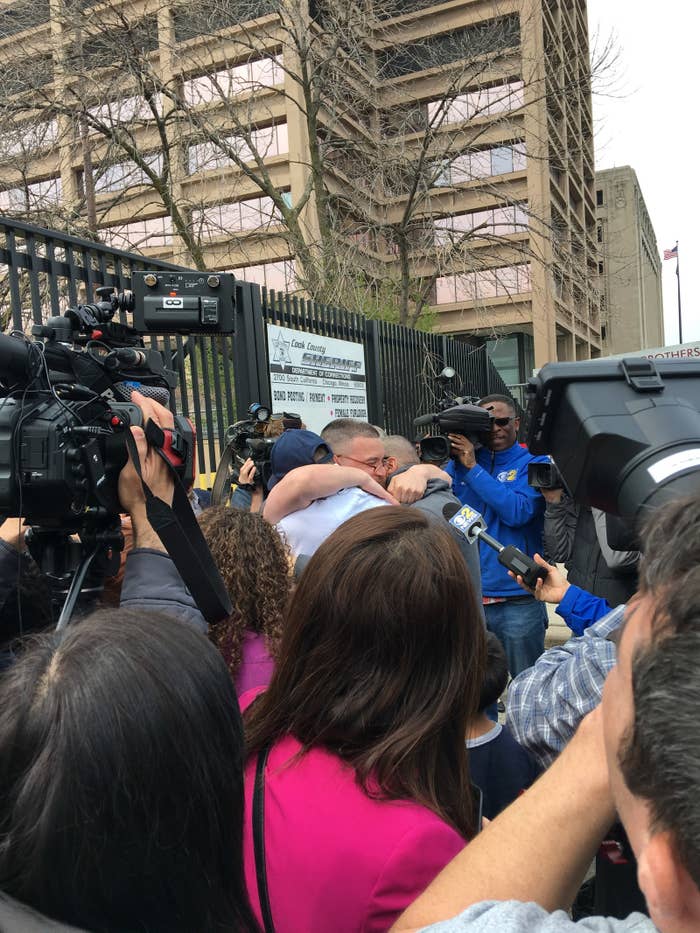 Two federal lawsuits filed Sunday accuse retired Chicago detective Reynaldo Guevara and other law enforcement officers of knowingly framing two innocent men for murder. The lawsuits say that Guevara — who BuzzFeed News revealed has been accused of framing more than 50 people — and the other officers were motivated by racism and personal greed, and that as a result of their actions the plaintiffs spent more than 50 combined years in prison.
The lawsuit on behalf of Roberto Almodovar, who was convicted in 1995 of a double murder, alleges that the officers elicited false testimony "through manipulation, trickery, suggestion, pressure, coercion, and other unlawful tactics" and that they did not check an "alibi that was verifiable through no fewer than seven witnesses."
"Without the Defendants' concealment of evidence, falsification of evidence, and manipulation of witness testimony," the suit continued, Almodovar "would never have been convicted." Almodovar was sentenced to life behind bars. He served 23 years but was exonerated last April, 10 days after BuzzFeed News published an investigation into his case.
In the other suit, Jose Juan Maysonet, a former drug dealer, claims that Guevara worked with other police officers, supervisors, and a prosecutor to frame him for the 1990 murders of two brothers after he stopped paying Guevara protection money.
Maysonet, who was exonerated after serving 27 years, alleges that he was innocent, but that Guevara beat him with a phone book and a flashlight until he agreed to say he had committed the murders. The lawsuit accuses a prosecutor in the case, Frank DiFranco, along with Guevara's fellow officers, of backdating and falsifying reports and lying about Maysonet's confession.
So far 15 men have had their convictions overturned in cases Guevara worked on. One of those defendants won a $16 million settlement from the city. Almodovar's and Maysonet's lawsuits bring the total number of lawsuits the city of Chicago is currently facing in Guevara-related cases to seven — three of which have been filed in the last four days.
The lawyer representing Almodovar and Maysonet, Jennifer Bonjean, said the two new lawsuits show that Guevara was not a lone actor: Other officers also falsified evidence, while sergeants encouraged the behavior and prosecutors chose to go ahead with the flawed cases.
In addition, Bonjean said Almodovar's case shows "there was an organized and systematic effort to frame Latino men," and that Maysonet's case shows that cops "weren't bending the rules to get bad guys, they were bending rules to enrich themselves."
An attorney for Guevara, William Fahy, has not responded to a request for comment, nor has DiFranco.
Timothy Grace, an attorney for two of the officers accused of misconduct in Maysonet's case, said, "My clients don't believe they did anything improper and look forward to defending themselves in the lawsuit." A spokesperson for the city of Chicago said the city had not yet received the suits and could not comment.