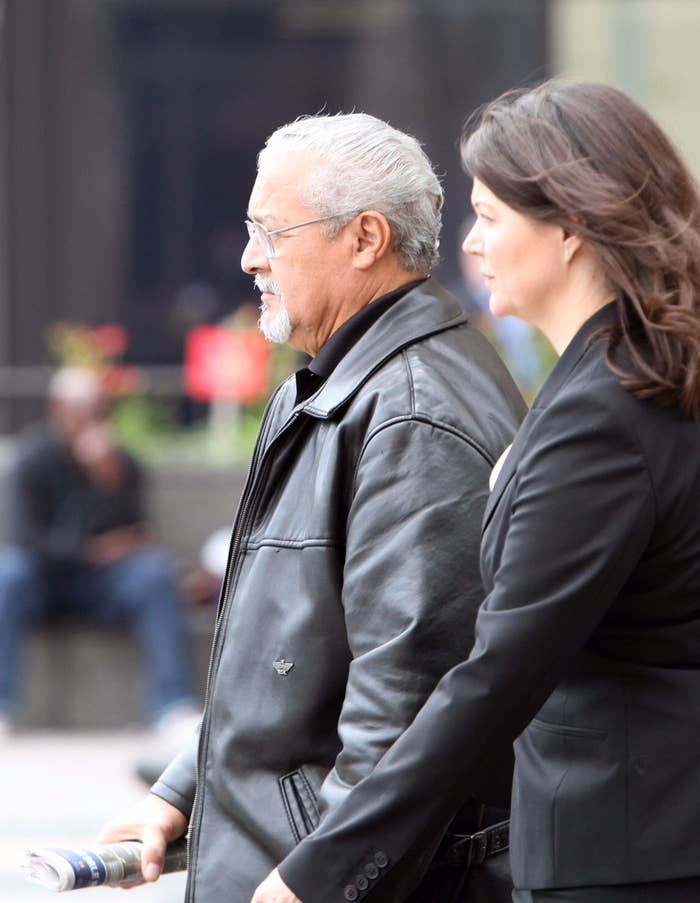 Guadalupe Mejia, fresh from a shower, flipped on the 10 o'clock news the evening of April 2, 1998, as she waited for her hair to dry. The reporters told of the brutal stabbing deaths of a husband and wife in the Bucktown neighborhood of Chicago and the kidnapping of their two young children. The story might have otherwise dissolved into the thrum of her evening routine until a picture of a 3-year-old boy appeared onscreen. Guadalupe turned to wake her husband. That boy was right upstairs, living with Guadalupe's sister-in-law, and had been since what Guadalupe now realized was the day of his parents' murders.

Guadalupe quickly dressed and headed up to her sister-in-law's apartment on the floor above. The scene that she found there would set in motion a criminal investigation, allegations of police misconduct, and, almost two decades later, a mayoral inquiry, which was recently completed but whose implications may be debated for years to come.
Adriana Mejia, the sister-in-law, lived there on the first floor with her husband and several other people from their hometown in Mexico. As Guadalupe later told investigators, she confronted Adriana with the news and told her to take the boy to the police. Adriana resisted. They argued until 1:30 a.m., when Adriana's husband returned home from the swing shift at a local cardboard company. He heard about the boy's picture on the news and made a decision: The boy was going to the police station. Now.
Before leaving, he told investigators, he asked two of his housemates, who were also arriving home after late-night factory work, if they could accompany him.
The three of them waited at the station for more than two hours for a Spanish-speaking officer to meet with them. Exhausted, one of the roommates lay down on the station floor and said something that, depending on the reading of the case, could be construed as either an admission or an omen.
"We're never getting out of here," the husband, Rosauro, recalled his roommate saying.
Approximately 80 hours after arriving at the police station, the two roommates, Arturo Reyes and Gabriel Solache, signed statements saying they knew that Adriana, who'd had fertility problems, had faked a pregnancy; that they stabbed the young boy's parents to death; that they took the couple's baby daughter for Adriana to pass off as her own; and that almost as an afterthought they took the boy, too. Two years later, jurors sentenced Solache to death and Reyes to life without the possibility of parole. Neither had a criminal record.
Their case has now come before the courts again because of the detective who elicited those extraordinary confessions: Reynaldo Guevara, the subject of two recent BuzzFeed News stories. For decades, residents of Chicago's predominantly Latino Humboldt Park neighborhood accused him of beating suspects, tampering with witnesses, and falsifying evidence. In 2013, Mayor Rahm Emanuel hired former U.S. Attorney Scott Lassar to lead an investigation into claims by at least 40 people that Guevara, now retired, framed them for murders they didn't commit. Earlier this month a judge ruled that the majority of the report must stay under court seal. But BuzzFeed News revealed that investigators found at least four cases in which defendants were probably innocent of the murders for which they were convicted. In all those cases, Guevara played a key role.
Guevara declined to be interviewed by the investigators, and an attorney for Guevara did not respond to a request for comment.
Reyes and Solache, the two men who were convicted of the crime, could not be reached in prison, but they have consistently maintained that over the course of a three-day interrogation Guevara slapped them across the face, punched them in the stomach, deprived them of sleep, and gave them little to eat or drink. Solache told city investigators that the physical abuse was the reason he confessed.
"It is more likely than not that," investigators found, that "Solache and Reyes were, in fact, physically abused" while they were being interrogated by the police.
In the report, city investigators wrote that they "reject both Solache and Reyes' claims of actual innocence." But the report vindicated their claims of abuse: "the allegations that Guevara physically abused Solache and Reyes in an effort to coerce them to admit their involvement," it says, are "credible, and that it is more likely than not that Solache and Reyes were, in fact, physically abused during the course of their interrogations."
According to legal experts, the city's abuse findings alone could be enough to nullify the murder convictions.
In 2012, the Illinois Supreme Court issued a landmark decision rendering physically coerced confessions as grounds for a new trial.
"Your guilt or innocence — it sounds very odd — is an irrelevant question when you're dealing with a physically coerced confession," said Heidi Linn Lambros, assistant appellate defender at the Office of the State Appellate Defender, who served as lead counsel in that case. "If your confession was physically coerced, you're entitled to a new trial. Period."
In the trials of Reyes and Solache, the confessions were the only evidence used to convict them. The 2012 court decision makes those confessions inadmissible.
In rejecting the men's claims of innocence, the city's investigators relied heavily on their interview with Adriana Meija, the woman who brought the orphaned boy to her own home and passed off his infant sister as her own. She has long maintained that after struggling with infertility, she stabbed the boy's parents in order to steal their baby. DNA evidence found on her pants and shoes and on a knife recovered at the crime scene link Adriana to the killings and kidnappings. In 2000, she pleaded guilty to murdering the couple and kidnapping their children. But investigators note she couldn't have committed both murders alone. In her 2014 meeting with city investigators, she said she, Reyes, and Solache "were equally responsible."
The two men convicted of the murders say that over the course of a three-day interrogation Guevara slapped them across the face, punched them in the stomach, deprived them of sleep, and gave them little to eat or drink.
"Adriana does not appear to have a current motive to continue to identify both Reyes or Solache as involved in the murders," investigators wrote.
Several discrepancies between her account and evidence in the case, however, may call into question the reliability of her statements, including those that implicate Reyes and Solache. BuzzFeed News reviewed thousands of pages of police reports, forensic files, crime scene photos, and court transcripts and found several contradictions, including the following:
* The confessions given by Adriana, Solache, and Reyes differ from the physical evidence at the crime scene. For example, Solache's confession states that he found the male victim sleeping in bed when he stabbed him. The police reports filed by the first responders describe finding the body on the kitchen floor, next to the only exterior door of the apartment, not near any bed.
* The statements and confessions vary on basic facts. For example, Solache's statement says the trio walked up to the victims' apartment together. Reyes' statement indicates Adriana knocked on the door while Solache and Reyes waited behind for Adriana to give them a sign. In her conversations with police, Adriana initially implicated only Reyes, not Solache.
* There is no physical evidence linking Solache and Reyes to the grisly, bloody crime scene. Adriana's shoes had one of the victim's DNA on them. Despite bloody footprints all over the crime scene, no blood was found on either Solache's or Reyes's shoes. A forensic technician noted a "strong odor" from Solache's Converse sneakers, suggesting that they had not been washed.
* Adriana's DNA appeared on a bloodstained green towel. The towel also contained DNA from another, unidentified man, but tests proved that mysterious DNA does not belong to Solache or Reyes.
Now serving a life sentence at Logan Correctional Center in Lincoln, Illinois, Adriana could not be reached for comment. She has no legal representative on record, and her family members did not respond to inquiries.

"Mr. Reyes and Mr. Solache have consistently maintained their innocence," said Andrew Vail, an attorney for Reyes.
Though city investigators did not vindicate the two men's innocence claims, the report did note the shortcomings in the prosecution's case: "We recognize that the case against both Solache and Reyes is very thin if one does not take into consideration their confessions. Thus, in rejecting Solache's and Reyes's claims of actual innocence, we do not mean to suggest that we found the case against them to be a strong one."
Both Reyes and Solache are due back in court next month for the next phases of their appeals.