An Illinois state senator and a state representative called this week for a swift investigation into the cases of 56 people who accuse the same Chicago detective of framing them for murder, to determine whether more people should be released from prison.

The calls came days after BuzzFeed News for the first time published a list of all their names and all the misconduct they say he committed. Retired detective Reynaldo Guevara, who has declined to speak with BuzzFeed News, has invoked his Fifth Amendment right when asked about the allegations.
"The notion of anybody spending time behind bars for something they did not do because of a rogue cop is unconscionable," said state Sen. Kwame Raoul, who is also a candidate for state attorney general. He added that such a review, which would involve going back through decades-old murder cases, is "not an easy task. However, justice demands that it be done."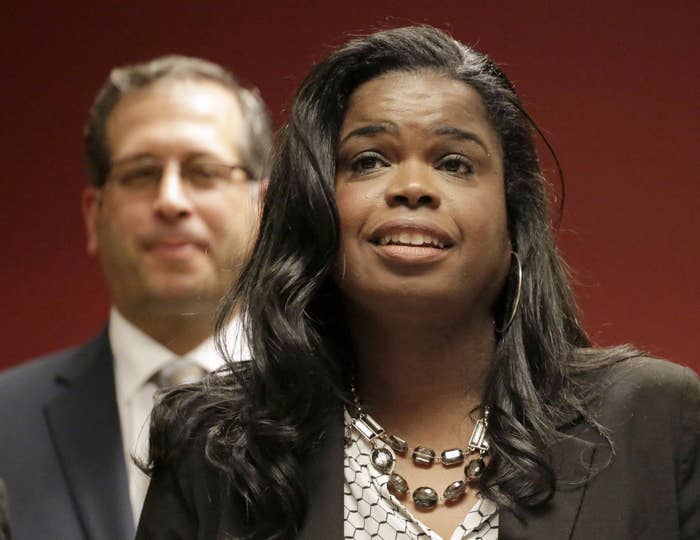 Cook County State's Attorney Kim Foxx has said her office has embarked on a case-by-case review of convictions in which Guevara played a part, to determine whether charges should be dismissed. Since Foxx was elected in December 2016, her office has tossed six convictions linked to the detective.
The urgency of the review accelerated last month when a Cook County judge determined that Guevara told "bald-faced lies" under oath and that the detective "has now eliminated the possibility of being considered a credible witness in any proceeding."
A spokesperson for Foxx, Robert Foley, told BuzzFeed News that the State's Attorney's Office is reviewing cases "as expeditiously as possible given limited resources" but he did not give a timeframe for when the review might conclude. He also said the office is seeking more resources from the county for the effort.
Several Illinois officials said the effort must proceed quickly.
"Every day that the investigation takes us is another day somebody could be spending in prison for a crime they didn't commit. It's a race against time," said former federal prosecutor Renato Mariotti, who is also running for attorney general. "We have to quickly and rapidly investigate."
Illinois state Rep. Will Guzzardi, whose district includes swaths of the area where Guevara used to work, said the list of cases published by BuzzFeed News "suggests pretty strongly that Guevara was part of a systematic process to falsely incarcerate people and that dozens, if not hundreds of lives, have been damaged."
What to do with Guevara's accusers — 19 of whom still sit behind bars and another 18 of whom are free but still have convictions on their records they say they do not deserve — presents arguably the biggest challenge for Foxx, a progressive prosecutor who swept into office in 2016 on a platform to restore trust between the community and law enforcement.
Guevara worked as a police officer from 1976 through 2006 in the mostly Latino Humboldt Park neighborhood. His alleged wrongdoing spans decades and includes accounts of beating suspects into false confessions and pressuring witnesses to pick specific men out of lineups.
The Cook County State's Attorney's Office, the country's second largest, is facing a staffing shortage. A decade ago the office had a budget for about 1,000 prosecutors; it is currently operating with approximately 700. The picture is bleaker in the post-conviction unit, the division handling many of the Guevara cases: The unit currently has a staff of just four people, who juggle around 250 cases each.
"If we're going to be serious about addressing these issues we need to make sure that these conviction integrity units are not just window dressing for the state's attorneys to get press and goodwill in the community," said Sharon Fairley, a former federal prosecutor who most recently overhauled how civilian complaints against Chicago police officers are handled. Instead the units must actually be "given the resources to review these cases to try to make sure that justice is actually served."
Speed is of the essence, added Mariotti, not only for the defendants and their families, but for Illinois taxpayers. He noted that many of those found to be wrongfully convicted go on to sue the governmental agencies responsible for their imprisonment, leaving taxpayers footing the bill. In Illinois, the amount of time served in prison determines the amount of money the wrongfully convicted person is entitled to, under state law. Releasing the wrongfully convicted, Mariotti says, is "not only just; it's smart."
For Guevara defendants, the review can't come quickly enough, said Daniel Rodriguez, who completed a 25-year sentence for a murder he said he didn't commit.
Rodriguez claims Guevara beat him and threatened to take away his young daughter unless he confessed to a 1991 drive-by murder. The state's key witness testified at trial that Guevara pressured him to identify Rodriguez, but he was convicted anyway. The shooter in that case was acquitted.
Rodriguez said a review would "open up doors that have been closed because of my case. There would be closure on a nightmare that I lived for so many years."