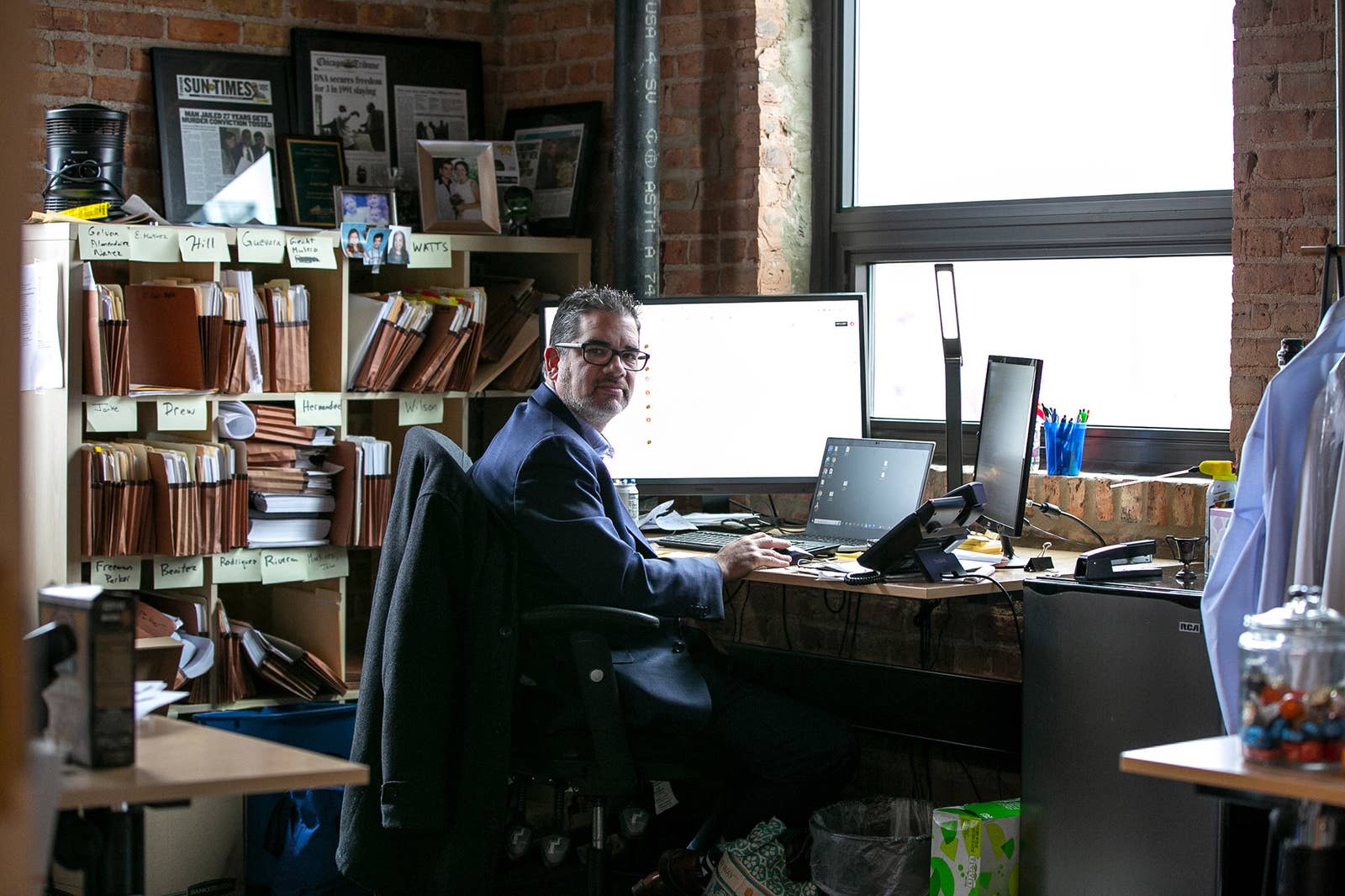 For hundreds of people across the Midwest, their new years, new lives, and new selves aren't marked with a calendar but with a court docket. More specifically, the day that they watched 47-year-old attorney Josh Tepfer walk into a courtroom with his black backpack slung across his shoulder like a college student playing dress-up in a suit.
Tepfer's bag is to the attorney who frees the innocent what the cape was to Superman, the hammer to Thor — the tool that helps him do the seemingly impossible. And at scale. In it, he carries the briefs, files, and other paperwork that allow him to seek the release of people convicted of crimes they didn't commit — the raw materials from which he crafts their freedom, renews their spirits, and clears their names.
"He gave me life again," Daniel Rodriguez, whom Tepfer helped exonerate earlier this year after Rodriguez served 17 years in prison for a murder he didn't commit, told BuzzFeed News. "I smile a little bit more because of what he did for me and my family."
Tepfer's representation has led to the exoneration of 288 wrongfully convicted people — making him among the most prolific exoneration attorneys since anyone began keeping track. Last August, he spearheaded what is believed to be the first mass exoneration of people convicted of murder, all of their cases hinging on confessions and witness statements that had been obtained by a now-retired police detective, Reynaldo Guevara, who used physical force and manipulation. In a single marathon day of court, Tepfer's work helped wipe unjust convictions from the records of seven people who'd served a collective 174 years behind bars.
In mass exonerations, groups of those unfairly convicted who have similar complaints — mostly based on repeated misconduct by police or other officials — are cleared at once rather than each person's appeal having to make its way through the court system. By viewing cases together, courts free up dockets and courtrooms and, ultimately, spare taxpayers the expense of litigating cases one by one. And in Chicago, long known as the false confession capital of the country, the list of those claiming to be wrongfully convicted is long and the court backlog even longer.
"The innovation," said Steve Art, a longtime colleague of Tepfer's and a civil rights attorney at Loevy & Loevy, "is he goes, 'Oh, wait a second. Why are we litigating these patterns over and over in cases instead of just litigating the pattern itself?'"
Tepfer has become a leader among the many civil rights attorneys who call Chicago home and gained the respect — and the ear — of the city's top prosecutor. Cook County State's Attorney Kim Foxx, who was first elected in 2016 on a platform of criminal justice reform, told BuzzFeed News that exonerations aren't just about fixing past mistakes — they improve public safety.
"People who live in neighborhoods most impacted by violence tend to have the least amount of trust in law enforcement," Foxx said. "If I knew that Detective Guevara was out there putting cases on people, or that's the allegation about him, why would I then come and testify for you on a case? Or if I'm a victim of a crime, why would I report that crime?"
As state's attorney, Foxx said she's focused on finding the truth of a case rather than protecting past convictions at all costs. In Tepfer, she said, she's found a "credible partner" who has scrutinized his cases carefully before approaching her office.
"He believes that there's something there, that it's not just based on passion and advocacy and proximity to a client, but on evidence," she said. "We have a mutual respect for where our positions are, a mutual understanding that we want to do the right thing and we have to have the evidence to do it, and the respect that we might not always agree, but we will have a process that we believe is fair."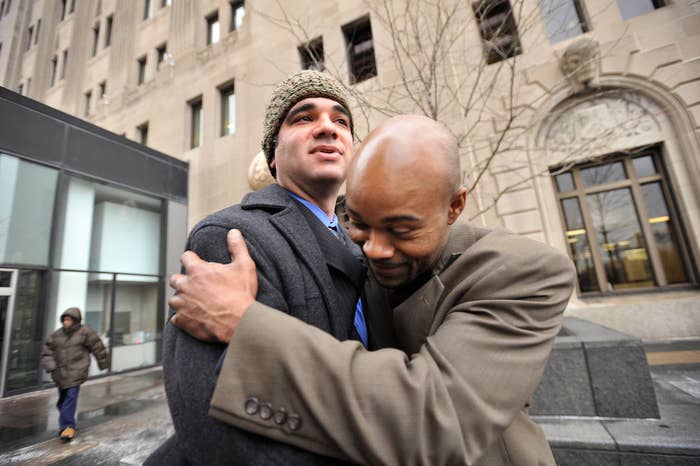 Nothing about Tepfer's upbringing foretold his future of freeing the innocent. The son of an actuary and a stay-at-home mom turned publishing executive, he grew up in Highland Park, a suburb of Chicago so idyllic that even fictional characters live there, including Alicia Florrik in The Good Wife and Cameron from Ferris Bueller's Day Off.
Yet he viewed his own privilege as coming with responsibilities, not just advantages.
"I just had this vague sense that the world was a lot bigger than where I was," Tepfer said.
He didn't immediately find that in Grinnell College, a small liberal arts school in Iowa, so when he qualified for study abroad programs, he chose to go to the Dominican Republic.
There, he worked in refugee camps with Haitians. As he taught classes among the huts built out of nothing but wood splintered from nearby trees, he bonded with many of them, learning their hobbies, interests. He got to know the refugees so well that he learned even their crushes and, at least once, became the object of one. By the time the semester ended, he'd learned the difference between being of service to those in need and trying to be their savior.
After returning stateside and collecting his undergraduate degree, he bounced around from Northern California to Minnesota before making the jump to law school. His father, noting the way he always seemed to see all sides of a situation, frequently told him he'd make a good lawyer. Tepfer wasn't so sure. He walked around campus his first week, confused by the way his classmates prattled on about "statutes."
What the hell's a statute? he wondered, but never aloud.
He'd eventually learn the lingo, and by the time he found his way to his criminal procedure class, he'd also found his knack. He had an innate skepticism that allowed him to see the weakness of his case as clearly as its strengths. Plus, the job gave him that same satisfaction he'd found in the Dominican Republic years earlier — that he was righting the historical wrongs of people who differed from him only by race and zip code. He cemented his interest in criminal law during a summer internship with the State Appellate Defender's Office in Illinois — the agency responsible for representing people unable to afford to appeal their convictions. He'd wowed his supervisors enough to land a permanent job with the office following graduation.
There he'd learn the intricacies of appeals and criminal laws that would lay the foundation for his career. But the job consisted mostly of sitting at a desk, reading transcripts, and writing briefs. Rarely did he see the spark in his clients' eyes or the curl of their smiles as he figured out a new legal theory that might help them.
A chance meeting with a former law professor led him to apply to Northwestern University's Center on Wrongful Convictions. The position was grant-funded, meaning the job ended when the money ran out. But it offered the opportunity to work alongside rock stars in the innocence movement, along with in-person meetings where he could once again see a client's happiness or fear or anguish.
A few weeks later, Tepfer had a new business card and a new job working with wrongfully convicted youth.
He had no idea who'd be waiting for him.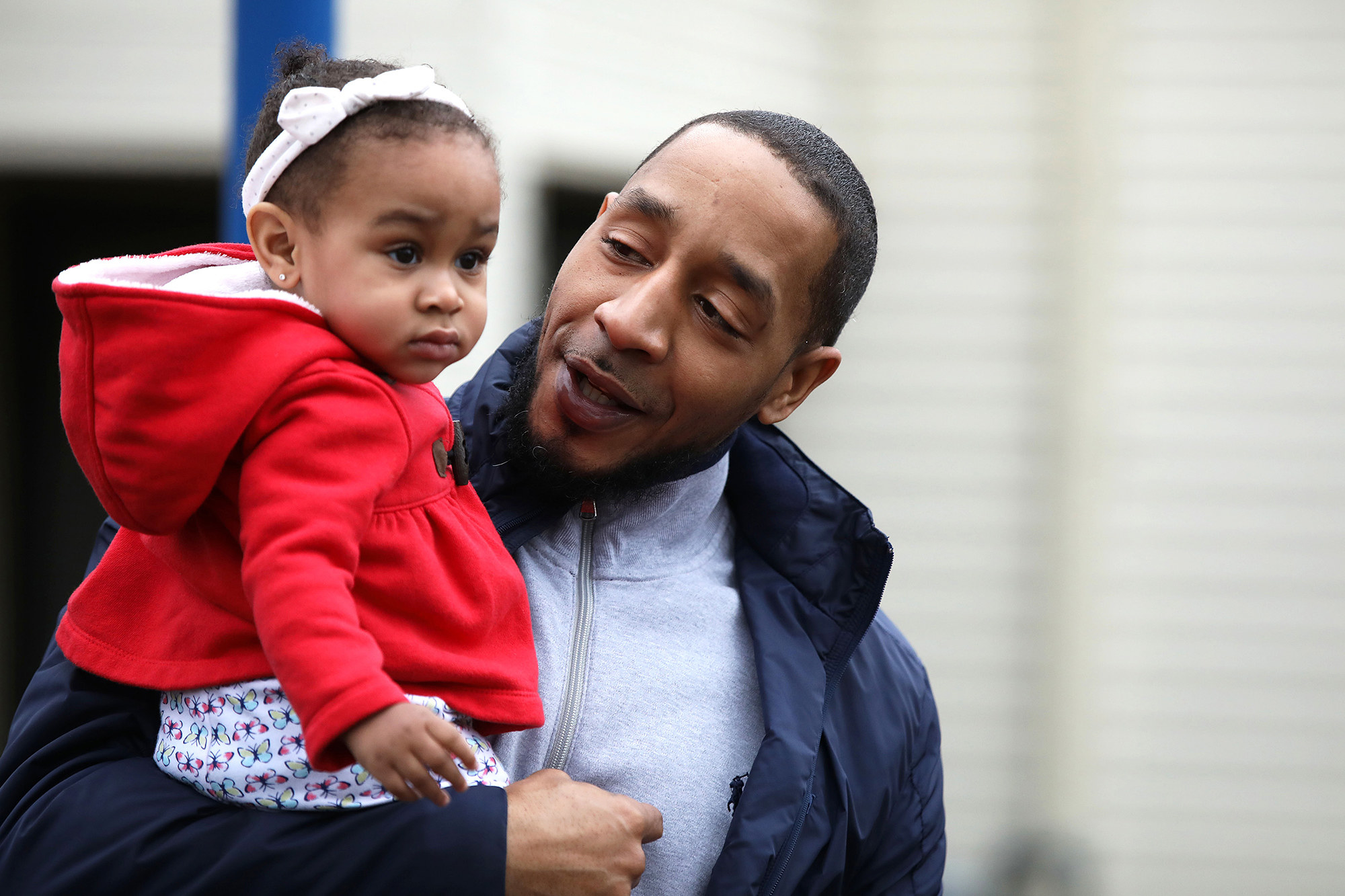 Terrill Swift had been locked up 16 years — more than half his life. Most of that time behind bars, he felt like he'd been waiting. For whom? He couldn't be sure. For how much longer? He had no idea.
But in 2011, it only took Swift a matter of minutes, between Tepfer opening the door to the prison meeting room and taking his seat, to figure out this is who he had been hoping to find.
Tepfer, along with a colleague, wasted no time in getting to the point of their visit.
"We believe you're innocent," Swift remembers one of the lawyers telling him.
Swift's head fell into his hands. His sobs shook his body. For more than a decade, he had written to every journalist, lawyer, and innocence organization he could find. No one had responded until that moment.
He was 17 years old when he confessed to participating with three other teens in the rape and murder of a 30-year-old woman named Nina Glover. He'd been sentenced to more than 30 years in prison. But after flipping through the case file, Tepfer wasn't buying Swift's confession.
Swift fit into a pattern that Tepfer and his colleagues at Northwestern, along with academics at other universities, were finding: Young people were more vulnerable than adults to making false confessions, particularly when under the thumb — or fist — of abusive police.
Aside from the confession obtained by officers who had been accused repeatedly of beating suspects, Tepfer saw prosecutors had nothing else. Except for the one thing they wished they didn't have: DNA. Specifically, DNA from a semen sample found on Glover's body that excluded Swift and his three codefendants.
Tepfer figured he could show the court the mounds of research about how easily youth could be coerced into false confessions that wasn't available at Swift's trial in 1998. The next step seemed straightforward enough: File a motion asking the court to retest the DNA found on Glover using scientific techniques that had advanced since Swift's original trial.
Wouldn't the state's attorney's office want to know if Swift were innocent and the real killer still at large?
Prosecutors pushed back, arguing the DNA made no difference, but they eventually caved and allowed the sample to be tested. A match came back. The DNA belonged to a man named Johnny Douglas, one of the first people questioned by police when Glover's body was found. After he fell off police radar, Douglas had been convicted 38 times — many of those related to sexual assaults. He'd been connected to two other rapes and murders after Glover's death. Tepfer couldn't question him, however. In 2008, a woman shot and killed him in an act of self-defense.
But the state still wouldn't concede.
The DNA didn't exonerate Swift or his friends, the state argued. All it meant was that Douglas could have had consensual sex with Glover, who was a sex worker.
Weeks later, the judge had heard enough. Swift would be exonerated.
Tepfer's client had his freedom and the lawyer had his first win, along with the attention of colleagues in Chicago's growing innocence movement.
By 2015, tired of writing as many grant applications to fund his salary as he did legal motions to free his clients, Tepfer took a job with the University of Chicago's Exoneration Project. That's how he found himself as the new guy, filling in for an established lawyer on a perfunctory court date — a hearing to schedule yet another hearing.
As he sat in the courtroom waiting for the case to be called, he flipped through the case documents. "Ben Baker," the file read. He'd been convicted in 2006 of possession of drugs with the intent to distribute. The judge in the case handed the 32-year-old Baker an 18-year prison sentence. But Baker had claimed the Chicago police sergeant assigned to the public housing project where he lived with his wife and children had planted the drugs on him. Then planted them on his wife.
But Tepfer knew that very same sergeant, Ronald Watts, had later been charged and convicted of extorting money from a drug dealer who turned out to be an FBI informant. In other words, Watts's conviction aligned with what Baker had said all along at his trial.
And if Watts did this to Baker, how many more people were sitting behind bars because of a criminal cop?
"This could be huge," Tepfer told his wife, Beth Sauers, when he returned home that evening.
Now he just needed to prove it.
He gathered stacks of documents, each detailing another claim by another person that Watts had derailed their life. Not that Tepfer needed any papers to prove that Baker wasn't Watts's only target. He only needed to look over his shoulder to the courtroom gallery, where he'd see Baker's wife and fellow frame-up target, Clarissa Glenn.
She had drawn Watts's ire — and then criminal charges — after she filed formal complaints against him and his crew for his abusive and corrupt practices. The police officers then claimed that they'd found cocaine in the couple's car. Though it wasn't true, Glenn didn't want to risk prison time and the prospect of leaving the couple's children with both parents behind bars. In exchange for her guilty plea, she received probation. But the collateral costs to Glenn and her family weren't outlined in the plea agreement.
She had, for the first time in her life, a criminal record. She lost her job as a home health aide she'd held for years. The public housing complex where the family lived barred anyone with a felony conviction from living there, so they were forced to move.
Glenn's complaints against the officers were among the stacks of paper on Tepfer's desk. He picked through the piles for weeks. By Dec. 15, 2015, Tepfer had assembled a petition to toss out Baker's conviction that he considered so compelling that he told Baker's sister he'd be home by the new year.
But Tepfer didn't consider his work over in Baker's case. During one court hearing, Tepfer interrupted with a new request. He asked the judge to file one more request for yet another exoneration: that of Clarissa Glenn.
Glenn, in the gallery, gasped.
Even as she watched her husband work to clear his name, she'd resigned herself to a criminal record — justified or not.
The judge, Leroy K. Martin, winced as he ruled against her, citing an Illinois law that prevented people who didn't serve prison time from pursuing formal claims of innocence.
"I hope I'm wrong, Ms. Glenn," Martin said as he denied her from the bench. He advised Tepfer to file an appeal.
But Tepfer expected the ruling. So he'd already prepared a brief to the appeals court.
"He was two steps ahead," Glenn said. "He went above and beyond."
The appeals court didn't mince words in its decision. Glenn, and by extension other probationers who were later able to prove their innocence, qualified to have their names cleared and receive state-mandated compensation provided to exonerees.
"He literally changed the law," Glenn said.
Tepfer could have filed away the rest of the papers representing people who'd complained about Watts and his crew. He'd freed Baker and cleared Glenn. But just as Tepfer's work in Terrill Swift's case had elevated his profile among lawyers, the Baker and Glenn cases made him a household name among their former neighbors in the Ida B. Wells housing project where Watts had patrolled.
His phone rang constantly with calls from inside the prison and relatives outside of it. The same thing happened to me, the messages said. Glenn, too, knew of other people targeted by the same officers and connected them with Tepfer. Soon the list he kept morphed into a spreadsheet. New lawyers came on to help him keep up with the streams of cases attached to Watts and company.
Rather than trying to overturn the convictions of each and every new client tied to Watts, Tepfer decided to group 18 of their cases together. He'd emphasize the pattern of the misconduct rather than the innocence of the individual.
"I just made it up," Tepfer said of his approach.
By September 2017, Tepfer filed his new concoction of a petition. Even if the tactic didn't work, he figured, he would still advance the cases by placing the reform-minded Foxx under pressure to examine them.
The evening before he would argue that all 18 clients in the Watts petition deserved to be exonerated, he and a colleague worked late into the evening. Then the phone rang. It was Foxx's lead deputy. All of the convictions would be tossed the next morning.
Headlines about Tepfer leading Chicago's first mass exonerations appeared in the papers and led the evening news. Closing those cases should have shortened his client list, but instead, it exploded. More and more people who had similar claims about Watts jammed his phone lines. After vetting each case, Tepfer and his colleague started filing petitions, asking for exonerations of more than 100 people in one. Then another 188 in another.
The cases sent Tepfer back in front of Judge Martin, usually on Tuesdays, so frequently that the judge took to calling them "Tepfer Tuesdays."
Yet for all the numbers, Tepfer knew that each case represented a person — a person grievously wronged by the police, the courts, and probably many other social systems along the way.
He made it a point to know every one of the people whose names he typed in his legal briefs.
One was Eson Claybron, whom Watts targeted twice. At the time of his first unlawful arrest, Claybron was a promising student and football star with bright prospects for college scholarships. But after he refused Watts's demand for money, he found himself taking a plea deal for drugs he knew weren't his. His college dreams vanished. A remix of the same situation happened a year later, in 2007, when Claybron left his cousin's apartment at the wrong time and ran into the wrong officers. With two convictions to his name, Claybron didn't expect much when Tepfer took his case.
Coming from his neighborhood, Claybron said, "You always expect the worst. And if something happens that's good, you got lucky."
After meeting Tepfer, though, his mindset changed.
"It's like a chance that good stuff could really happen to you," he said. "It just opened my eyes to the possibilities."
In the Watts cases, Tepfer and his colleagues freed 183 people, making his name so synonymous with the phrase "mass exoneration" that Tepfer's picture popped up on Google as a search result. His colleagues at the Exoneration Project wondered if he was up for a new challenge.
It was one thing to clear people of drug charges — awareness around unfair sentencing laws had shifted the public's sympathies — but could he lead a mass exoneration of those wrongfully convicted of murder?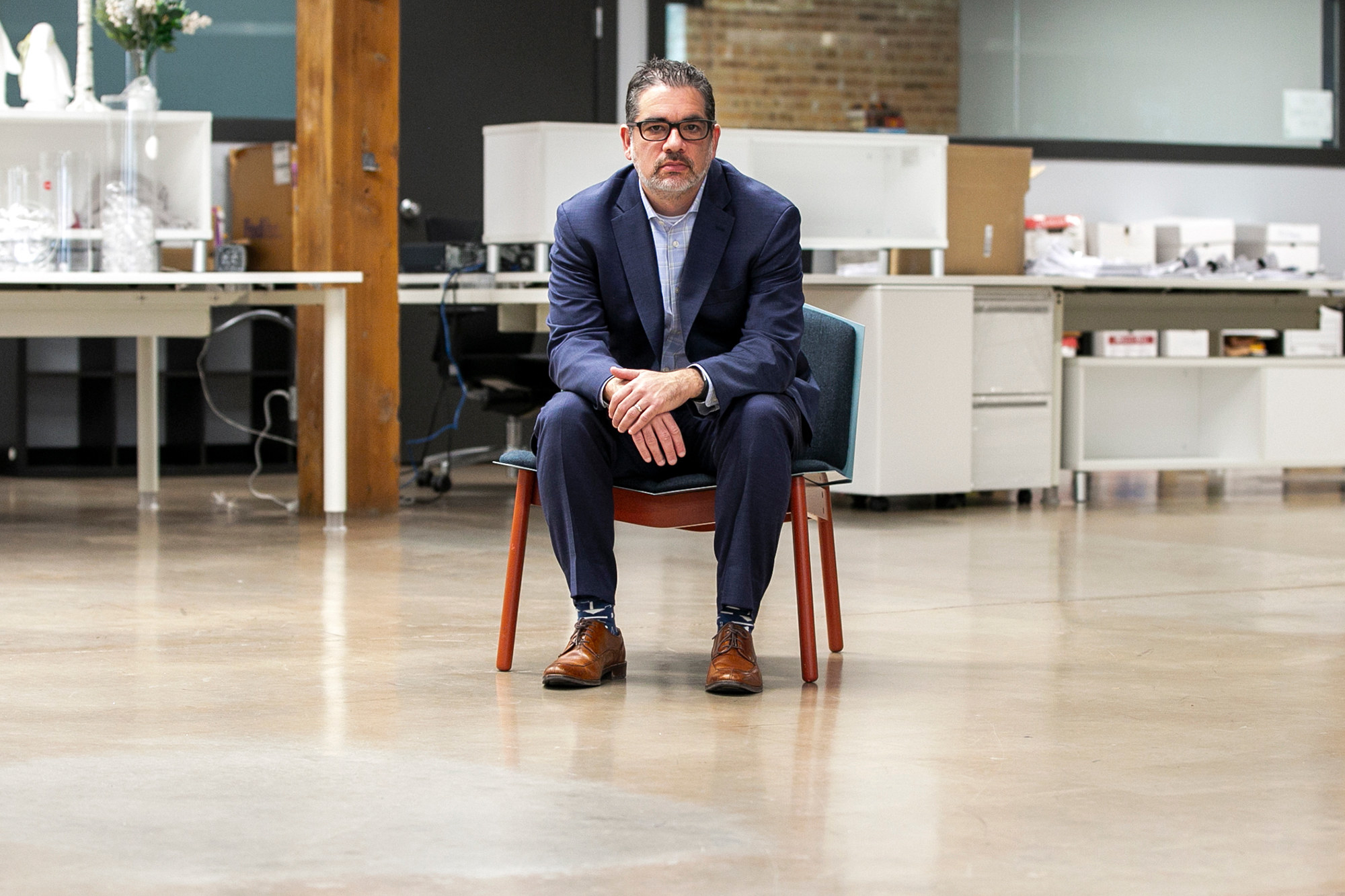 At the industrial chic offices of Loevy & Loevy, which houses the Exoneration Project, Tepfer worked across the hall from those of attorneys Anand Swaminathan and Steve Art. As the civil rights lawyers crossed paths, they'd swap information about their cases.
Art and Swaminathan had been looking at the misdeeds of a detective named Reynaldo Guevara. Residents of the predominantly Latino neighborhood of Humboldt Park claimed Guevara had terrorized the neighborhood by coercing false identifications and confessions in murder cases. According to their research, dozens and dozens of people had been sent to prison — even death row — for killings they didn't commit. And, like in the Watts cases, they'd been able to identify particular patterns Guevara used, they said, to make the charges stick.
Tepfer listened carefully as Art and Swaminathan explained how Guevara operated. Some days, he nodded politely at his colleagues. Other days he rolled his eyes. After overturning more than 200 convictions, Tepfer had seen his share of bad policing and unjust prosecutions. He'd learned that there was a difference between bad police officers and corrupt ones. Based on what his colleagues had told him, he couldn't be certain that they could prove the pattern as neatly as he had in the Watts cases.
But in fall 2018, Swaminathan and Art invited Tepfer to join them at a meeting they had with a potential new client. The man, Demetrius Johnson, had been 15 when Guevara framed him for murder by faking police reports and hiding evidence pointing to another person as the killer. Tepfer listened as the 43-year-old Johnson described the horror of his conviction, how his mother died shortly after his trial from what he was sure was heartache, and of another inmate smashing a chair over his head.
Tepfer flipped through the file as Johnson spoke.
Then Tepfer stood up and left the meeting.
He'd seen a document that had never been turned over to Johnson or his lawyers. It proved Guevera knew that a witness had identified another person as the killer.
Seeing no reason to wait, Tepfer went to his desk and began digging further into the case.
At that moment, the Guevara cases clicked for Tepfer. He could no longer dismiss them as errors. Soon he picked up more — some that had been languishing on dockets for more than a decade. One man, Daniel Rodriguez, had completed a 17-year sentence for a drive-by murder. The alleged shooter in that case had been acquitted. But Rodriguez, the supposed driver of the car, went to prison based on statements made by one witness.
Since Rodriguez had served his time, a wrinkle in Illinois law meant he couldn't seek an exoneration because he was no longer in prison or on parole.
Tepfer waived those obstacles off as technicalities. The witness, he discovered, had received payments from the state's attorney's office that hadn't been disclosed to Rodriguez's legal team. That qualified as a violation of the law. Moreover, Tepfer discovered the mother of the witness was one of Guevara's girlfriends. Between the money and personal connections, the witness had plenty of incentives to lie, Tepfer argued.
Two years later, Rodriguez stood next to Tepfer and in front of a judge. He sobbed as she apologized for his wrongful conviction.
"It's going to be OK," Tepfer told Rodriguez, comforting him.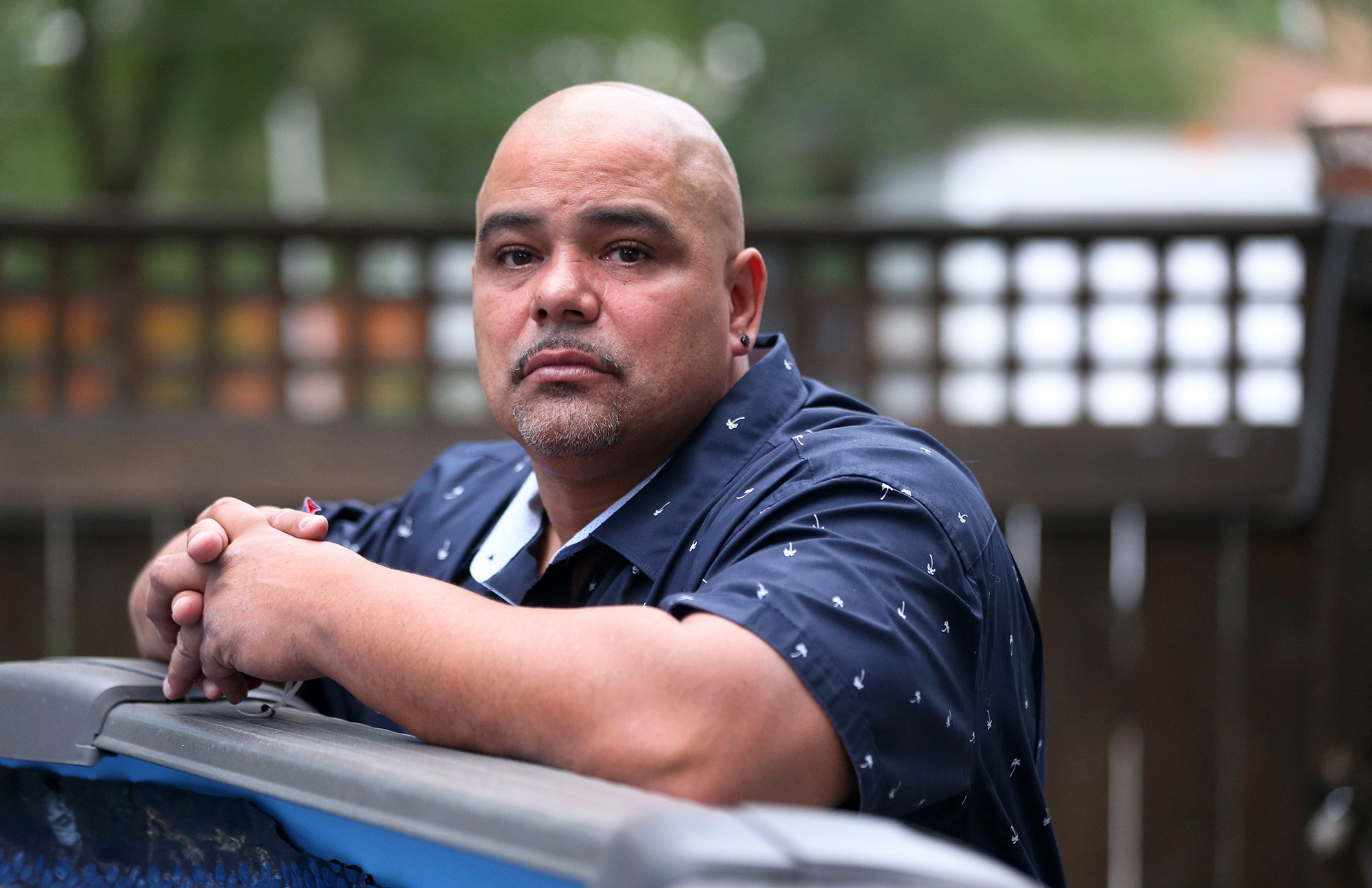 A few months later, Rodriguez entered the criminal courthouse once again to meet up with Tepfer. This time, though, he took a seat in the courtroom gallery as Tepfer stood alongside another client in front of another judge. That man, too, was being exonerated. He would be one of seven people exonerated that day — their cases all connected to Guevara's corrupt police practices. That day — Aug. 9 — marked the first known mass exoneration of those convicted of murder. Tepfer had been the lead liaison with Foxx's office.
The seven people exonerated that day had appearances in front of different judges in different courtrooms at different times across the sprawling courthouse. Others who had previously been exonerated in Guevara cases, and the families of those still fighting to be, snaked around the courthouse from courtroom to courtroom, exoneration to exoneration, like a tour group.
After the hearings concluded in one case, people gathered outside a courtroom.
"Which courtroom next?" someone in the crowd called out.
"Ask Tepfer," another answered.
After all, he always seemed to lead the way. ●