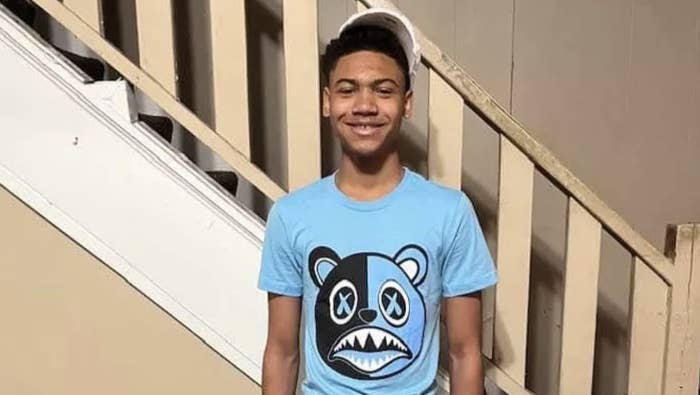 One week before the mass shooting at the Covenant School in Nashville, a mother in Arlington, Texas, did exactly what parents at the Nashville school would do: She dropped off her kid for what she expected to be another normal day. But less than 10 minutes later, her phone rang. Her boy, the caller said, had been shot on the steps outside the school.
Two hours later, her son, 16-year-old Ja'Shawn Poirier, was dead.
Police say a 15-year-old fellow student at Lamar High School had shot at a group of students with a long gun in the fourth fatal shooting on a high school campus so far this year. Poirier was wounded and later died at a hospital, and another student, a girl, suffered a graze wound.
"My son didn't deserve this at all," Roshone Jacob, Poirier's mother, told TV station WFAA. "He didn't bother nobody."
In 2023, eight students and three staff members have been shot to death in schools serving kids in kindergarten through 12th grade, according to data collected by David Riedman of the K-12 School Shooting Database. Of those eight students, five were Black boys in high school. All attended underresourced schools in low-income neighborhoods.
None of these boys have become hashtags. The first lady of the United States didn't attend Poirier's candlelight vigil, as she did on Wednesday following the Nashville shooting. Members of Congress were not asked what they will do to make sure no other family goes through the same pain as his.
A BuzzFeed News analysis found that half of the students and teachers killed on campus in the 10 years since Sandy Hook in 2013 were Black or Latino. Research by the advocacy group Everytown for Gun Safety found that, in instances in which it was able to identify the racial composition of the school, 2 in 3 shootings in the US occurred in majority-minority schools.
"Far too often we're not outraged enough as a nation about the fact that school shootings disproportionately impact Black and brown kids," said Angela Ferrell-Zabala, senior vice president of movement building at Everytown for Gun Safety. "These are schools that are more likely to be chronically underfunded, where children are less likely to receive the support and resources they need to not only succeed in the classroom, but to also cope with the trauma of gun violence that's impacting their communities."
The American Public Health Association says gun violence in the US is a public health crisis, and it is the leading cause of death for children.
"No community is safe from gun violence and we need to make sure our work to end this epidemic includes all communities – especially those most disproportionately impacted," Ferrell-Zabala said.
Poirier had moved to Arlington from Michigan just eight months before his death. His family described him as quiet but able to make friends easily. He liked football, video games, and playing basketball.
"He was a nice, sweet, kind boy," Jacob told WFAA between tears.
On a GoFundMe page, a family member said those closest to Poirier were just trying to cope.
"This loss has taken a toll on our family," they wrote, "and I know it hits hard for families that have been through this same situation."