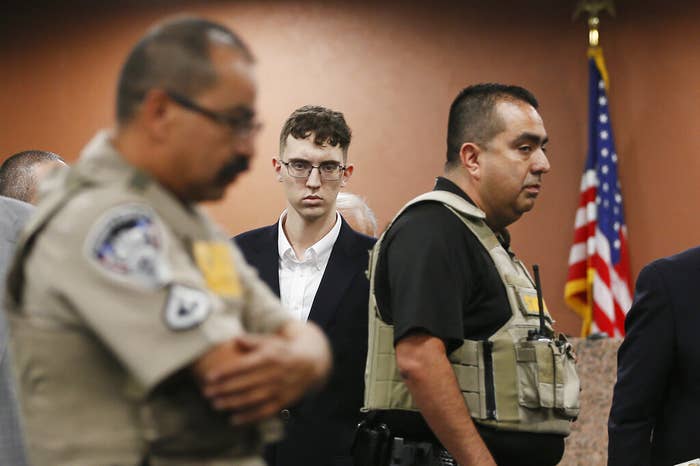 The gunman accused of committing the deadliest Latino hate crime in recent US history — killing 23 people at an El Paso Walmart in August 2019 — pleaded guilty Wednesday to federal hate crimes.
Patrick Crusius, 24, filed court documents last month stating his intention to plead guilty after the Department of Justice decided against pursuing the death penalty. Crusius had previously pleaded not guilty to 90 charges, including 23 charges of hate crimes resulting in death.
Crusius drove 11 hours from his home in Allen, Texas, a suburb of Dallas, to the Walmart fewer than 5 miles from the US–Mexico border in order to carry out the massacre, according to court documents. Moments before opening fire in the store on Aug. 3, 2019, Crusius uploaded a document he titled "The Inconvenient Truth" to the internet.
"This attack is a response to the Hispanic invasion of Texas," he wrote. "They are the instigators, not me. I am simply defending my country from cultural and ethnic replacement brought on by an invasion."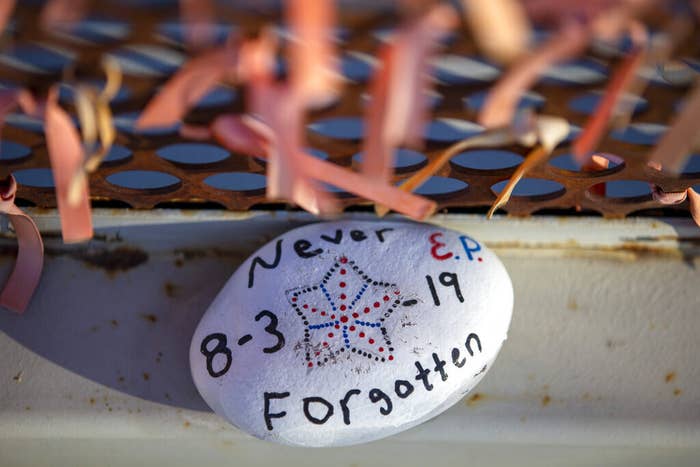 Crusius used a semiautomatic rifle to kill 13 Americans, eight Mexicans, and one German. The victims included 15-year-old high school student and soccer player Javier Amir Rodriguez. Jordan Anchondo and her husband, Andre, had dropped off their 5-year-old daughter at cheerleading practice and headed to the store to buy school supplies. Jordan was holding the couple's 2-month-old baby when Crusius opened fire. Andre jumped in front of his wife and baby to shield them. Only the baby survived. Jorge Calvillo Garcia was helping his granddaughter's soccer team raise money for the season when he was shot shielding his daughter from the bullets.
The decision not to pursue the federal death penalty aligns with President Joe Biden's stated opposition to capital punishment.
Crusius may still face the death penalty in state court, where his case has been marred by scandals. The district attorney previously handling the case, Yvonne Rosales, resigned last December as she faced possible removal from her post. An El Paso defense attorney, Omar Carmona, used a little-known, rarely employed state law in which any Texas citizen can petition for the ouster of elected officials for misconduct or incompetence. Rosales had been accused of both.
Hundreds of cases filed by prosecutors in her office had been dismissed because of repeatedly blown deadlines. Rosales repeatedly clashed with the state judge, Sam Medrano, assigned to the case, claiming bias against her because of her gender. She'd also been accused in a court filing of helping to impersonate the family of a Walmart victim by sending fake emails lambasting the judge and a former prosecutor. Rosales has denied involvement in the email scheme.
Texas Gov. Greg Abbott has since appointed a new district attorney to complete Rosales's term. The new DA, Bill Hicks, will lead the state's cases against Crusius. Yet there aren't any state court dates scheduled.
No one answered BuzzFeed News' calls to Hicks's office for comment, but he told a group of reporters Wednesday that his office is waiting for the completion of the federal case against Crusius before moving forward with the state's case.
The shooting occurred in the middle of Donald Trump's presidency after he made racist and often false claims about immigration along the US–Mexico border a centerpiece of his campaign and policies. Abbott, a Republican, has also repeatedly used the "invasion" narrative in public speeches and social media that Crusius invoked in his online diatribe ahead of the attack.
Jessica Garcia, widow of victim Guillermo "Memo" Garcia, told a reporter from El Paso Matters that she didn't plan to attend Crusius's hearing.
"I don't want to hate him anymore," she said. "I don't want to allow him to take away more from me that he already has. I don't know what would make me content when Memo's not here anymore."