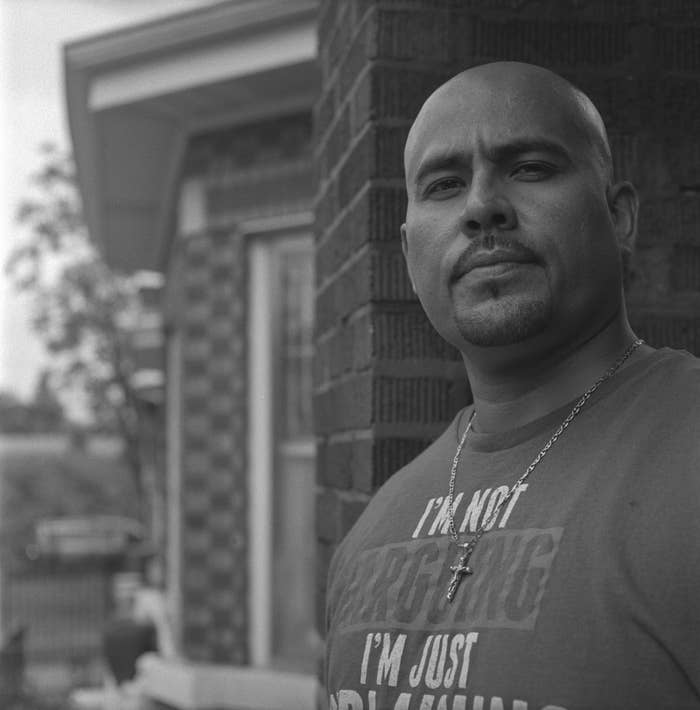 A man who served 23 years in prison for a murder he did not commit has filed a federal civil rights lawsuit against notorious retired Chicago Police detective Reynaldo Guevara, as well as the city of Chicago and a sitting Cook County Criminal Court judge.
Armando Serrano, 44, was released from prison last July and granted a certificate of innocence from the court in November. His lawsuit, filed Monday in federal court in Chicago, seeks unspecified compensatory and punitive damages. It alleges that Judge Matthew Coghlan, then a prosecutor on his case, conspired with Guevara to "conceal and fabricate evidence, manipulate witness testimony, and maliciously prosecute" Serrano for the February 1993 shooting death of a factory worker.
The suit comes three days after another Guevara defendant, Roberto Almodovar, had his conviction tossed and was freed after serving nearly 23 years in prison. He, too, alleged that he had been framed for murder by Guevara — in his case for a 1994 double homicide. On Friday, following a BuzzFeed News investigation into Guevara that featured Almodovar's case, the Cook County State's Attorney dropped all charges against him. The story identified at least 51 people who have accused Guevara of framing them for murder and found that Chicago authorities had ample warnings about the long series of allegations about his conduct.
Serrano's lawsuit seeks to hold the wider Chicago criminal justice system responsible for Guevara's alleged practices. In addition to Coghlan, the prosecutor, it also names others who, the suit claims, should have provided a check on the detective. Among them: Guevara's longtime partner, Ernest Halvorsen, retired police sergeant Edward Mingey, as well as former prosecutor John Dillon. Instead of acting in the interests of justice, the suit claims, each of these defendants were complicit in Guevara's efforts to frame Serrano.
A spokesman for the city of Chicago said the city does not comment on pending litigation and has not yet seen the lawsuit.
Guevara's attorney was in a meeting and not immediately available for comment, according to a woman who answered the phone at his law firm. Guevara has declined numerous requests for comment from BuzzFeed News. In 2009, his attorney told the Chicago Tribune that the allegations against him were part of a gang conspiracy. Since then, when asked about allegations of framing in legal proceedings, he has repeatedly asserted his Fifth Amendment right against self-incrimination.

A message left for Coghlan through the Cook County court communications office wasn't immediately returned. In February, BuzzFeed News approached Coghlan about the allegations. Citing judicial ethics, he declined to comment.
Dillon and Mingey did not immediately return voicemail messages at a numbers listed for them.
BuzzFeed News was not able immediately to locate Halvorsen Monday. Messages left for him earlier this year at the address listed for him in public records elicited no response. BuzzFeed News also left a messages for Dillon and Mingey at their homes last February and never heard from them.
Serrano's attorney, Jennifer Bonjean, also represents Almodovar, and several other Guevara defendants. She claims the system for protecting the accused is often broken.
"When people wonder why [Chicago] is the the wrongful conviction capital, it's not just the rogue officers," she said. "It's their partners. It the prosecutors who rise to the bench. And then it's the judges and the judge's friends." .
Serrano was arrested in June of 1993, along with two other men, Jose Montanez and Jorge Pacheco. Their arrests came four months after the shooting death of Rodrigo Vargas, who was sitting in his van on a cold February morning, warming it up before heading to his shift at a noodle factory.
The suit claims that Guevara and Halvorsen crafted a story in which a confidential informant claimed to have heard Serrano and his co-defendants arguing on a street corner about the committing the murder. After feeding the story to the informant, the suit claims, the officers then used the statement to arrest Serrano, Montanez and Pacheco. The suit alleges Coghlan and Dillon were present as the officers fed the informant the statement.
That confidential informant, later identified as Francisco Vicente, was facing nearly 100 years in prison for charges related to a string of armed robberies. His statement implicating Serrano and his codefendants were be one of three he signed, in three separate murder cases, over the course of six weeks, according to the suit. Guevara and Halvorsen were the detectives on all of them.
"The prosecutors knew Vicente's testimony was false as they had assisted in fabricating it along with Detectives Guevara and Halvorsen who targeted Plaintiff and his co-defendants for wrongful conviction," the suit alleges.
In exchange for Vicente's cooperation, the suit claims that Coghlan and Dillon promised to arrange for Vicente to serve minimal time and arranged for him to be incarcerated in the more comfortable witness quarters. Court records show Vicente received nine years, a minimal sentence, after prosecutors lobbied on his behalf.
Guevara's supervisors, meanwhile, "facilitated, condoned and approved the constitutional violations committed by the Police Officer Defendants," according to the suit. Mingey, Guevara's supervisor, convinced another man, Timothy Rankins, to provide false statements implicating Serrano, Montanez and Pacheco in the van murder, according to the suit.
As for the Chicago Police Department, the suit claims that "Guevara engaged in such misconduct because he had no reason to fear that the City of Chicago and its Police Department would ever discipline him for doing so."
Serrano was convicted in 1994 and sentenced to 55 years. In addition to losing 23 years of his life, Serrano said he has struggled with anxiety and depression since leaving prison. On Friday, as he went to the courthouse to watch Almodovar's release, he said he experienced post-traumatic stress symptoms.
"They should have known better," Serrano said of prosecutors. "We're talking about prosecutors and judges, we're supposed to be talking about some of the highest officials overlooking justice and they allowed it to happen like nothing, he said in an interview last fall. "That's why I hold them more accountable. Really, my anger is more towards them than towards Francisco and Guevara."
Other exonerated Guevara defendants have also filed federal suits against the detective and the city of Chicago. In 2012, Jacques Rivera sued the city and Guevara. He, too, spent 23 years in prison for a 1988 murder he did not commit before being exonerated in 2011. His suit is pending. In 2009, a federal jury awarded another man, Juan Johnson, a record $21 million verdict (later reduced to $16 million) against the city and Guevara after it found that the detective told witnesses to select Johnson out of a lineup.

CORRECTION
An earlier version of this story named retired police sergeant Robert Biebel among those named in the lawsuit. He is not named in the suit.