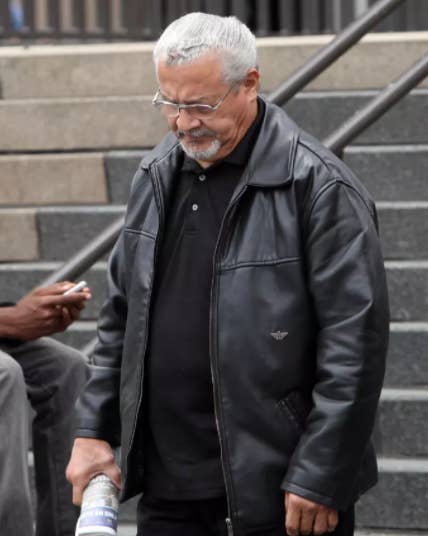 A retired Chicago homicide detective accused of framing at least 51 people took the stand today and told a Cook County courtroom that he didn't remember the period during which he is accused of beating false confessions out of two men.
It was the first time since 2009 that former detective Reynaldo Guevara addressed allegations against him in court rather than pleading the Fifth Amendment.
Earlier this year, the Cook County State's Attorney, Kim Foxx, offered Guevara immunity, which deprived him of the chance to plead the Fifth without facing jail time.
In today's hearing, part of an appeal of a 2000 murder conviction, his claim not to remember the incidents in question allowed the detective to avoid contempt of court charges. It also dealt an emotional blow to a courtroom audience that included five men who have been exonerated for murder convictions tied to Guevara, along with friends and family members of those still serving prison sentences for murders for which they claim Guevara framed them.
In the case in question, two men, Gabriel Solache and Arturo Reyes, claim Guevara struck them repeatedly until they confessed to the grisly double stabbing of a young couple and the kidnapping of the couple's two young children. For nine minutes on the witness stand, the retired detective, wearing a black and grey hoodie over a white shirt, said "I don't recall" in response to six questions about that night.
The prosecution asked to halt Guevara's testimony and call him back to the stand on Oct. 30. At that point Nelson Gonzalez, who served more than 20 years in prison for a murder he says he didn't commit, ran out of the courtroom and let out a guttural scream.
"You plead the fifth and now you don't remember," said Gonzalez's sister, Blanca Zayas, after the hearing.
"It's not fair, it's not fair," said Jacques Rivera, a man exonerated in 2011 of murder, wiping away tears.
Echoing sentiments expressed by dozens in the courtroom gallery, Rivera said Guevara should take the stand and admit to allegations of beating suspects and witnesses and fabricating evidence. Some of Guevara's police reports indicated that the victim in Rivera's case had identified him in a photo array. That victim, medical records show, was in a coma at the time and unable to communicate. Rivera said he had a dream the night before Guevara's testimony in which he encountered the detective in the washroom before the court hearing and encouraged him to tell the truth.
Prosecutors called Guevara to the stand to rebut Solache and Reyes's allegations that he beat confessions out of them. Those confessions, along with statements by a former roommate of Solache's and Reyes's who pleaded guilty to the stabbings and kidnapping, and who maintains that Solache and Reyes helped her, are the foundations of the state's case against the men.
Daniel Treviño, a youth officer who assisted with the taking of Reyes's statement, testified today that Reyes showed no signs of injury and did not complain of any abuse.
The defendants' confessions, however, were inconsistent with each other and with the physical evidence on the scene. No physical evidence connects Solache and Reyes to the murders. A bloody towel tied to the scene contains the DNA of another, unidentified person.
In 2013, Chicago hired a law firm to conduct an independent investigation of allegations of misconduct by Guevara. Those investigators rejected Solache and Reyes's innocence claims but called the case against them "very thin."
They determine that the pair were likely beaten. In Illinois, if a confession is determined to have beaten out of a defendant, a new trial is automatically granted.
Since 2009, when a federal jury awarded a man he framed a record $21 million dollars, Guevara has repeatedly invoked his fifth amendment rights not to testify.