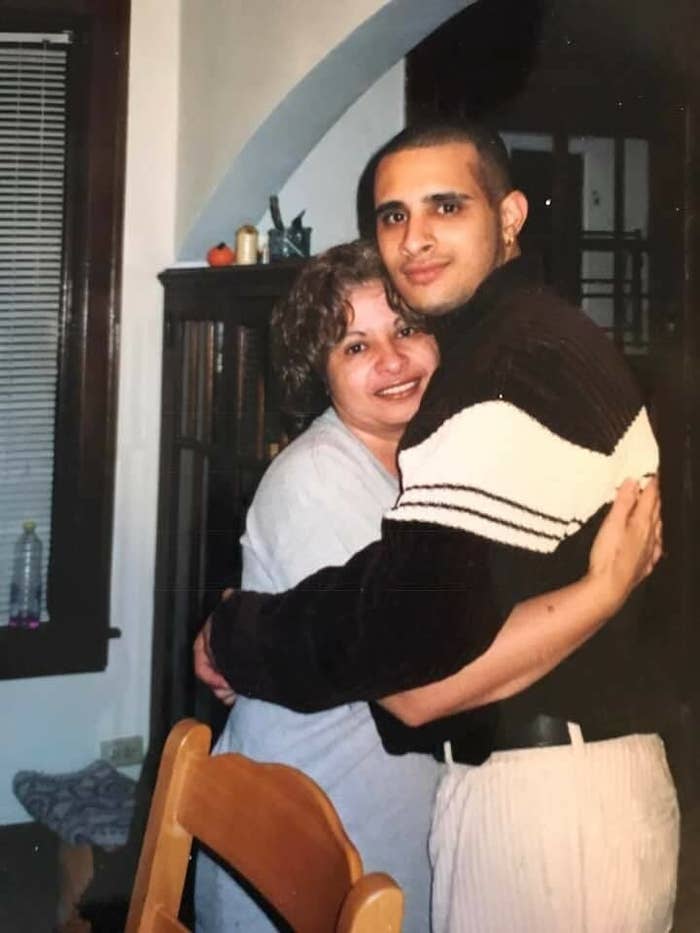 Two brothers who claim they were framed for murder by a retired Chicago police detective alleged in court papers Wednesday that the detective's motive for framing them was to protect a drug ring run by police.
The brothers, Juan and Rosendo Hernandez, claim that retired detective Reynaldo Guevara — who has been accused of framing at least 56 people for murders they say they didn't commit — was in cahoots with convicted police sergeant turned drug dealer Joe Miedzianowski. Guevara and Miedzianowski "plotted to frame Juan Hernandez (catching Rosendo in this plot as collateral damage) because Juan threatened Miedzianowski's then-thriving drug business," according to a petition the brothers filed seeking to overturn their convictions. Miedzianowski, a former Guevara supervisor, was convicted in 2001 and is serving a life sentence for his role in drug distribution.
"What happened to Juan and Rosendo shows that Reynaldo Guevara wasn't just a lazy detective who cut corners by coercing confessions and false eyewitness testimony," wrote Dan Stohr, an attorney for Rosendo Hernandez, in a statement to BuzzFeed News. Stohr claimed Guevara was part of a culture of corruption and motivated by profits from the illegal drug trade.
After an extensive FBI investigation, several officers from Guevara's unit were charged in connection with the drug ring. Guevara was not.

A message left for Guevara's attorney, Will Fahy, was not returned. Miedzianowski could not be reached immediately in federal prison but has previously told BuzzFeed News that he was not a drug dealer but was instead working on an undercover sting operation that mistakenly led him to being convicted. The Cook County State's Attorney's Office, which prosecuted the Hernandez brothers for the 1997 murder, said it is reviewing the Hernandez cases along with numerous Guevara cases. The office had no further comment.

"The community deserves a full accounting of Detective Guevara's conduct, and this case demonstrates why that accounting is long-overdue," said Stohr, the attorney for Rosendo.
BuzzFeed News published an investigation of Guevara last April detailing allegations by more than 50 people that the detective beat them into false confessions, tampered with witnesses, and fabricated evidence when investigating murder cases. Since publication, eight men alleging misconduct by Guevara have been exonerated; seven other men in Guevara cases had previously had their convictions tossed. Last fall, a judge ruling in the case of two exonerated men said Guevara told "bald-face lies" when testifying in the case. An Illinois appellate court deemed his conduct "profoundly alarming" in the case of two other men who were eventually cleared.
Juan, 41, and Rosendo, 40, are serving more than 100 years each for the fatal shooting of 18-year-old Jorge Gonzalez. Gonzalez was playing music with friends and family on his front porch on a warm summer evening when three men got out of a purple car that had been circling the block. Two of them opened fire. Several of Gonzalez's family members with him on the stoop that night identified the Hernandez brothers as the shooters.
Juan, in both the court filing and in interviews with BuzzFeed News, alleges that Guevara manipulated the witnesses into selecting him and his brother as payback for drugs stolen from a stash house where Juan lived and cooked crack cocaine for Miedzianowski's operation.
In 2016, BuzzFeed News tracked down two of the witnesses to the murder. Both said that Guevara did not coerce them into identifying the Hernandez brothers. One of the witnesses conceded she could have made a mistake. Another said he remained confident in his identifications.
Both brothers said they had alibis for the time of the murder. Juan claimed he was helping a friend prepare for a quinceañera celebration and Rosendo said he was at a bowling alley at the time of the murder. Both men had witnesses who testified to those alibis at trial.
Before his arrest, Juan, an admitted former drug dealer, said he shared an apartment with another man, Frankie Figueroa, that doubled as a stash house for Miedzianowski's drug operation. The stash house appeared to have been burglarized, with drugs belonging to Miedzianowski's operation seemingly stolen. Figueroa blamed Juan, according to the court filing. BuzzFeed News could not reach Figueroa.
Another man who was part of the drug ring claims to have heard Miedzianowski declare his intentions to frame Juan for a crime on at least three different occasions. The former drug dealer, Fred Rock, said in an affidavit and also told BuzzFeed News in an interview that Miedzianowski saw Juan and said, "I'm going to get that fucker because of what happened to Frankie." Rock claimed that on two other occasions, he was with Guevara when Miedzianowski declared his intentions to "get" or "frame" Juan.
The Hernandez brothers' allegations mark the second time in the last six months that drug dealing has been cited as the motive behind Guevara's alleged framing practices. Last November, Jose Maysonet alleged in court that Guevara framed him for a double murder after Maysonet, a former drug dealer, stopped making $1,000-per-week protection payments to Guevara.
The case is set to return to court May 22.