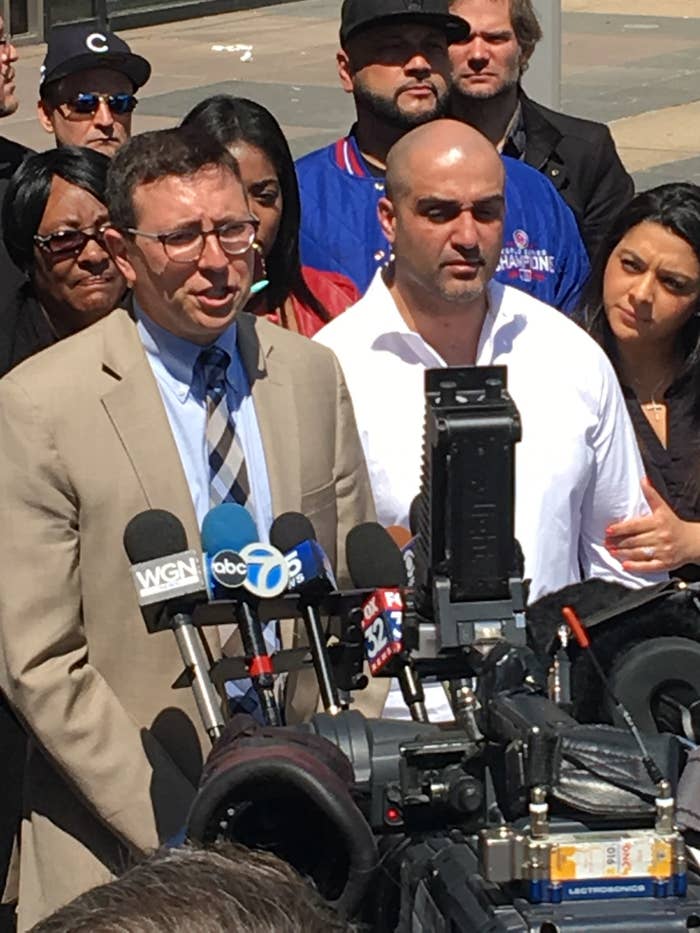 The Cook County State's Attorney's Office moved Monday to dismiss the 1993 murder conviction of a man who claims he was framed by retired Chicago detective Reynaldo Guevara for the killing of a teenager outside a high school.
Robert Bouto, 42, is the ninth Guevara defendant to have his conviction tossed since Cook County State's Attorney Kim Foxx took office in December 2016. She campaigned on promises to review cases involving Guevara, who is accused of widespread witness tampering, beating witnesses and suspects, and coercing false confessions.
Bouto completed a 22-year prison sentence in 2016. A 2015 city investigation into allegations that Guevara framed people had determined Bouto was likely innocent of the murder.
Prosecutors could retry him. A spokesperson said the office had not yet made a decision on whether to do so.
Meanwhile, another exonerated Guevara defendant, Thomas Sierra, filed a federal civil rights lawsuit Monday against the retired detective; his longtime partner, Ernest Halvorsen; and several of their former supervisors, along with the city of Chicago. Prosecutors tossed Sierra's conviction 11 days after a BuzzFeed News story detailed troubling inconsistencies in his case. Guevara has also been sued in several other such civil rights lawsuits, most of which are pending.
In Bouto's case, his conviction rested heavily on eyewitness identifications from two men who were with 15-year-old Salvador Ruvalcaba when he was shot outside a high school in May 1993, just after the 3 p.m. school bell rang.
Yet witnesses have said that Guevara told them to select Bouto from the lineup, allegedly going so far as to walk them to a restroom where Guevara had Bouto handcuffed to a toilet so that they would know whom to pick in the lineup. One witness claimed in a sworn statement that though he still believes Bouto is guilty, Guevara threatened to pin him with a crime if he didn't identify Bouto as the killer.
An attorney for Guevara did not immediately return a request for comment.
A BuzzFeed News investigation last year found that Guevara has been accused by at least 56 people of framing them for murders they say they did not commit. Dozens of the cases feature testimony from witnesses who claim they were pressured into falsely identifying suspects or identifying suspects they were ultimately unsure of.
The 2015 probe commissioned by the city of Chicago into allegations of Guevara's misconduct called the witnesses identifications in Bouto's case "unreliable."
Witnesses described the shooter as wearing dark clothing, having a ponytail, and circling around the street on a bicycle just before the shooting.
Yet photos show that Bouto, 17 at the time and arrested an hour after the murder, didn't have a ponytail, or, according to Bouto and his friends, a bicycle. But he did have an alibi.
His high school girlfriend and her best friend who was with them at the time of the murder have consistently maintained through the decades that Bouto was kissing his girlfriend in an alleyway near the school when they heard the gunfire that killed Ruvalcaba.
The 2015 city investigation also notes that though key witnesses in the case knew Bouto before the shooting, they gave officers physical descriptions of the shooter rather than naming Bouto.
"There's no possibility that any prosecutor can retry this case," Bouto's attorney, Russell Ainsworth, told BuzzFeed News. "The entirety of the evidence hinges on Rey Guevara's credibility. He's taken the Fifth when asked whether he framed Robert Bouto. Sometimes silence speaks volumes."
When Guevara was asked about Bouto's case in a deposition earlier this month, he invoked his Fifth Amendment right.
Bouto has been working as a valet, rising to the rank of supervisor, and has plans to marry in three weeks. Even if he were to be retried and convicted, he could not face any additional prison time since he already completed his sentence.
"We've been trying to clear my name for 25 years," he said. "This is the best wedding present I can give to my family and my fiancé."