Heather Saul is smoking cigarettes on her sofa with her white wire-haired dog Fancy in the West Virginia heat, texting on the phone the police took from her on that day last July when she was almost killed.

She gets a message from Lt. Steve Cooper, Charleston Police Department, asking if it's OK if some women from his church come over and check on her. Cooper worked the case, investigating the man who came to kill her, Neal Falls.
When police searched Falls' car, they found a King James compact reference Bible, a road atlas, a Crown Royal bag containing 10 white dice, and a half-dozen empty Subway sandwich bags. According to Cooper, Falls had "several axes, a shovel, a bulletproof vest, numerous handcuff keys, a container of bleach, a large cache of trash bags, other cutting instruments — knives and box cutters. A sledge hammer." There was a duffel bag, and in it, five identical sets of clothes: black T-shirts, black cargo pants. A machete, packing tape, and a black blanket. There was a Rubbermaid tub: one so big officers noted a woman could fit inside it.
On the driver's side floor was the most significant piece of information Neal Falls left behind. Printed on the reverse side of a Kanawha County Public Library computer pass, in careful grade-school pencil lettering, were the telephone numbers, first names — Alyssa, Armani, Trinity, Sara, Alley, and Sylvia — and ages of six women. Because of Heather, they survived.
The details made Heather's story an instant media attraction. An escort had killed her client in self-defense. He had a list of women he was targeting next, and he was potentially linked to several other sex workers' disappearances and deaths across the country. Within 24 hours local law enforcement decided Heather would not be charged with any crime.
Crime buffs began to aggregate news about her and Falls in web forums and a Facebook group. They dug up her ads. They traced his previous arrests, and speculated about his possible connections to other cases of missing women across the country. Elsewhere online, sex workers rallied around Heather. The Sex Workers Outreach Project issued a statement of solidarity. The hashtag #Hookers4Heather gathered praise: "You are the most amazing, beautiful, courageous woman. You deserve the world!"; "You have our support! Thank you for being so brave!" News outlets appeared at Heather's fence, outside her window. On its front page, the New York Daily News ran one of Heather's selfies with the headline "HOOKER BLOWS KILLER AWAY."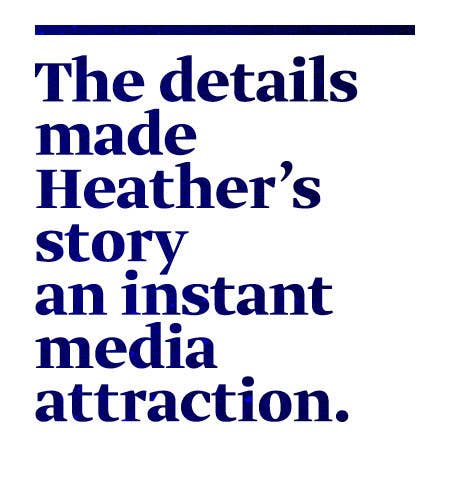 On the September morning I arrive in Charleston, Heather is struggling with some basic bureaucracy, annoying even in the best of circumstances. Her ID is gone. Some guys robbed her recently, she says; she thinks they saw her on the news and guessed she'd have money. But she doesn't have the right documents to prove her identity, and anyway, the DMV is closed today.
The walls in her place are a powdery dark violet. A sheet is tacked up over the window to block out the view, but it still wouldn't be difficult for someone to peer in through her yard. Her hair is pulled back, dyed red and something else, maybe green or blue or violet, fading. She's got on shorts, a tank top. The air conditioner is loud and a little busted, so it's still hot inside.
"I put your Coke in the fridge," she says. She already apologized for the dishes in the sink; she thought it makes the place a mess. It's not. It's lived in, a haze of accumulated cigarette smoke suspended in the air, small-seeming and sleepy. There's a little TV with a stack of DVDs on top, and a vintage vanity covered in personal things, some dried roses. Then there's Fancy, nuzzling a red chenille throw.
Heather texts Cooper back that she is busy — he keeps checking up on her, she says — and sets the phone on the coffee table next to the ashtray and the candle burning in a dish. If it's not the detective texting, it's the well-connected women in the community who want to bring her food and counsel. Or it's the guy raising money for her who says her story will be huge. Or it's the reporters and camera crews, looking for an interview. But with attention comes something even more out of Heather's control. Police knock when she won't answer the door to do-gooders. Internet drama ensues over what should be done with the thousands of dollars people donated. Reporters interview would-be spokespeople it's not clear Heather asked to speak on her behalf.
The knocks at the door hadn't let up by September. One day it was the FBI. "They were telling me," she says, "we've seen your phone." (She didn't take a business card, though, and the FBI couldn't confirm. Charleston police said they did work with the FBI in the investigation into Falls' telephone activity.)
Heather really is busy. She sits cross-legged on the far end of the couch, a notebook on her lap. In round script, the cover lists first names: I recognize my own. Tomorrow Heather will go again to try to get an ID, get signed up for health insurance, figure out where to move, to work. Outside Charleston, a city where there is no organized and visible sex worker community, across the country and the world, other sex workers were sharing her story — or what they knew of it from media reports, from inference. But in Heather's apartment, it was just one more day in the place where she fought for her life.

Heather's lived in Charleston her whole life. She says she hasn't lived with her father and mother together since she was 14. They left her dad's place when Heather was young. She's long supported herself.

After high school, Heather enrolled in community college. "I didn't know what I wanted to do," she says, petting Fancy, who gently interrupts us from time to time. "Still really don't." She thought about going into medical admissions, or taking a paralegal course. She didn't graduate; she left before the year was up. "I had a student loan, and that first semester it gutted me. And I couldn't go back, because of that loan. I still can't go back — it's only $1,200. It's in default."
Then Heather worked as a waitress. She was a head cook for a while. The last time she waitressed was about a year ago at Pizza Hut. She got a place of her own, but when things got hard, she went back to her mom. They spent nearly two years living together on the hill in Charleston, in which time she adopted Fancy. "It was a lot for both of us." But it was safer than the neighborhood where she moved in June, a part of town called the flats. "It was just something fast and cheap, and you know." She met the landlord when she came by one day to help a friend who was a hundred bucks behind on the rent. She did some work, fixing up the walls, redoing the floors.
"My dad does drywall and he paints, so that's what I've always done," Heather tells me. Rebuilding houses — gutting them for HUD. "If anything else, that's what I can do," she says, "but my back's broke now, so I can't even pick up nothing."
Heather had been supporting herself and helping out her mother and friends by working as an escort. That's the word she uses: "I mean, the escort stuff is not for me. I was miserable. If all else failed, I would answer the phone."
I ask her if she has other friends who did escort work, too. "Just people like, they're not really friends, but — they had told me about it, when me and my mom lived up on the hill," she says. "But some people, it just doesn't bother them at all, to do stuff... but I just can't, I just can't. I just couldn't do it anymore."
When Falls called Heather from a number she'd posted on Backpage, a low-cost classified listings website and host to escort ads, she didn't want to pick up the phone. But she needed the money. "I got to figure something else out. I can't do this. But I answered the phone for" — she pauses — "him. And I was just trying to figure out what I should do."
Heather's neighborhood is a mix of one- and two-story houses tucked in small lots, some run-down and split into odd-sized apartments. Outside, kids biked on streets running past big, broad porches where a few older ones hung out. There were shootings in the area, she said, and police didn't come out her way very often. But on the day Neal Falls tried to kill her, Heather says, "about 30 of them" showed up. (Even in the chaos, her count was spot on: The official crime scene log for the incident contains 33 names, 28 of them identified as working for the Charleston police or fire departments.) "The whole freaking force was here in no time."
Her apartment wasn't far from the restaurants and hotels in downtown Charleston, where old-school shops and delis sit side-by-side with new restaurants serving dishes laden in multiply hyphenated condiments: burritos with kimchi and "lime-Sriracha crema," smoked gouda—sweet grape flatbread. There is the Elite Gentlemen's Club, a forgotten-looking adult business with telltale neon in the windows and some holes in the glass. It is the only such club in Charleston proper. Across the street is the county's public library. Housed in a former federal court building, it is flanked by eight monumental stone columns that face out on Capitol Street. The library, according to police documents, is where Neal Falls searched Backpage — where he looked up women's ads, and then penciled in six names and numbers on the back of a computer pass.
Heather's friends Lisa and Harley were over when his call came in. Harley "always sits on the front porch for safety," Heather says, to be another set of eyes and ears when a guy from Backpage comes by. But shortly before Falls arrived, Lisa headed over to the Save-A-Lot to grab a soda, and Fancy got loose. Harley ran off to find her.
Falls didn't leave much of a digital trail; he had a telephone, but it was a brand-new TracFone Alcatel with a West Virginia area code — police are pretty sure he was disposing phones as he went from place to place, buying new ones when he arrived. He asked if it was her own apartment, if anyone else was there. Around 3 p.m., he pulled into her driveway in his gold Subaru, facing Heather's door.
"He was just real thick, like, stocky," Heather remembers. "And short. He seemed short to me." As soon as Falls came into her kitchen and saw they were alone, she says, "He walked over here to me and just stuck the gun in my side and told me, 'Live or die.'"
"That was it," she says clearly. "He started strangulating me out." She describes his movements, her voice steady. "He was clamped down on my throat so bad that I could — I've never been choked like that, and I've been through some..." She pauses just a moment. "A lot of physical abuse. And that was horrible."
"You could tell from his upper-body strength, you could tell that he's done this for a long time. He knew how to keep control of me."
"I knocked him off of me," she continues, looking into the kitchen where it happened, where he landed on his back when she shoved him. "I remember, my feet even being up, climbing up over, up the door while his hands were around my throat — he knew how to keep ahold of me. He was good. He knew what he was doing." She emphasizes this last part, with calm and certainty. "He had done it before."
Something snapped in Heather. "I started screaming," she says. She decided to fight harder. "I just said, if he was gonna shoot me, he would've shot me — I'm fighting him."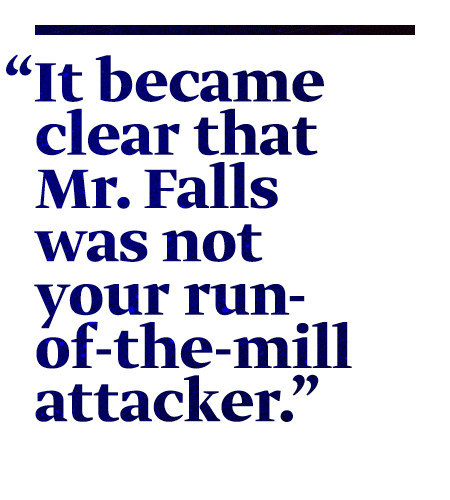 She started clawing his eyes out. She started hitting him. He didn't have any teeth, she remembers. He jumped on her again. He landed on her chest, both of them on the floor now between the kitchen and the couch where we sat. He said to her, she says, "Now get up, you get up and don't say nothing else." She remembers begging him, "Please, please just let me get a breath." He wouldn't.
Into the kitchen, she kept fighting. In the struggle, she noticed a little rake, something she used to clean up after Fancy in the yard. He lunged to grab the rake from her hand, lifting himself off of the table, clawing it up, the mark still there. He was distracted. She had a second, and saw something else. "The gun was laying on the table. And I grabbed it." Aiming just over her shoulder, she took the shot.
"And then finally it was over," she says, quietly. "I looked over, and it was horrible. But he was slowly like, going down to the floor, and fluids was hitting the floor, I could hear it. And it was over. And I could breathe. I was finally — I couldn't breathe at all."
Rushing back from the Save-A-Lot, Lisa heard the gunshot and froze. Then she saw Heather run out the front door. "I asked her to call the police," Heather tells me, "but she took off on me. So I had to go to the neighbor and ask her to call." The neighbor called 911, Heather at her side, explaining to the dispatcher, relaying the answers to her questions: What was the man wearing; was he white or was he black. The neighbor stayed on the line for just shy of four minutes, until the first officer arrived.
Cpl. Steven Webb was first on the scene. "This visibly shaken white female had blood on her arms, was hysterical, and crying," he later wrote in his report. Heather told Webb her attacker was still inside, and led him to the door, but it was blocked by Falls' slumped body, an apparent gunshot wound to his head. Webb noted that his back was to the door, and his belt was hooked on the door's handle. Falls was declared dead at 3:59 p.m.
Lt. Cooper arrived around 4, and he and the other detectives spent hours working over the crime scene. "It became clear pretty quickly that Mr. Falls was not your run-of-the-mill attacker," he told me. "We found four sets of handcuffs in his pants pockets. I've never seen anything like that personally and I've been a detective for 18 years."
"He clearly had plans to store something or carry something away from the apartment," Maryclaire Akers, assistant prosecuting attorney for Kanawha County, told reporters at the time, regarding the Rubbermaid bin.
Heather was transported to the Charleston police station. She stood beside a beat-up green chair in the station, barefoot with her hair pulled back off her neck, while her body was photographed 25 times: her outstretched hands, her chin, the marks on her neck. According to Detective Adam Kuhner's statement, it was Harley and Lisa who told police that Heather was a "prostitute," though it's not clear whose words those are, his or theirs or hers.
Police told Heather she should go to the hospital, but she was hesitant. "I was black-and-blue," she remembers, but just wanted to get home to her dog. But she agreed to go. She got a CT scan and an MRI, and learned she had broken her back and dislocated her shoulder as a result of the struggle.
Heather says the police told her to call as soon the appointment was over, so an officer could escort her home. "I thought that was nice of them." Her mother was there waiting at the hospital, and came home with her.
When they arrived, the kitchen was as she left it. After the police photographs, the remnants of Falls — the phone, his wallet, a car key, the shell casing from the one bullet fired from his gun — were removed, but his blood remained. "It smelled like a funeral home in here," she says, settling into the couch, facing the counter and walls and floor she had to clean up herself.
And something else was still missing: Fancy. "I was so heartbroken because she wasn't here. I was hollering for her at 5:30 in the morning. I put her bowl of food and stuff outside," on the other side of the door where police found the body. "Just in case she'd come home."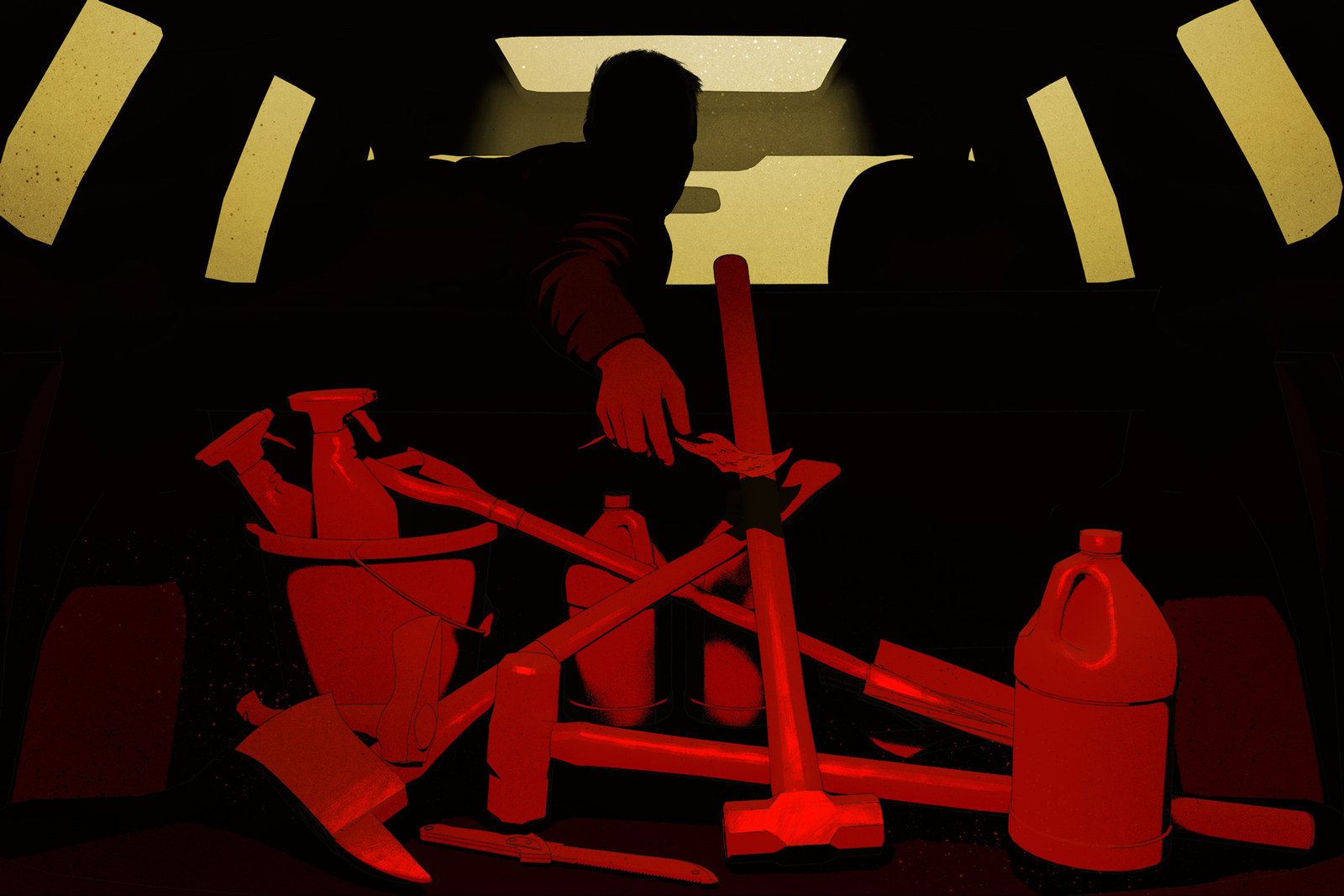 It's been seven weeks since the attack, but in a borrowed office at the Charleston Police Department, Lt. Cooper tells me he's still worried about Heather. "Heather has people who care about her," he says, "but she is a vulnerable person. And she actually spoke on the telephone with Mr. Falls and gave him directions to her home — guided him all the way to her house over the telephone."

This isn't unusual for people who do sex work: advertising online and then working out of their own homes. They may have few or no other options but to work from home, due to cost, potential exposure, and criminal laws. But to Cooper, "a girl like Heather is what we call a high-risk victim. If something happens to them, it's more difficult to solve the crime."
Cooper elaborates: "If a girl is killed, there's no witnesses. If there's something that caused them concern prior to the crime they generally don't report it to the police. There's no record of suspicious activity leading up to the crime. And they involve — they get involved with strangers. And some of those strangers are dangerous people."
Before he came to Charleston, Cooper says, Neal Falls lived in Oregon, where he worked night security at a hotel. But he was fired for sending threatening texts to a guest believed to have been a sex worker. In the short time he was in West Virginia — police say a week or two at most — Falls had raised red flags with the local sex workers he attempted to engage on the streets. "They deal with a lot of weird people and they said this guy really stood out to them," Cooper says. "They were frightened off by his behavior." He only learned about this after Heather's attack.
The police didn't notice Falls when he was harassing street-working women, nor did the women report him to law enforcement. Selling sex is illegal in West Virginia, and anti-prostitution policing is on the rise in Charleston. In nearby Huntington, too, prostitution arrests reportedly rose 40% in the last year alone. The week I'm in town, two different stories about sex work appear on the front page of the city paper, the Charleston Gazette-Mail: one, the story of a high school girl, clean-cut and blonde, who went missing after posting a Craigslist ad "seeking men because she wanted money"; the other detailing the recent police stings targeting street workers in Charleston.
"When you criminalize something, it destroys the relationship between sex workers and law enforcement, who are supposed to be there to protect them," Katherine Koster of the Sex Workers Outreach Project told the paper.
This breakdown continues when sex workers who are victims of crimes are in turn treated as criminals. (And police have been perpetrators themselves — like Daniel Holtzclaw, the Oklahoma City officer recently convicted of multiple counts of sexual assault, targeting black women, many of whom he believed to be or were sex workers.)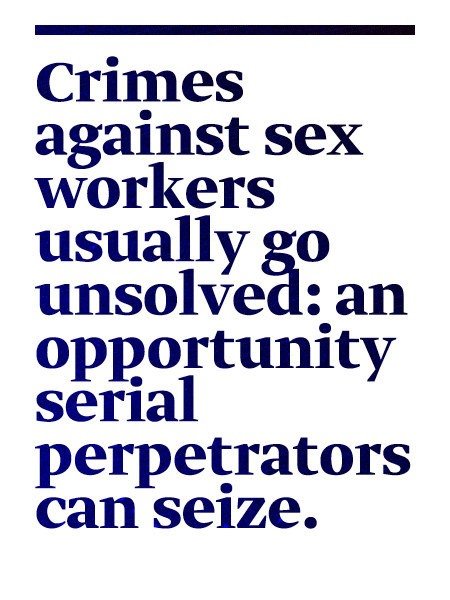 Being mistreated this way by police only further isolates sex workers, and can expose them to more violence: When Heather's home was broken into a few weeks after the attack, Cooper says, Heather told him, but asked him not to file a report.
As a result, crimes against sex workers usually go unsolved, and this is an opportunity serial perpetrators can seize. As Cooper describes "high-risk victims," I remember Mari Gilbert, a woman I last saw in January 2012, kneeling in the reeds on Long Island's Oak Beach before a small white cross. It had been a month since the remains of her 24-year-old daughter, Shannan Gilbert, were found in the marsh near the shore. She was joined by the families of other missing women, all suspected victims of the "Long Island serial killer" — who targeted, by current counts, five women working as escorts online. Police discovered their remains discarded in burlap bags. There were traces of at least six others: limbs, a blanket, earrings, and a necklace. The families stood around their handmade memorial in the freezing mud while reporters, including myself, recorded the ritual. There weren't as many, Gilbert commented, as there had been the last time.
There was precedent for this. In King County, Washington, a man dubbed the Green River Killer preyed on sex workers throughout the 1980s and 1990s. One woman came forward after surviving an attack by Gary Leon Ridgway and others tried to report their brushes with him only to feel ignored, and so it wasn't until 2003 that Ridgway confessed to the murders of 49 women. (He says he killed "75 to 80" in total.) "I wanted to kill as many women I thought were prostitutes as I possibly could," he told the court. "I knew they would not be reported missing right away, and might never be reported missing. I picked prostitutes because I thought I could kill as many of them as I wanted without getting caught."
After Heather's story made the news, calls came in to Charleston police — from Long Island, from Niagara Falls, from Las Vegas. All places sex workers had gone missing, without answers, and with what felt in every place like the police had long moved on. In Chillicothe, Ohio, a few hours away from Heather's place, six local women had gone missing or been found dead since May 2014. It was reported that they did sex work and used drugs. After initial hope, nothing was found to link Falls to Chillicothe. But police there still have few answers. Like the families in Long Island, the families in Chillicothe gathered for the media whenever another woman went missing, and they gathered on Facebook to organize vigils, share information, and follow the news. They complained that they were always the last to know updates in the cases.
In the fall, Cooper sent samples of Neal Falls' DNA to "about nine different states," he told me, including "Texas, Nevada, Arizona, Louisiana, maybe Virginia…especially Texas and Nevada." Falls' DNA will be compared to DNA other local investigators have in their own cases. This is what investigators and Heather's supporters had all hoped: that her actions would bring closure in the cases of other missing and murdered women. Some results were expected by Christmas, then by New Year's. Still nothing has been made public. "They have FBI agents in the other states and in other jurisdictions that are interested in Mr. Falls," Cooper said. "So everybody is working together, but again we are looking for victims instead of suspects in this case, so it's complicated. But we believe there's a lot of guys that are doing the same kind of thing out there."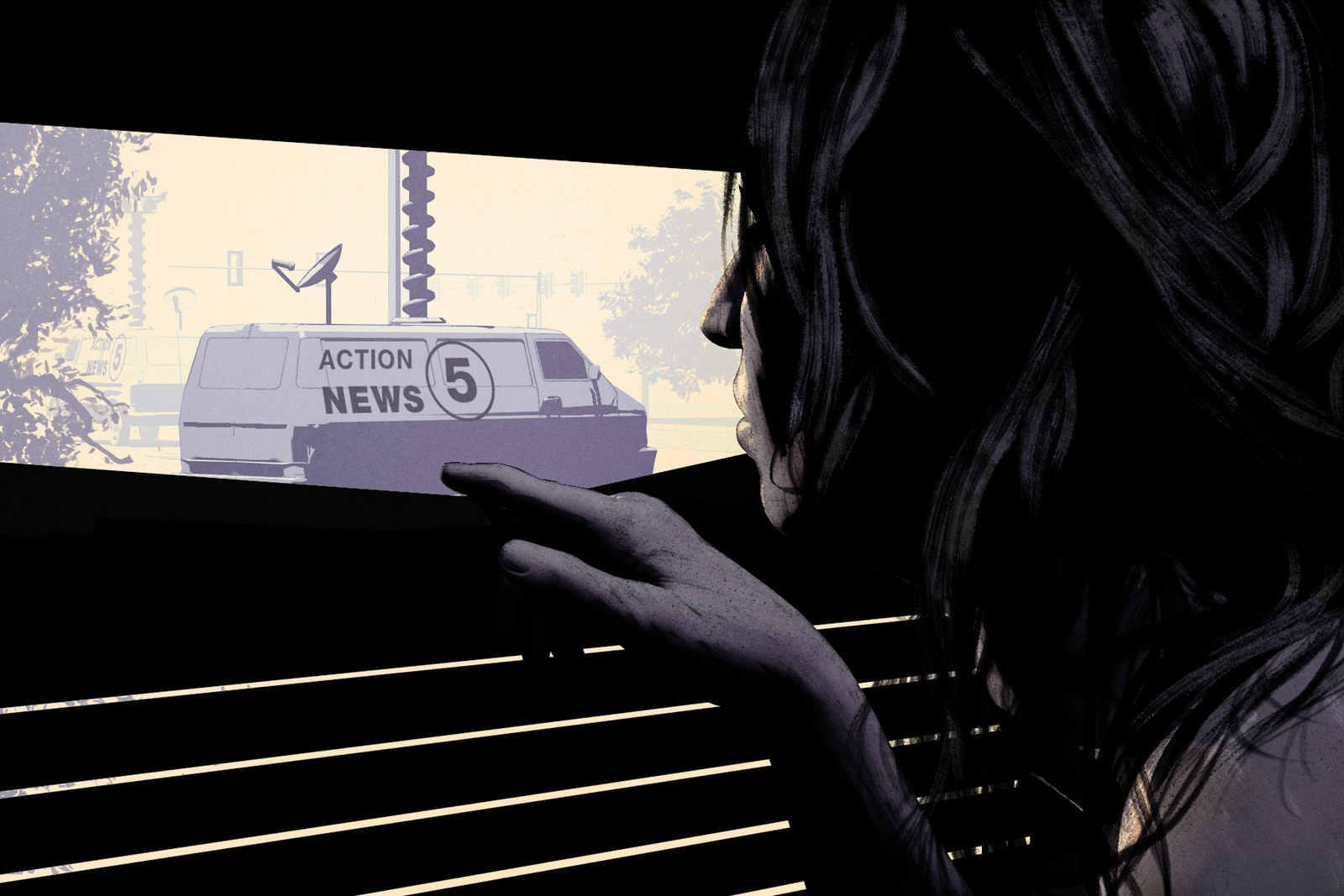 "They just showed up," Heather says, folded into the sofa. "Every 10, 15 minutes beating on my door." Heather gave local television news outlet WCHS her one on-camera interview a few days after the attack. It got national replay on the CBS Evening News on July 26. Heather didn't watch any of the coverage.

As the story gained even more media attention, it drew the attention of do-gooders, amateur sleuths, and would-be supporters. "You see comments pop up ­­— she got what she deserved, things like that, which to me is just an insane way to look at it," attorney Akers says in her office. She's agreed to answer questions about the case, but emphasizes that she isn't Heather's spokesperson and doesn't want to speak for her. Her couch is piled high with case folders, her door plastered with black-and-white printouts of cat photos (an inside-office joke, something about her soft spot for strays and standing up for rescue cats to some city official).
"Anybody who is in a situation where they are vulnerable, whether they put themselves there or…" Akers takes a short pause, then abruptly jumps back in, as if to backtrack a bit. "Everybody on earth has made a bad decision that has put themselves in a vulnerable position, and it's whether or not you were able to get out of that situation."
A lot of the attention that came Heather's way was similarly sympathetic. If the initial news briefs and social media posts had framed Heather as a vigilante icon, a new emphasis had appeared: Heather was still a hero, but now she needed help "to get her life on track."
Within a matter of days after the attack, two fundraisers appeared online. Both of them claimed to have Heather's blessing, with the founders attempting to meet her in person.
This led to more attention: phone calls, visitors, requests from media. One Charleston local, Laura Gandee, began appearing in stories about Heather from national and local outlets alike. "I got a text message from a friend telling me that Heather was hungry, upset, and feeling all alone in her apartment, and asking me if I could I take her some food and go comfort her," Gandee told The Daily Dot last July. "Of course I said I would, if she was willing to let me."
Gandee said they talked for an hour over fast food ("including a burger for her dog"), and the next day Gandee posted a cheerful photo of Heather to Twitter with a link to an online fundraiser — one said to have raised thousands of dollars, that The Daily Dot and local news channels WCHS and WSAZ credited Gandee with starting. Gandee was sometimes joined by a second woman, Kathy Brown, a local attorney who was called Heather's "media representative." (Brown confirmed this description.)
When we meet in September, Heather says that wasn't the whole truth: "She showed up with food for me, and just was super nice, but I felt a little uncomfortable. I felt like, she's not a good person. I could just tell. She wanted me to go down to that lawyer's office and talk to her, because the media was getting bad and I probably wouldn't be able to handle it."
Heather says they came back. "They were beating on my door," she remembers. "And I told them I just felt like they were pushing me to do this and that. They wanted me to sign myself into a rehab facility, and I couldn't even imagine leaving my dog and stuff. They were saying there was a fundraiser for me and I wasn't going to get it unless I proved that — you know, this and that." Heather talks around it, no details about what kind of rehab they wanted her to attend, or what they wanted her to prove. "It was horrible. I told them I didn't want any of the money, to keep it. Thanks but no thanks. I wouldn't answer my door anymore." (Heather did later receive their donations, after she was able to set up a bank account. Gandee later told me she did not ask Heather to go to rehab, but said other local people may have been trying to get her to go. Brown would only confirm that she did have contact with Heather several times.)
Not long after, Heather says, Gandee and Brown appeared at her door, but this time with Cooper in tow. Gandee told me Heather wasn't returning their calls and texts, so she went to her house to check on her. When Heather still wouldn't come to the door, she called Cooper.
"He showed up," Heather says, "and was saying that he was gonna come back with a search warrant, and set up surveillance and everything if I didn't answer the door to them." It turned out Cooper was a friend of Gandee's. He confirmed that he put Gandee and Heather in touch in the first place, and that the search warrant was a "tactic" to get Heather to come to the door.
Cooper and Gandee both said they were worried about her. They seemed sincere, too; in March, Gandee said she was done speaking about Heather's story but was proud that a "humble group of pure-hearted friends and neighbors" raised more than $3,000 for her in a matter of days, "all of which went directly to Heather." She emphasized that she didn't call the police on Heather; she reached out to her friend Cooper, who happens to be a police officer and offered to come by.
But it didn't appear that way to Heather. "They wasn't worried about my well-being," she tells me. "They were mad because I wouldn't let them in."
Gandee, Brown, Cooper, other women from church who reached out to her — they weren't the only ones drawn in by Heather's story. When the news broke, she attracted the attention of sex workers across the country. And they weren't just posting supportive social media posts. Some started an online fundraiser of their own, all of the money going directly to Heather. To date, it has brought in over $15,000. The response was so pronounced that even attorney Akers noticed. "That was really my whole first introduction to the sex worker community banding together to try to help each other," she says.
Before the attack, Heather had never met this community. She didn't want to be an escort; she had limited access to the internet. And she had already had negative experiences with other good Samaritans by the time any sex workers reached her door.
She wasn't ungrateful. But to receive their support meant more media, more attention. In fact, a story much like those written about Gandee and Brown was published by Playboy in October, highlighting one sex worker, Seattle dominatrix Mistress Matisse, who led her own effort to help Heather. "Through other sex workers she tracked Heather down, called her and booked a flight to West Virginia," the article read. "She showed up at Heather's door and hasn't really left." The story said she had had "organized fund-raising, lined up medical assistance and connected Heather with nonprofit help."
"There were some people local to her who had started a fundraiser for her, they said, but they were being really weird and controlling about the money," Matisse told Playboy. "I approach helping someone like I approach the BDSM scene. There's a person here who I think wants me to take control of the situation. But you have to get consent for that."
Since, Matisse has shared stories on Twitter of visiting Heather and even emailed me acting as her media representative. "As you know," she said over email, "I've been working with Heather Saul, the woman who successfully defended herself against killer Neil [sic] Falls last summer. Heather has worked incredibly hard to overcome a lot since then, and it's been an amazing privilege to participate in that with her very closely." ("So is there something people are looking at on the internet and getting Matisse's number?" Heather had asked me, trying to figure out why she was attracting media attention. Heather's own internet access was limited, through her phone and a hotspot. Matisse did not respond to further requests for comment.)
Heather didn't set out to be part of anyone's story, even as they continued to be written around her. What she needed, what she kept saying she really needed, was "a minute" — to collect herself, to take her own next steps. Months after the attack, after the offers of support, after the fundraisers had launched, Heather was still using the cell phone police had seized as evidence; she was able to get a new one, but then it was stolen when her home was robbed. And she was still living in the same apartment where she had been victimized twice: first by Neal Falls and then, weeks later, by the robbers. She still felt that police were keeping an eye on her, for better and for worse.

Over this past fall and winter, I spoke with all kinds of people — advocates, law enforcement, a few people who felt almost like fans — about how they tried to help Heather. Some had tried to enmesh themselves in her life, even when she rejected their offers.

Gandee wasn't the only one involved in the first fundraiser. There was also a man who goes by Nostra-Thomas Koning, who had some ties to Charleston and knew Gandee through Facebook. He responded when Gandee sought volunteers to handle the technical details of crowdfunding. (Koning describes Gandee as someone he knew previously from "part of the same political strata" on Facebook.) Koning still maintains the Facebook group Heather the Hometown Hero.
According to Heather, Koning said she wouldn't get the money unless she met his conditions. "He wasn't going to be the reason why I overdosed and died," she recalls him saying. Koning told me he did have concerns about giving her the funds if she was using drugs. But he didn't know. He never met her in person.
When we spoke, Koning recalled texting Heather, explaining to her why she should appear on a major television network for an interview. He hoped it would raise hundreds of thousands of dollars. "I was telling her this could be a game-changer for you." He sounded surprised that she wasn't interested in what he called his "reward."
"Who would've thought in a million years someone would say, 'Screw you, we don't want your money'? We never thought of that." Speaking to me, he seemed hurt and frustrated that she hadn't accepted his offers. "The narrative is fragile. The attention is fleeting," he mused. "You either get on it or you miss the boat."
"It was a unique story," Cooper tells me a few weeks after the attack. "And everybody wanted a part of it." Then he adds, "Because she received so much attention and so many people were so curious about her well­-being, there were some doors that opened for her that may be easier for her to go through than some others."
Law enforcement also asked her questions about drugs, Heather says. After the attack, Charleston police took Heather's phone. They had shared it, or shared what was on it, with the FBI. "They were saying we know that you do — that you have done drugs because we've seen your phone," she says. "I just told them, 'I've done drugs, yes, but I don't have to have them, and I don't owe anyone anything.' If I owed a drug dealer money, I'd be dead. I would be dead. That would be it." In reviewing Charleston Police Department files from the the Neal Falls investigation, there was no indication police thought the incident was drug-related.
In West Virginia law enforcement circles, though, talk of drugs is ubiquitous these days. And there's good reason for it: The state ranks number one in the nation for overdose deaths. The county Charleston is in, Kanawha, has the seventh-highest overdose rate in the state. While there are no statistics for sex workers' drug use that could be broadly generalized in this way, law enforcement perceive sex workers as drug users. It's a belief held by the general public as well, fueled in part by how media cover anti-prostitution policing. The week I visited Heather, the police chief of neighboring Huntington called prostitution a "symptom of the bigger drug crisis we're facing," while the director of drug control policy there called drugs a "pimp."
Though both are criminalized, there's one big difference in how West Virginia has come to regard drugs — specifically, heroin and prescription opioids — and how it still regards sex work. For opioid use, lawmakers are swapping traditional punitive strategies for harm reduction ones, like legalizing naloxone (which counteracts opioid overdoses). A syringe exchange just opened in Charleston. And the shift away from condemnation and criminalization has reached members of law enforcement, too.
"This is such an epidemic," Charleston Police Chief Brent Webster told reporters the day President Barack Obama visited West Virginia for a forum on heroin. "You cannot arrest your way out of this mess."
Harm reduction — including moving away from punitive criminal options — is gaining momentum in how we understand drugs, vulnerability, and risk. There's a growing acceptance that making drugs illegal pushes drug users into dangerous situations, including preventing them from seeking help.
Police continue to use Backpage to target women for prostitution arrests. But that risk of arrest didn't override Heather's needs that day in July, which led her to answer the phone even though she was sick of escorting. Likewise, it didn't deter Neal Falls: He was already prepared to break far more serious laws. If anything, criminalization could have made Falls more certain Heather would be alone and reluctant to seek help or fight back.

If legislatures and law enforcement can accept that drug users are put at risk when they are criminalized, could they apply that same understanding to sex workers? To do so, sex workers rights' organizations and Amnesty International have argued, could help prevent a future Gary Leon Ridgway or a future Neal Falls.


Heather had become momentarily famous: For a few weeks, her story was a headline, and then, except for some corners of the internet, it was gone. The Facebook fans and the web forum crime sleuths, in absence of new information, moved on to other things. TV crews decamped. But in her apartment, Heather still wasn't sure she wanted to go outside. "I've been having real bad panic attacks," she tells me. "I don't want to hermit myself in here, but I'm scared. Some days I can't even go out in public and stuff; I start panicking real bad. And I just stop breathing, and my chest will be hurting real bad. And, um, you know, I just don't know who to trust. And everybody is just out to get something. It's always something."

Heather remained there, in her apartment, for a lot of reasons — a landlord who wouldn't give her a proper lease, she says, and left her to make major repairs around the place herself — but mostly it was about money. Escorting online paid the bills. Now, for a lot of reasons — the attack, the fallout, the media exposure — that's one less option for someone who didn't have many to begin with.
The pressure to get into the limelight hasn't helped, she says. The fundraisers and press attention may have been meant to expand her options, but they also exposed her to more scrutiny. Cooper and others, like the first fundraisers, told me over and over how they felt her window of opportunity was closing, that people would soon move on. "I never agreed," Heather says, about the women at her door who ended up speaking for her to the press. "They wasn't anything to me; they wasn't nothing to me. They were saying...lies, you know? That's why it threw a red flag.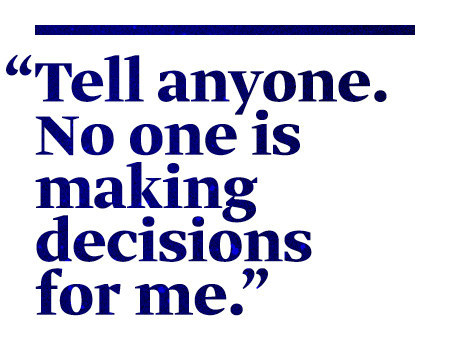 "Tell anyone. No one is making decisions for me."
Something's on in Heather's bedroom, a TV or a lamp I don't see, casting a shifting light on the wall. She says her mom knew she was working on Backpage: "It's what was supporting her for two years." We're still nursing the Cokes she got us when Harley comes by, her friend who stayed on her porch for safety when she worked. She was helping him out, too. Before people rushed in to rescue her, Heather was the one supporting other people herself.
The day after the attack, Heather went to look for Fancy. A neighbor had taken her in. "She was so upset. She was so happy to see me though. I didn't even — she's not really good about walking on her leash because I haven't put it on her a lot, and now when I do she don't know what I'm doing and she does the crocodile death roll and stuff…"
"What's the crocodile death roll?" I ask, and now we're both laughing.
"You know, how they roll?" Heather says. "But I didn't have to that night, because she flew straight home beside me. Love her heart." •