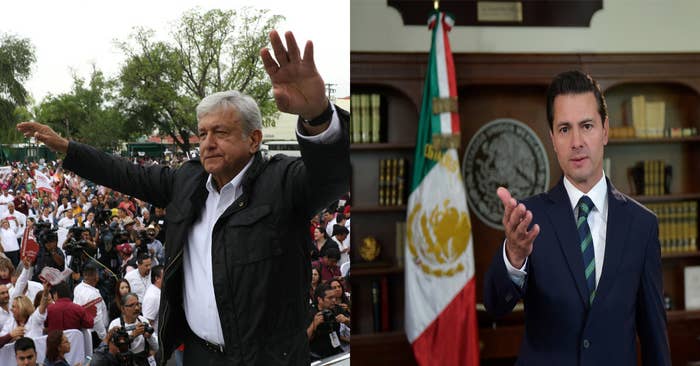 Mexican President Enrique Peña Nieto and Andrés Manuel López Obrador, who is leading in the polls to be his successor, allied against Donald Trump's threats to send the National Guard to the border.
"President Trump, if you want to reach agreements with Mexico, we are ready, as we have shown up to now, always ready to dialogue," Peña Nieto said in the message posted to Twitter and Facebook on Thursday afternoon. "If your statements derive from frustration due to internal politics, your laws, or your Congress, address to them, not to Mexicans."
The message, in which Peña Nieto assured viewers that he will not negotiate with Trump's government out of fear, was set to be broadcast on television and radio later that evening.
The five-minute video came after a week of attacks from Trump over a caravan of migrants from Central America that is making its way north through Mexico — and just days after the official launch of the Mexican election season.
In his video, Peña Nieto praised the Mexican Senate for threatening to cut off cooperation with the US on counternarcotics work if the National Guard deployment goes through. He also applauded the major presidential candidates — Andrés Manuel López Obrador, Ricardo Anaya, Margarita Zavala, and José Antonio Meade— for sending the same message of Mexican sovereignty over the last week.

In response, López Obrador — commonly known in Mexico by his initials, AMLO — acknowledged on Twitter that he and the president were on the same page.

"I have addressed the issue of President Trump's threats and his memorandum to send the National Guard to the border," AMLO tweeted. "Today in Laredo I returned to address the issue and I welcome that President Peña Nieto has responded as he did."

Driving a further wedge between the two countries, at an event in West Virginia, Trump returned to a theme from his first campaign speech in 2015: the supposed number of rapists immigrating to the US from Mexico.
"Everybody said, 'Oh, he was so tough,'" Trump said. "I used the word 'rape.' Yesterday it came out where this journey coming up, women are raped at levels that nobody has ever seen before."

BuzzFeed News immigration reporter Adolfo Flores, who has covered the caravan for 12 days, reported that no attacks had taken place against the women of the caravan.
Peña Nieto's tweet sharing the video has already been one of the most wide-reaching that he's ever posted, receiving thousands of retweets just hours after being launched.