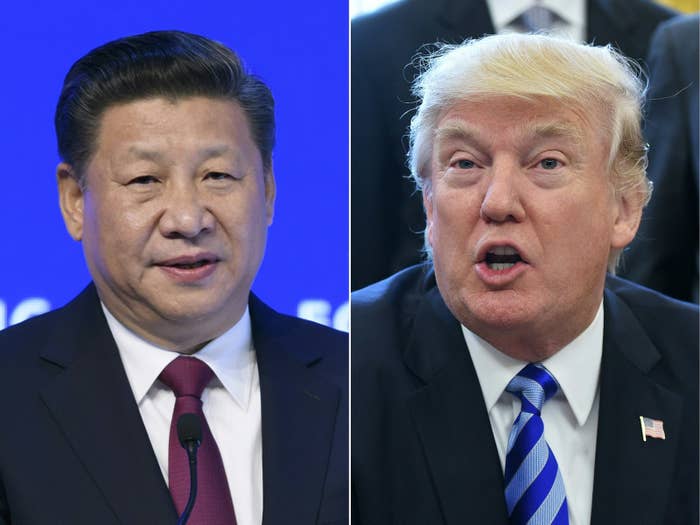 BEIJING — There will be a lot on the line when President Donald Trump meets his Chinese counterpart, Xi Jinping, for the first time on Thursday. After months of the equivalent of policy whiplash from the US, China watchers and the country's foreign policy elite are closely watching the pending summit for signals on the future of the world's most important bilateral relationship.
Trump's nascent China policy has been marked by swings in rhetoric that have left onlookers guessing about the administration's plans. The two leaders are set to meet on Thursday at Trump's Mar-a-Lago estate in Florida for informal talks expected to set the tone for relations between the world's two biggest economic powers.
"This first meeting is a test of whether the Trump administration can send a calibrated message rather than a chaotic one on US–China relations," said Graham Webster, a senior fellow in US–China relations at Yale Law School. "The administration still has no credible spokesperson on foreign policy issues, including the president. To effectively work with Chinese officials on important problems and push back where necessary, Trump will need to develop credibility he doesn't yet have."
That has been something of a challenge given the lack of policy-makers brought in by the new administration to handle East Asia issues. It's unclear how much clout Matthew Pottinger, senior director for Asia on the National Security Council, has these days, given he was brought in under former national security adviser Michael Flynn. Trump has not nominated an assistant secretary of state for East Asia. The State Department as a whole has been sidelined in the run-up to Xi's visit, with Trump's son-in-law and senior adviser Jared Kushner handling most of the legwork.
On the campaign trail, Trump said China was "raping" the US and vowed to slap a 45% tariff on the country's imports, though there's been no talk of that since Trump took office. But during a recent visit to Beijing, Secretary of State Rex Tillerson struck a more muted tone, even using the phrases "win-win cooperation," a Chinese talking point, and "mutual respect," a term China uses to stress its standing as a world power and desire for the US to leave its stated core interests alone.
The desire for that "mutual respect" could be seen in the days after Trump's inauguration, when on a phone call with Xi, he walked back an earlier pronouncement that the so-called "One China" policy was up for negotiation. Trump had previously taken a phone call from Taiwan's independence-leaning president, rattling Beijing.
Wang Dong, an international studies expert at Peking University, said China would look to the summit for clarity on some of the "uncertainties" that remained after the election, and that there was hope Trump would follow Tillerson's lead in matching Chinese diplomatic language.
("I think people have focused a little bit too much on the specific use of this language," Susan Thornton, acting assistant secretary of state for East Asia and Pacific affairs, told reporters on Wednesday, when asked about Tillerson's apparently unwitting granting of a major win to Beijing.)
"We now see Trump retreating from the campaign rhetoric about cross-border tariffs on Chinese goods," Wang said. "There's already signs of that."
The ambiguity comes at a time when the stakes for relations are particularly high. A slew of contentious issues — including trade disparities, cyberspying, patrols in the disputed South China Sea, and China's manipulation of its currency — have weighed on ties.
At the top of the agenda, officials from both the US and China have signaled the urgent need to cooperate in contending with North Korea's banned nuclear weapons program. Pyongyang, which considers the US to be its greatest foe, may be gearing up for another nuclear test. On Wednesday, it fired an intermediate-range ballistic missile into the Sea of Japan, in its latest provocative move.
But the administration has sent mixed signals to China on the North Korea issue, Webster said. For instance, Trump told the Financial Times on Monday that if China didn't "solve North Korea," the US was fully prepared to act on its own — but the very same day, UN Ambassador Nikki Haley called China the only country capable of stopping Pyongyang. Tillerson, in a bizarrely short statement, said that the United States had "said enough about North Korea" in response to the latest missile test.
"Is this intentional unpredictability, or is it strategic incoherence?" Webster said. "I believe Chinese officials will be looking for answers to that question across the full range of issues."
Thornton said that the administration would seek Beijing's help in turning up the pressure on North Korea.
"This is going to be a high-priority issue," she said.
The summit will be a rare chance to build rapport between the two leaders, who are as different in their styles as they are in their priorities. Xi, one of the Communist Party's most powerful leaders in recent history, rules his country at the helm of a secretive government of technocrats. He has largely eschewed the kind of populism that has fueled Trump's political career.
In contrast to Trump, who has won over followers by boasting that he spoke on the campaign trail without a teleprompter, nearly every word Xi says in public sounds meticulously scripted and hews closely to Communist Party slogans and policies.
"Xi is disciplined; Trump is not. They are the international Odd Couple," said Douglas Paal, director of the Asia Program at the Carnegie Endowment for International Peace. "It should be interesting to watch, even painful."
John Hudson contributed reporting from New York City.