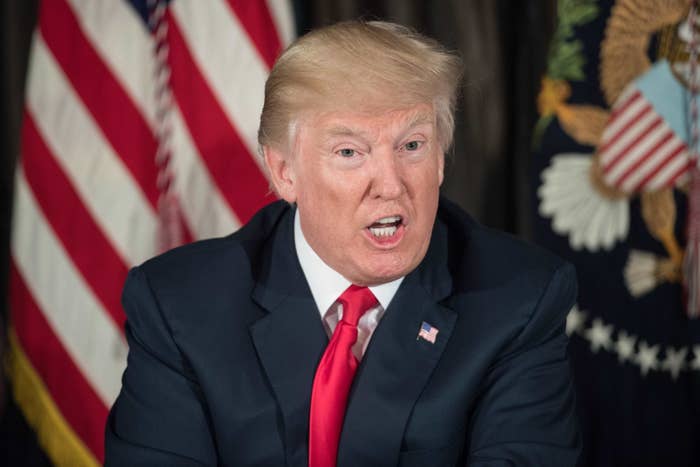 One of the first targets in Donald Trump's campaign to crack down on countries trading with North Korea has turned out to be a key US ally in the Middle East — Egypt.
As the Trump administration scrambles to respond to North Korea's nuclear ambitions, it is trying to coax the country's smaller trading partners, from Sudan to the Philippines, to ramp up the pressure on Kim Jong Un's regime. Last week, the Trump administration announced that it would cut $96 million in aid and delay $195 million in military funding to Egypt, citing human rights concerns — and, according to reports, over the country's robust relationship with North Korea.
Now the Trump administration must take on the difficult task of convincing those countries it's in their interests to crack down on commerce with North Korea.
One of the largest recipients of US aid, Egypt has also had a longstanding relationship with the isolated regime in Pyongyang, particularly trading in weapons. It's unclear, though, what aspects of Egypt-North Korea relations the administration is displeased with, and whether it includes commerce not prohibited by sanctions. Egypt makes up a very small part of the value of North Korea's total trade — but it attracted headlines in 2008 when Orascom, an Egyptian telecom firm, set up the first North Korean 3G network. And Egypt is a well-known buyer of North Korean missiles and other weapons.
In Cairo, the development was met with confusion, and in some quarters, frustration.
"The North Korean-American issue is a conflict between the US and its allies against North Korea — not the whole world against North Korea," said Gen. Hamdi Bakhit, a member of parliament who sits on the powerful Defense and National Security Committee. "China, for example, has a balanced relationship with both the US and North Korea … America is just fishing for a mistake to pressure Egypt."
Trump said over the weekend that he was considering cutting off trade with all countries doing business with North Korea. Besides China, which is America's largest trading partner, that would include many smaller countries who see their economic relationships with North Korea as legitimate and in keeping with their rights as sovereign countries.
Many US officials and policy analysts have focused on China's reluctance to enforce sanctions on North Korea, saying Beijing is rendering international pressure tactics ineffective. Indeed, China makes up the overwhelming majority of North Korean trade — including crude oil, coal, metals and many other goods — and is Pyongyang's most important diplomatic ally.

But much of North Korea's economic activity is illicit or tough to trace. Pyongyang relies on the cooperation of dozens of countries, including many outside the region that see themselves as having no stake in the crisis on the Korean peninsula, to facilitate its money-making schemes, from circulating counterfeit currency to transporting weapons and drugs. Based on customs data, dozens of countries also engage in legitimate trade of goods including food products, textiles and electronics with the country — something they are within their rights to do because such trade is not banned by UN sanctions.
"(The value of) Illicit activities is equal to, if not greater than, North Korea's trade with China," said David Maxwell, associate director of the Center for Security Studies at Georgetown University. "These countries turn a blind eye because they don't want a diplomatic brouhaha — and from our perspective, the national security apparatus is bilateral and regional. We don't often look at what North Korea is doing around the world."
During his first public indication that North Korea was a factor in US-Egypt relations, Trump told Egyptian President Abdel Fattah al-Sisi in June that all countries should "stop hosting North Korean guest workers and stop providing economic or military benefits to North Korea."
"We had never seen that and never heard of it," said Eric Trager, an expert on Egyptian politics at the Washington Institute for Near East Policy. "This was new — it reflects the priority that the Trump administration has placed on the North Korean issue."
Egypt, Trager said, could theoretically be persuaded to roll back its ties with North Korea. But he added it's unclear, at least to outside observers, what specifically the administration wants the Egyptian government to do. Egyptian officials told BuzzFeed News they were not convinced.
"The question is, if this North Korean issue is so important for the US, why didn't they ever mention it with us before?" said Emad Gad, a member of the Egyptian parliament's foreign affairs committee. "The Egypt-North Korea relationship is an old one, so why are we suddenly hearing they have problems with our relations with North Korea?"
Despite its international pariah status, North Korea remains an attractive trading partner to Egypt and other countries. Many countries want to show their strategic independence from the US and its allies. Maxwell said part of the problem is that the US has simply not prioritized pressuring those countries to crack down on illicit trade in past administrations.
For Egypt, North Korea has remained a consistent trading partner through decades of political upheaval in a relationship cemented in the 1970s, when North Korea aided Egypt during its 1973 war with Israel. North Korea has even helped Egyptian scientists develop missile systems.
But at the end of the day, officials said, the biggest factor is cost.
"Simply, we are speaking about real deep business between the generals and North Korea," a former Egyptian military general told BuzzFeed News, speaking on condition of anonymity. "It's all about money. Trust me, it's not ideological issues at all."
Maged Atef reported from Cairo.