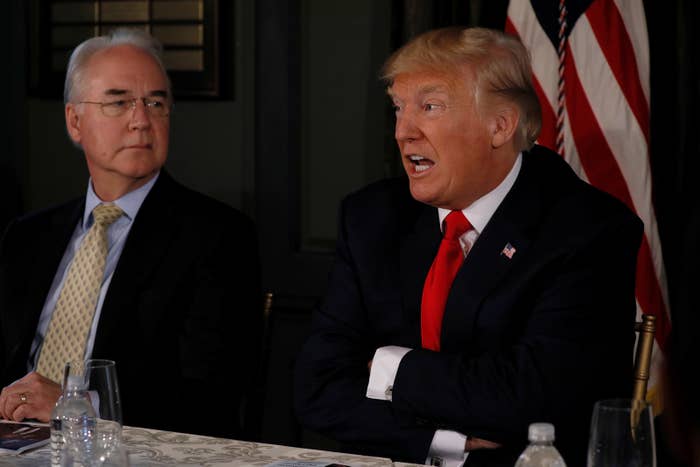 President Donald Trump issued a colorful threat to North Korea on Tuesday, saying the country would be "met with fire and fury like the world has never seen" if it continued threatening the United States.

"North Korea best not make any more threats to the United States," said Trump, who is on a "working vacation" this week at his New Jersey golf course. "They have been very threatening beyond a normal statement."
Looking directly into cameras with his arms crossed, Trump made the remarks hours after a Washington Post report cited an assessment by the Defense Intelligence Agency concluding Pyongyang had miniaturized a nuclear warhead that could be delivered by its missiles. It's the latest indication of North Korea's growing nuclear capabilities, which present a major quandary for the Trump administration. In recent months, North Korea has conducted a series of missile tests that have incensed the White House.

On Tuesday, a spokesperson for the strategic force of North Korea's Korean People's Army threatened Guam, calling the US territory the "the outpost and beachhead for invading the DPRK." North Korea is creating a plan for "making an enveloping fire" around Guam to retaliate against US military drills, the spokesperson said, according to the Korean Central News Agency, North Korea's official news agency.
The United Nations Security Council agreed on Saturday to put in place a new set of economic sanctions on North Korea, targeting key sectors, including coal and iron, as well as seafood exports and North Korean laborers overseas, in hopes of hitting Pyongyang's billions of dollars of export revenue. Those sanctions came on the heels of two intercontinental ballistic missile tests North Korea carried out in July.

On Monday, KCNA promised "thousands-fold" revenge on the US for the sanctions.
"There is no bigger mistake than the United States believing that its land is safe across the ocean," KCNA said. North Korea's state-controlled media frequently threatens the US and South Korea with annihilation.
Following the latest threat, South Korean President Moon Jae-in called Wednesday for an "urgent" overhaul of the country's military, South Korea's Yonhap News Agency reported.
"I believe we might need a complete defense reform at the level of a rebirth instead of making some improvements or modifications," the South Korean president said during a meeting with top military commanders.
Though the latest UN sanctions are some of the toughest placed on North Korea, the Trump administration's approach to the pariah state has largely mirrored the strategy adopted by the Obama administration, which used sanctions as the primary means to punish Pyongyang for provocative actions like nuclear and ballistic missile tests.
Trump did not say exactly what "fire and fury" might entail if North Korea continues to threaten the US, but his statement dials up the temperature amid growing anxiety from the US, South Korea, and Japan about North Korea's nuclear capabilities.
Aside from sanctions, the US and the international community have few options beyond a return to talks or a military strike. Critics of sanctions say they are not properly enforced by China, which is North Korea's most important trading partner and most significant diplomatic ally. And the Trump administration so far has said it would not return to talks with North Korea unless it agreed to dismantle its nuclear weapons program — something Pyongyang has repeatedly said it will never do.

In a statement on Tuesday, Sen. Dianne Feinstein, a Democrat from California, called for talks with North Korea without any preconditions — a break with Obama administration policy as well as from Trump's current approach. She said on Twitter that she had been briefed by Defense Secretary James Mattis and had read intelligence on North Korean capabilities. (Feinstein made a similar statement last week.)
It's not clear how long intelligence officials have suspected Pyongyang has been capable of miniaturizing a nuclear warhead and mounting it onto a missile.

In 2014, Army General Curtis Scaparrotti told reporters he believed North Korea most likely had the ability to do that, though he noted there was no evidence Pyongyang had actually taken that step beyond its ties with Iran and Pakistan. A Pentagon spokesperson later clarified the remarks, saying that didn't mean Pyongyang could mount the warhead on an intercontinental ballistic missile.

In 2015, Admiral Bill Gortney, then the commander of US Northern Command, echoed Scaparrotti's assessment, saying it would be prudent for US policymakers to assume North Korea had developed the ability to miniaturize the bomb.

North Korea likely still has major technological hurdles to overcome before it's able to launch a nuclear strike on the US, including perfecting a device known as a "re-entry vehicle," which enables a missile to dip down into the earth's atmosphere from space while protecting its warhead.

Still, the DIA has said North Korea could obtain an intercontinental ballistic missile capable of a nuclear strike on American targets as early as next year — much sooner than earlier estimates from government analysts had it.
Additional reporting by Nancy Youssef in Washington.
Outside Your Bubble is a BuzzFeed News effort to bring you a diversity of thought and opinion from around the internet. If you don't see your viewpoint represented, contact the curator at bubble@buzzfeed.com. Click here for more on Outside Your Bubble.