Trump Call With Taiwan Signals New Age Of Uncertainty
"I think the Chinese are being cautious because they have no idea why Trump did this — and honestly neither do we," one US diplomat told BuzzFeed News.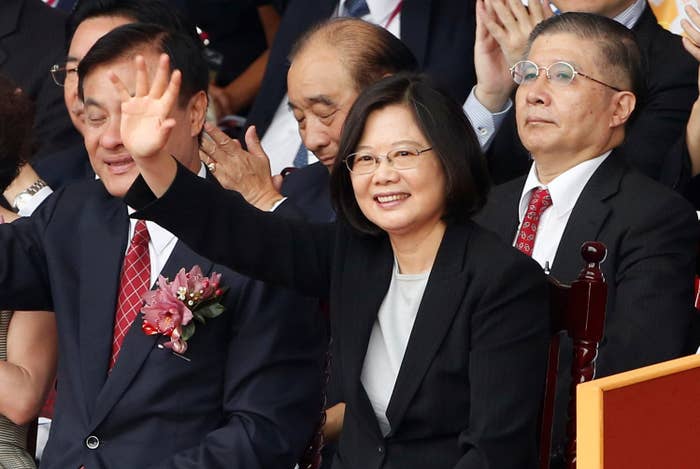 A surprise phone call between President-elect Donald Trump and Taiwanese President Tsai Ing-wen has left US diplomats and China policy analysts scrambling to understand whether it was a one-off occurrence or a signal of a major shift in policy.

Trump, who has repeatedly called for the US to be more "unpredictable" in its approach to foreign policy, has left observers questioning whether the phone call to Tsai — which broke with decades of precedent on the US diplomatic approach to Taiwan and angered Beijing — will set the US back in many other areas where it needs Beijing's cooperation, from North Korea sanctions to China's management of its economy.
"The message behind it is definitely unclear," said a US diplomat in China who asked not to be named because he is not allowed to speak to the press. Commenting on the Chinese response, the diplomat said: "I think the Chinese are being cautious because they have no idea why Trump did this — and honestly neither do we."
The US has maintained a complex and sometimes counterintuitive diplomatic approach to Taiwan since 1979, when the US and China agreed to recognize each other and that Taiwan was part of China. China, which views Taiwan as a wayward province, has used diplomatic pressure and economic incentives for years to coax countries around the world to end diplomatic recognition of Taiwan.
Today only a handful of countries still recognize Taiwan as an independent state. The only developed country among them is the Vatican.
China considers the Taiwan issue to be one of its core interests, and leaders there have made clear that any discussion of Taiwanese independence is a political third rail. Chinese officials regularly react with anger to regular US weapons sales to Taipei.
Predictability in US foreign policy is key in maintaining balance in diplomatic relationships around the world. Trump's surprise call with Taiwan's leader, and the speed with which he broke with decades of diplomatic consensus, signals that predictability may come to an end under his administration.
Some Republican supporters put that aspect aside and praised the move.
"I would much rather have Donald Trump talking to President Tsai than to Cuba's Raul Castro or Iran's Hasan Rouhani," Sen. Ted Cruz tweeted. "This is an improvement."
But beyond two tweets addressing the controversy around the phone call, Trump himself has not made any broad statements on what direction US policy should take on Taiwan. Some Trump advisers, however, have been vocal advocates for closer ties with Taipei.
John Bolton, the former ambassador to the United Nations under the Bush administration, wrote in April that the US should "upgrade its diplomatic relations" with Taiwan.
"Washington should make clear that it considers Taiwan to be an independent, democratic society that has the full right to reject a forced merger with China, no matter what the aging rhetoric about 'one China,'" he wrote.
Trump campaign advisers Alexander Gray and Peter Navarro called the Obama administration's treatment of Taiwan "egregious" for failing to go far enough in arms sales.
"This beacon of democracy in Asia is perhaps the most militarily vulnerable US partner anywhere in the world," they wrote.
China's reaction to the phone call has been to blame Taiwan rather than levy harsh criticism on Trump. Foreign Minister Wang Yi told Hong Kong-based Phoenix Television that the island was engaging in "little tricks," implying that Beijing wasn't taking it too seriously.
Trump has promised to both slap huge tariffs on Chinese-made goods and force China to cooperate on enforcing sanctions on North Korea.
The modern history of Taiwan, formally known as the Republic of China, began in 1949, when its leader Chiang Kai-shek was ousted from mainland China by Mao Zedong's Communist Party after a civil war. The US and the United Nations recognized Taipei instead of Beijing until the 1970s.
There is much debate about what the US would actually do in the case of a military conflict between Taiwan and China, though President George W. Bush said he'd do "whatever it took" to help the island defend itself. Under the Taiwan Relations Act, the US is required to take "appropriate action" if hostilities broke out — but that would be subject to congressional approval.
Steve Tsang, director of the SOAS China Institute at the University of London, said he believed it would be unwise to overinterpret the phone call.
Trump "has advisers who understand Taiwan," Tsang said. "He has business interests who are interested in Taiwan. Maybe somebody told him the president of Taiwan wants to speak to him and he said OK. Why is it such a big deal?"