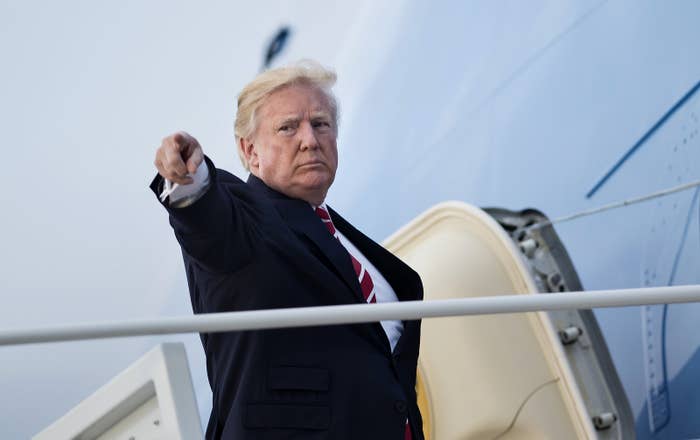 Questions about Russia's involvement in the 2016 election and any ties to the Trump campaign are looming over the president's upcoming trip to Asia and threatening to thwart his administration's message, foreign policy watchers in the region say.

The Trump administration has been planning the trip for months in hopes of progress on key policy priorities, like a strong response to North Korea's nuclear ambitions, during the 12-day trip. From Japan to the Philippines, US allies in the region are also looking for signals the US is committed to its presence there as a way to balance out an increasingly assertive China.
But the Russia probe, including the indictments on Monday of Paul Manafort and Rick Gates, the former Trump campaign manager and his protégé, is stealing focus away from Trump's agenda in Asia. It's likely that Trump will face questions from Asian reporters as well as the US press about special prosecutor Robert Mueller's investigation during the trip even as his administration seeks to shift the focus.
"If there is any development on the Mueller investigation, I'm sure that will be a major focus, not just for American journalists, but in Japan and elsewhere," said Malcolm Cook, a senior fellow at the Institute of Southeast Asian Studies in Singapore. "If the Trump administration wants to use this trip to get away from the focus on the Mueller investigation, it will be hard to escape it."
Trump is set to visit Japan, South Korea, China, and the Philippines starting on Nov. 5 for bilateral meetings, and will join many other heads of state at a major regional forum in Vietnam. In a region where many policymakers were sometimes frustrated with the Obama administration because of its inability to push key legislation through Congress, the Trump administration began with hopes that the new president's Art of the Deal–style tactics would push through partisan gridlock.
But almost a year into his presidency, those hopes have been thwarted.
"It certainly doesn't help that Trump is unpopular and is facing these kinds of investigations at home," said Richard Heydarian, author of the forthcoming book The Rise of Duterte about Philippine President Rodrigo Duterte. "There are concerns about his domestic political sustainability and his ability to get major pieces of legislation through Congress."
"I call this trip to Asia 'Mission Impossible,'" he added.
From threats to obliterate North Korea to the decision to scuttle the Trans-Pacific Partnership — a trade deal that supporters say would have driven economic growth in the region and blocked rising Chinese influence — Trump has an uphill battle in restoring US popularity in the region. In particular, he faces questions about his North Korea policy, including from South Korea's new president Moon Jae-in, who had once hoped to reopen channels of dialogue with Pyongyang, in contrast with Trump's approach.
It hasn't helped that Trump has said he wanted to scrap a major trade deal with South Korea and criticized the country for failing to pay enough for a US missile defense system that is unpopular with South Korean liberals anyway.
Trump has also faced criticism for his decision to back out of the East Asia Summit, a regional diplomatic forum being held in Manila this year.
Previous US presidents — including Obama — have not always attended the East Asia Summit, and China generally does not dispatch its top leader either. But analysts said Trump had made a misstep by first promising to go and then backing out at the last minute. He is traveling all the way to Manila to meet Duterte and departing just hours before the beginning of the summit.
"He couldn't even bother to stay a few hours later to show up," Heydarian said. "Sometimes in Asia, 50% of diplomacy is just showing up to meetings, and Trump isn't going to bother to do that."
The US role in the region is being closely watched in particular because of China's military and economic rise. Obama's "Asia pivot" strategy had sought to quell fears that the US was not engaged enough in the region and would leave a void that could be filled by Chinese influence.
Tim Huxley, executive director of the International Institute for Strategic Studies–Asia in Singapore, said that concerns in the region about the US run far deeper than the Trump administration. Significant questions remain over the rise of populism, the divided nature of US politics, and the US pulling back from foreign entanglements, he said.
"There's a deeper and more important concern among many in the region about the problems of where America as a country is going and what Trump indicates about that, and how that might feed into bigger questions about America's role in the region in the future," Huxley said. When compared with China's rise, Huxley added that in his view, "Trump's election has fed into a narrative of America's relative decline in power."