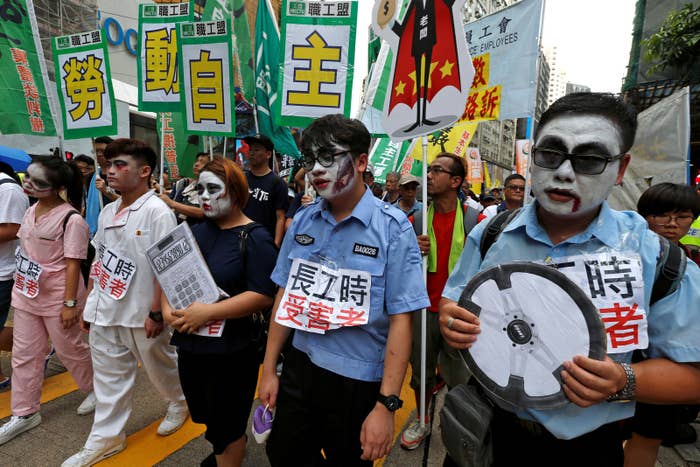 HONG KONG — Tens of thousands of pro-democracy protesters flooded downtown Hong Kong on Saturday for a demonstration to mark the 20th anniversary of the city's handover from Britain to mainland China.

The march takes place every year but took on an outsized significance this time because it came at the tail end of a visit by Chinese President Xi Jinping, after a week in which high-profile young activists were detained for earlier demonstrations.
Rain soaked the pro-democracy protesters, who cheered during intermittent flashes of sunshine on the summer afternoon. Human rights campaigners dressed in black and white lined the path of the march near Victoria Park in Causeway Bay.
"What I want is real independence for Hong Kong," said 18-year-old student Derek Leung. "I think my friends, actually the younger generation, feels more strongly about that than our parents."
Some protesters carried neon yellow umbrellas, in a symbolic invocation of pro-democracy protests in 2014 known as the Umbrella Revolution, the most significant popular challenge to Chinese rule in recent years. The mood was convivial and largely peaceful, with protesters sharing umbrellas and signs, and chanting slogans.
Unfurling black and white banners with slogans like "Independence for Hong Kong" and "Fight back," around 60,000 people joined the march this year despite the rain, according to organizers. A police estimate of the turnout for the march was not immediately available.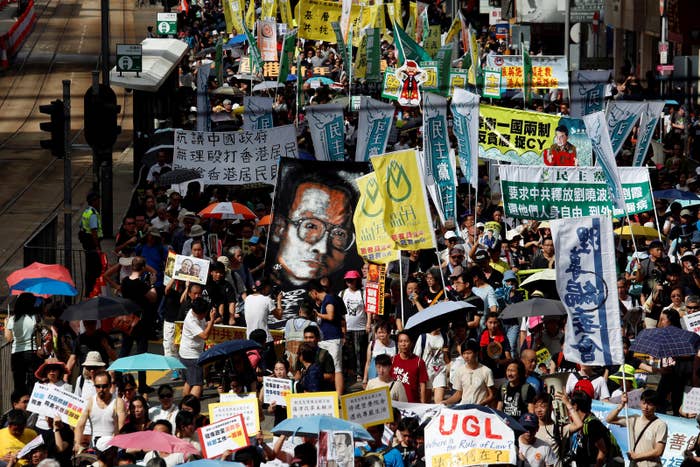 But if protesters this week had hoped to catch Xi's attention, it wasn't reflected in his remarks during his visit, which took a hard line on dissent. He said he would allow no challenge to China's sovereignty.
"Any attempt to endanger national sovereignty and security, challenge the power of the central government and the authority of the Basic Law of the Hong Kong Special Administrative Region or use Hong Kong to carry out infiltration and sabotage activities against the mainland is an act that crosses the red line, and is absolutely impermissible," Xi said during his visit.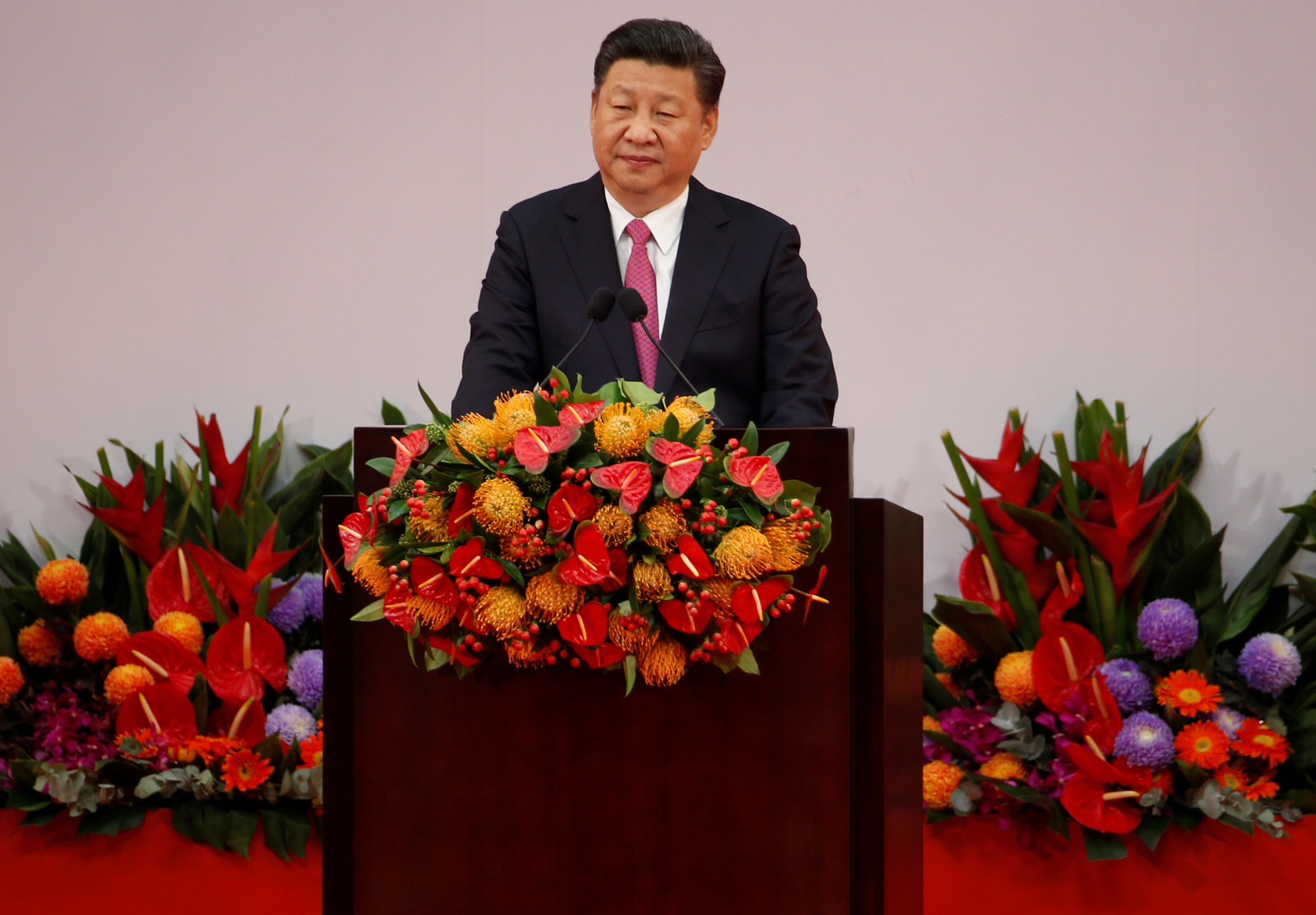 He said that Hong Kong should remain "harmonious" because "discord leads to misfortune." The word "harmony" in China is frequently used as a euphemism for toeing the government's line.
The march came hours after Xi swore in the city's new leader, Carrie Lam, at the end of a high-security visit. He did not meet with any pro-democracy groups.
Like all of Xi's official visits, this trip was carefully choreographed, and the city has been filled with police and security officers. A group of activists, including young pro-democracy leader Joshua Wong, were detained on Wednesday ahead of Xi's arrival after they staged a sit-in in front of an iconic sculpture of a gold Bauhinia flower — a monument to the handover.
At issue for Hong Kongers is the level of self-governance and autonomy the city was promised at the time of the handover in 1997. Many feel that autonomy has been gradually eroded by the influence of the mainland.
China's Foreign Ministry said this week that a treaty called the Sino-British Joint Declaration, which came in effect at the time of the handover, was just a "historical document that no longer has any realistic meaning." That 1984 document guaranteed Hong Kong's relative autonomy under a principle called "one country, two systems," and said the city's capitalist system would remain in place until 2047.
In response, a spokeswoman for the British Foreign Office told Reuters the document is a "legally binding treaty" that's as valid today as when it was signed.
Many of the protesters who spoke to BuzzFeed News said they were concerned about the incursion of the Chinese Communist Party into their system of government and way of life. It was made obvious, they said, by China's 2015 abduction of a group of booksellers who sold politically sensitive books, including some critical of Communist Party leaders.
"You can see it in the way that the police are losing their neutral position, arresting people who are critical of the Communist Party," said 36-year-old Edgar Chan.
They also called for the release of 2010 Nobel Peace Prize laureate Liu Xiaobo, a human rights activist jailed by China. Activists have renewed calls for his release after he was sent to hospital for cancer treatment, under police custody.
Beyond democracy, many protesters said they were also protesting about Hong Kong's many social problems, from staggering income inequality to corruption in government.
"There are many different problems — the housing shortage, corruption, economic problems — but all of them stem from the influence of the CCP (Chinese Communist Party)," said Karen Chan, 31. "People in their forties and fifties got to buy houses. They're financially secure. They don't have the problems our generation has. It's a violation of our rights."