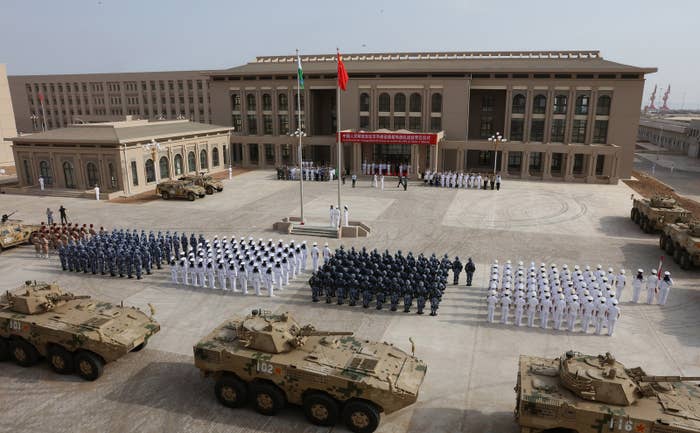 The US and China have become embroiled in a diplomatic row over allegations by the Pentagon that Beijing's forces turned military-grade lasers on US military aircraft.
The alleged incident took place in the tiny East African nation of Djibouti, where both countries have military bases located just miles apart. Last week the US issued a formal diplomatic complaint over the incidents, saying at least two American pilots had suffered minor injuries to their eyes as a result. The US also called for China to investigate the situation, which it said involved incidents taking place over the course of several weeks.
In response, China's Foreign Ministry said the US allegations are baseless, saying the US was "speculating." The Defense Ministry likewise said in a statement that "US officials' comments don't reflect the truth at all."
"We have refuted the untrue criticisms through official channels," the Defense Ministry statement continued. "China consistently abides by international law and laws of the local country, and we are committed to safeguarding regional security and stability."
Lasers of the kind that the US says were used are dangerous because they can distract pilots or even temporarily blind them as they're flying planes. Both the US and China are party to a treaty banning the use of the lasers as a blinding weapon.

China opened its naval base in Djibouti last year, and it's said in the past that the base is primarily for logistical support. But the base is undoubtedly in a strategically significant location for Beijing, which has sought to project its quickly growing military power both in the Indian Ocean and the South China Sea. It is China's first overseas military base.
The headquarters of US Africa Command — the only permanent US military base in Africa — is also located in Djibouti. For the US, Camp Lemonnier serves as a key hub for anti-terrorism operations both in East Africa and in nearby Yemen. Djibouti also hosts French, Italian, and Japanese military bases.
With additional reporting by William Yang.