Chinese security guards assaulted two women Sunday afternoon as they handed rainbow badges to passers-by, according to images posted on social media and other LGBT activists.
The incident took place on Sunday afternoon in eastern Beijing's 798 art district, which is known for its modern art galleries and cafés.
Videos and images of the women being beaten were temporarily censored on China's Twitter-like Weibo, but some posts had returned by Monday. The women's identities are not known, but they are understood to be LGBT activists.
Cellphone videos posted to social media show the women surrounded by at least five uniformed security guards who begin yelling as a crowd gathers. A guard then hits one of the women, knocking her to the ground.

One of the activists had to get stitches on her face while the other sustained injuries all over her body, the Beijing LGBT Center said on its Weibo page in a post that detailed the incident. On Monday afternoon the post had been taken down.
Security authorities in the 798 district could not be reached for comment.
In response, the Beijing LGBT Center started an online petition asking supporters of LGBT rights to share pictures of themselves wearing rainbow clothing.
Commenters on the LGBT Center's posts expressed dismay and outrage at the incident.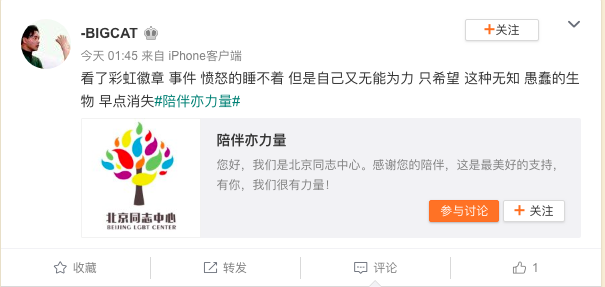 "After reading about the 'Rainbow Badge Incident,' I am filled with anger, but feel like there is nothing that I can do to change the situation," wrote one user. "I can only wish these ignorant and stupid creatures will disappear from the world soon."
Homosexuality has been decriminalized in China for two decades, but LGBT content is frequently censored on social media and TV. Earlier this year, Weibo walked back a decision to ban comics and short videos with LGBT-themed content after a public outcry — a rare example where censors gave in to user criticism of their decisions.
Last week the European Broadcasting Union scrapped a deal with Chinese broadcaster Mango TV to air the music competition Eurovision after the Chinese platform censored an Irish music video that showed two male dancers dancing together and holding hands.